The big things we learned about the economy in 2019
From the enduring mysteries of full employment to the success of a higher minimum wage ...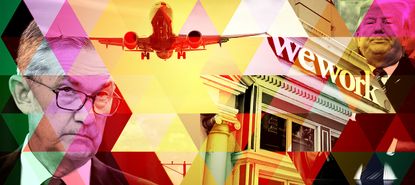 (Image credit: Illustrated | tashechka/iStock, NICHOLAS KAMM/AFP via Getty Images, Joe Raedle/Getty Images, TIMOTHY A. CLARY/AFP via Getty Images, MANDEL NGAN/AFP via Getty Images)
Sign up to our 10 Things You Need to Know Today newsletter
A free daily digest of the biggest news stories of the day - and the best features from our website
Thank you for signing up to TheWeek. You will receive a verification email shortly.
There was a problem. Please refresh the page and try again.
Today, of course, is New Years Day. For a lot of folks, it's a day of renewal and recommitment, of looking forward to the coming year and resolving to do things better. With that hope comes hard work: namely, looking over the previous year and reckoning with the mistakes you made and what you can learn from them.
What's true of individuals is also true of governments, leadership, and economic policymakers.
Granted, 2019 was not the most dramatic year of the past decade. Wages, growth, and livelihoods are not doing as well as some headline figures suggest, but they're doing much better now than they were at the start of the 2010s.
Subscribe to The Week
Escape your echo chamber. Get the facts behind the news, plus analysis from multiple perspectives.
SUBSCRIBE & SAVE
Sign up for The Week's Free Newsletters
From our morning news briefing to a weekly Good News Newsletter, get the best of The Week delivered directly to your inbox.
From our morning news briefing to a weekly Good News Newsletter, get the best of The Week delivered directly to your inbox.
Still, in the world of business and economics, some big stuff did happen in 2019, which shed light on assumptions and policies and ways of doing things that need to change. If we want 2020 to be better, here are some lessons everyone should heed:
1. We have no idea where full employment is.
In macroeconomic policymaking, few questions are more central than how hot we can run the economy. This question looms particularly large for the Federal Reserve, which adjusts interest rates to strike the balance between stable prices and maximum employment. To that end, the Fed began hiking interest rates in 2016, despite the fact that inflation was nowhere in sight. The fear was that if the central bank didn't anticipate inflation, it would be too late to control once it took off. Yet unemployment just kept falling, and prices haven't so much as twitched. Meanwhile, other metrics suggest the economy is a lot further from full capacity than policymakers believed.
In January 2019, the Fed cried uncle and began cutting rates again — an almost unprecedented decision, given the state of the economy. It was a tacit admission of the obvious: No one has any idea where full capacity actually lies. All our predictions have been bunk. "We can sustain much lower levels of unemployment than had been thought," Fed Chairman Jerome Powell said recently. "To call it hot, you'd want to see heat."
2. Lots of rich geniuses aren't all that smart.
Initially regarded as something between an entrepreneurial genius and a new age guru, Adam Neumann was the CEO of WeWork. He convinced Masayoshi Son, a freewheeling Japanese investor, to sink $9 billion into the venture, and WeWork was headed for a $47 billion valuation. But WeWork's basic rent-a-workspace business model, while perfectly reasonable, made no sense as a $47 billion innovation. In 2019, investors caught on, the IPO fell apart, and Neumann was pushed out as CEO.
It was a particularly dramatic example of how a lot of Silicon Valley wonder companies are fads and regulatory arbitrages, run by mediocrities. It also showed how business leaders often warp corporate governance to turn companies into their own personal ATMs — investors had to pay the former CEO $1 billion just to make him go away. The next time someone says we need billionaires because they're experts at productively directing economic activity, remind them of Neumann.
3. Private businesses aren't good at self-policing.
Closely related to the idea that we need billionaires is another line of thought: that government is inefficient, and the best government is that which governs least. One consequence of this philosophy has been a hollowing out of congressional staff and institutional expertise, leaving government effectively unable to think for itself. Legislating and regulating have increasingly been taken over by lobbyists and private business powers.
One particular example of this was a 2003 decision by Congress to have the Federal Aviation Administration allow employees at aerospace companies to essentially conduct much of the agency's oversight for it. This practice came back to bite everyone in 2019. Pressed for time and profits, Boeing slapped together its new 737 Max with an inadequate design and jury-rigged software. The result was two crashes, which killed 346 people. The plane was grounded in March 2019. As of now, Boeing's CEO is toast, recriminations are flying within the FAA and Congress, and no one has any idea when or if the 737 Max will fly again.
4. The Trump administration's economic policy still isn't working.
The GOP's tax cuts may have passed back in 2017, but it's worth keeping continued tabs on the results, given the enthusiasm with which many policymakers insist that giving rich people ever bigger profits is the best way to grow jobs and wages. In 2019, the tax cuts continued to be a complete dud: no discernible effect on business investment, on wages, or on employment.
The same goes for Trump's trade war. Granted, the president is right to denounce the global trade order as a mess. But his tit-for-tat tariffs have proven to be a feeble and confused strategy, doing as much harm as good for America's economic prospects. The wins in the new North American trade deal look modest at best. Trump's critics may err in blaming everything wrong in the economy on the tariffs. But the best that can be said of Trump's trade war is it has accomplished nothing of significance.
5. The minimum wage, however, is working.
Mainstream economics has long considered the minimum wage to be a job killer. But over the last decade or so, a building literature has challenged that consensus. Experts in the field delivered several big syntheses of this new research in 2019, demonstrating that minimum wage hikes generally have no significant effect on employment. There are multiple reasons for this, ranging from the new spending that enters the economy due to higher wages, higher labor costs forcing businesses to be more productive, and how monopsony power in labor markets can allow businesses to artificially depress worker pay.
This year's studies were particularly noteworthy because they covered previous natural experiments in minimum wage hikes that were as aggressive as the $15-an-hour minimum wages U.S. states and cities are currently passing. The point isn't infinitely elastic, of course: At some high-enough level, minimum wages will become destructive on net. But as with full capacity in the economy, it's time to admit we have no idea where that threshold is.
Continue reading for free
We hope you're enjoying The Week's refreshingly open-minded journalism.
Subscribed to The Week? Register your account with the same email as your subscription.
Sign up to our 10 Things You Need to Know Today newsletter
A free daily digest of the biggest news stories of the day - and the best features from our website
Jeff Spross was the economics and business correspondent at TheWeek.com. He was previously a reporter at ThinkProgress.