Fed policy has been the biggest drag on the economy
The central bank's expected rate cut is a necessary course correction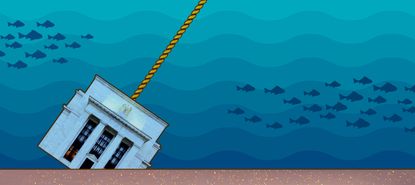 (Image credit: Illustrated | phochi/iStock, jjgervasi/iStock, pikepicture/iStock, vectortatu/iStock)
The Federal Reserve is widely expected to cut interest rates at the end of its latest meeting Wednesday afternoon. Added to the reduction at the previous meeting in early August, this will be a remarkable course correction for a central bank that, for several years now, was slowly trying to "normalize" rates to a higher level.
It's also a necessary course correction. By all accounts, that "normalization" is the main reason the economy has been slowing down.
There's no immediate reason to fear a recession. But the rate of gross domestic product (GDP) growth in 2019's second quarter has been revised down, as has the rate for 2018. Other signals, such as wage growth and the unemployment rates for more marginalized workers, also suggest the economy is stalling out a bit.
Subscribe to The Week
Escape your echo chamber. Get the facts behind the news, plus analysis from multiple perspectives.
SUBSCRIBE & SAVE
Sign up for The Week's Free Newsletters
From our morning news briefing to a weekly Good News Newsletter, get the best of The Week delivered directly to your inbox.
From our morning news briefing to a weekly Good News Newsletter, get the best of The Week delivered directly to your inbox.
When mainstream outlets report on these numbers, the various trade wars set off by President Trump tend to take the blame. "The American economy is slowing, dragged down by trade tensions and weak growth overseas," as the New York Times kicked off an article in July. As ideology, free trade is near and dear to the hearts of lots of elites and experts. And given how much Trump himself wants his trade wars, it's tempting for his critics to assume they must be terrible for the economy. But a policy can be stupid without mattering to the big picture all that much.
Imports are roughly 15 percent of GDP, while exports are around 12 percent. That's not nothing, and you can definitely see damage to specific parts of the economy. But trade arguably plays a far larger role in America's political, cultural, and ideological disputes than it does in the concrete mechanics of the economy. Worries about "uncertainty" are also, shall we say, less than rigorous.
But Josh Bivens, the director of research at the Economic Policy Institute (EPI), points out there's pretty straightforward economic evidence that the Fed's rate hikes made a significant contribution to the slowdown.
Gross domestic product can be broken down into a number of different components: housing investment, business investment, net exports, spending on durable goods, all other consumer spending, and government spending. "Generally, residential investment, business fixed investment, durable goods purchases, and net exports are thought to be the components of GDP that will be slowed by interest rate hikes," Bivens writes. Housing and business investment, as well as purchases of durable goods (goods that consumers use over a long period of time, like cars or sports equipment or appliances) depend heavily on credit conditions, which are tightened when the Fed hikes rates. Higher interest rates also tend to drive up the value of the U.S. dollar versus other currencies, which will reduce net exports.
If you look at how all these components have performed since the Fed began hiking rates in December of 2015, it's the components most sensitive to interest rates that have slowed down.
The only exception is spending on durable goods, which basically stayed flat. But as Bivens notes, that in itself is telling, since consumer spending on everything besides durable goods has been the strongest part of the recovery in the last few years.
Does all this mean President Trump is correct? He's been relentlessly lambasting the Federal Reserve and its chairman, Jerome Powell, demanding more interest rate cuts faster, and generally blaming the central bank for the economic doldrums.
Well, yes, he's correct. And the economic mainstream ought to do some serious self-examination, and ask itself how an ignorant carnival barker of a president could wind up recommending better monetary policy than they. But Trump is also right in the same way a broken clock nonetheless tells the correct time twice a day.
The president's 2017 tax cut has been a complete bust in terms of raising wages or boosting investment — the two main justifications Republicans offered for passing it. (Trump claims the cuts would've boosted the economy if not for the Fed's rate hikes, but then you'd expect business investment to perform more like durable goods in the graph above: stuck in neutral between the upward push of the tax cuts and the downward push from the Fed.) And as I already discussed above, the best that can be said for Trump's trade war is it's done less damage than its critics contend.
Meanwhile, Bivens and his colleagues at EPI have written how Trump's only policy contribution that did real good for the economy was a budget deal in early 2018 that boosted federal spending. The main reason that happened is Trump's politics exposed how the GOP's much-vaunted deficit concern has always been an opportunistic crock, and they had to include the public investment to mollify Democrats and get a deal. President Trump and the Republicans "are really the only economic observers in the world who have no standing to criticize the Fed for its clearly too-aggressive path of interest rate increases in recent years" as Bivens dryly put it.
Finally, what of the Fed itself? I wrote earlier that we arguably have the most progressive central bank that we've had in decades. I actually think that holds, which just goes to show how blinkered U.S. monetary policy was in the decades before the Great Recession. Powell's predecessors at the Fed weathered immense criticism from Republicans and much of the economic mainstream by holding interest rates at zero as long as they did. The central banks of decades past would almost certainly have hiked sooner and faster. That Powell and his colleagues are now cutting interest rates without any obvious looming sign of a recession is an even more dramatic rejection of conventional wisdom.
The question now, though, is whether those cuts will be enough. Interest rate changes are more effective at squashing growth than they are at boosting it. To fully repair the damage may well require another round of genuine fiscal stimulus — as opposed to the fake stimulus of tax cuts for the wealthy — which will likely only happen once Trump and the Republicans are out of power.
The Federal Reserve is learning from its mistakes, and for that we should be grateful. It's just a shame it didn't learn faster.
Want more essential commentary and analysis like this delivered straight to your inbox? Sign up for The Week's "Today's best articles" newsletter here.

Continue reading for free
We hope you're enjoying The Week's refreshingly open-minded journalism.
Subscribed to The Week? Register your account with the same email as your subscription.