Why the early primaries are especially important for Bernie Sanders
Most electability arguments can't really be tested. But we'll know pretty quickly if the 'political revolution' is working.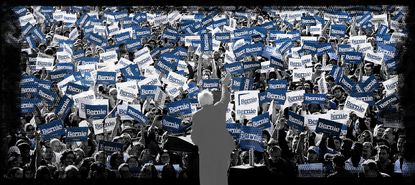 (Image credit: Illustrated | Fourleaflover/iStock, viafilms/iStock, REUTERS/Yana Paskova)
The 2020 Democratic primary campaign has been a contest not merely of which candidate's ideas and policies most appeal to Democratic voters but of which potential nominee is most likely to defeat Donald Trump in November's general election. Polling has shown that a majority of democratic voters say it is more important for the nominee to have the best chance of beating Trump than to share their position on most issues, and several of the Democratic contenders have made "electability" central part of their campaign message. The problem with electability arguments, however, is that most of the time they can't actually be put to the test until it's too late.
Usually, electability claims are based on pretty limited data or vague theories. Candidates can point to their past election performance in swingish states, like Sen. Amy Klobuchar does in Minnesota, arguing the ability to perform well in a purple-ish, upper Midwest state would have made the difference for Democrats in the 2016 election. But how you reach voters in a state with just five million residents doesn't necessarily translate to running in a diverse country with 330 million people. Those candidates may perform better in their home states but they may also perform much worse in others.
Former Vice President Joe Biden can point to hypothetical general election polling, where he has consistently performed the best of all the Democratic candidates against Trump, but polling a year out has limited value. Indications are that Biden is benefiting from high name recognition, which anyone who is the nominee would eventually match. Sen. Elizabeth Warren supporters, meanwhile, can argue she would bridge the progressive and centrist wings of the party. Yet indications are that disdain for Trump would go a long way toward unifying Democrats behind any nominee.
Subscribe to The Week
Escape your echo chamber. Get the facts behind the news, plus analysis from multiple perspectives.
SUBSCRIBE & SAVE
Sign up for The Week's Free Newsletters
From our morning news briefing to a weekly Good News Newsletter, get the best of The Week delivered directly to your inbox.
From our morning news briefing to a weekly Good News Newsletter, get the best of The Week delivered directly to your inbox.
The one exception to these cases, though, might be Sen. Bernie Sanders, whose electability argument is fundamentally different from the others.
The Sanders campaign believes he can bring new people into the electoral process — enough to more than make up for any shortfalls he might have among older voters or some more traditional swing voters compared to Biden. That is what his "political revolution" is about. The whole campaign is based around bringing in non-voters, picking up former third-party voters, activating infrequent voters, and getting regular voters more engaged in organizing. The Sanders campaign is investing heavily in relational organizing, getting people to contact their friends and family and to knock on the doors of their neighbors. He is not trying to win the current electorate so much as create a new, much more favorable one.
Many past candidates have claimed they would reshape the electorate, and many have failed, but if the Sanders campaign can, it should be evident as soon as states start voting in the primary. Polling in the early states of Iowa, New Hampshire, and Nevada all show very close races with Sanders at or near the top. If Sanders is really activating non-voters in a way that can make a difference in the general election against Trump, we should clearly see that in the results of these contests. In the 2016 Democratic primary, only about 30 million people voted compared to the over 136 million who voted in the general election, so it is in theory much easier to swing a primary via greater turnout. If Sanders is uniquely able to excite new and infrequent voters, we should see historically high turnouts and surprisingly strong performances from Sanders in these early states. He should not only gain the momentum of the victories but also benefit from a real demonstration of his electability case.
If turnout isn't much different from 2016, however, even if Sanders narrowly wins, his electability argument is basically dead. If he can't get tens of thousands more to turn out in the early primaries, there is little reason to believe he would uniquely be able to get millions more to turn out in November.
That doesn't necessarily mean he will lose the primary or the general election. Sanders has a solid base of support, and with a large, divided field he could win the nomination with a plurality of Democratic support. Similarly, President Trump is deeply unpopular, and the race is likely to be a referendum on his leadership. There is a legitimate argument that any Democratic nominee could beat him in November by simply being the alternative. But if Sanders can't drive turnout in the early primaries, it is unlikely he will be reshaping our politics. Instead, he will be trying to get lucky in a divided field and hope to ride an anti-Trump wave.
Want more essential commentary and analysis like this delivered straight to your inbox? Sign up for The Week's "Today's best articles" newsletter here.

Continue reading for free
We hope you're enjoying The Week's refreshingly open-minded journalism.
Subscribed to The Week? Register your account with the same email as your subscription.