Impeachment trial is damning indictment of so-called moderate Republicans
They have become shameless rubber-stampers of Trump's worst policies and predilections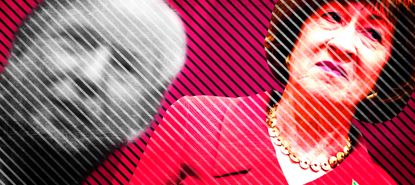 A new ad targeting Susan Collins provided a perfectly-timed rebuke of the Maine senator for falling into almost complete lockstep with her Republican colleagues as President Trump's impeachment trial began this week. The commercial, put out by the Lincoln Project, a group of Never-Trump conservatives, beseeched Collins to "do your job" and stop "covering for Trump." Just hours before, Collins had joined with all her Republican colleagues in voting down one Democratic-proposed amendment after another, passing on the opportunity to subpoena documents or witnesses from the White House for the president's trial.
Only one small deviation from total GOP uniformity — Collins' vote with Democrats on an amendment that would have given additional time for each side to respond to motions — suggested the slightest ripple of disagreement in the Republican caucus and earned the Maine senator a couple of overstated headlines about her "break" with the party. Rather than a crack in the Republican edifice, that lone vote instead highlights the sham of Collins' "independent" reputation and, even more, serves as a damning indictment of the so-called moderate Republicans in the Senate who have become shameless rubber-stampers of Trump's worst policies and predilections.
Until recently, Collins generally deserved her reputation as a relatively free-thinking senator who voted her conscience. Coming from a state that values its go-it-alone spirit — over one-third of Maine voters are registered as independents, the largest voting bloc in the state — Collins could never have won office by running as a Republican hardliner. Her pro-choice stance and her open-minded positions on issues including same-sex marriage, climate change, and immigration, were enough to qualify her as a "moderate" Republican, especially as the GOP lurched to the far right during the Obama presidency. In office, Collins laudably crossed party lines on important votes through the years, including siding with Democrats against Bill Clinton's impeachment and against the repeal of Obamacare.
Subscribe to The Week
Escape your echo chamber. Get the facts behind the news, plus analysis from multiple perspectives.
SUBSCRIBE & SAVE
Sign up for The Week's Free Newsletters
From our morning news briefing to a weekly Good News Newsletter, get the best of The Week delivered directly to your inbox.
From our morning news briefing to a weekly Good News Newsletter, get the best of The Week delivered directly to your inbox.
Just months before the 2016 election, Collins penned an op-ed for The Washington Post promising she would not vote for Trump that November. "Donald Trump does not reflect historical Republican values," Collins correctly noted at the time. Once Trump had won, pundits assured worried Americans that Collins and a handful of other Congressional Republicans would provide a critical check against the new president's illiberal tendencies and a voice of reason in the GOP.
It's true that Collins hasn't automatically sided with the entire Trump agenda. Among Republican lawmakers, she has one of the lower levels of support for voting with the president's position. Last year, the public affairs firm Quorum found Collins to be the most bipartisan senator, with 64 percent of the bills she co-sponsored having been sponsored by a Democratic senator, something Collins likes to tout on her own website. However, that largely symbolic record may help obscure what really matters in the age of Trump. This is a moment that doesn't require bipartisanship so much as it demands a bulwark. In this regard, Collins has failed notably.
That first became painfully apparent in Collins' handling of Brett Kavanaugh's Supreme Court confirmation. Faced with credible allegations that the nominee had sexually assaulted a high school classmate, Collins ceremoniously wrung her hands in public before ultimately supporting Kavanaugh. In a Senate floor speech defending her vote, Collins inexplicably said she believed Christine Blasey Ford had been sexually assaulted before saying she did not believe Kavanaugh was responsible. Equally incomprehensible, Collins said that based on her conversations with Kavanaugh, she was confident he would not help overturn Roe v. Wade once he joined the bench. Whether these claims were naïve or disingenuous is hard to know at this point. Either way, Collins' vote for Kavanaugh signaled her sad folding to Republican pressure.
Trump's Senate impeachment trial, of course, presents the most significant opportunity for Collins to prove her independent streak and demonstrate that at least one Republican senator is still more devoted to the Constitution than to this lawless president. Yet, like other supposed Trump skeptics such as Mitt Romney, Collins will likely continue the spineless strategy of performing mild public protestations over the president's conduct while eventually voting against his impeachment.
In the end, the Senate trial should make clear that no more Republican moderates, Collins or otherwise, remain. After all, what does it even mean to call oneself a moderate if you refuse to exert any moderating influence on a party as it succumbs to full-blown Trumpism? At this point, you're either with Trump or you're not. And while other episodes in the Trump presidency have taught us this lesson before, nothing puts that harsh fact in starker relief than the president's impeachment trial since it's literally a deliberation on Trump himself.
At the end of 2019, a Morning Consult poll found that Susan Collins had passed Mitch McConnell as the senator with the highest disapproval rating, a crushing blow for her as she faces a tough re-election campaign this fall and an almost impossible achievement considering how widely loathed McConnell is. Collins may find those results "disappointing" — a word she uses far too often to lament the very political reality that she's had a hand in making — but there's little expectation she'll reverse course on Trump. If she doesn't, the "Maine maverick" may just find herself independent of her Senate seat come this November.
Want more essential commentary and analysis like this delivered straight to your inbox? Sign up for The Week's "Today's best articles" newsletter here.

Continue reading for free
We hope you're enjoying The Week's refreshingly open-minded journalism.
Subscribed to The Week? Register your account with the same email as your subscription.