Which states best handled the pandemic? There's no clear answer.
Each state took a different approach. None of them were a silver bullet.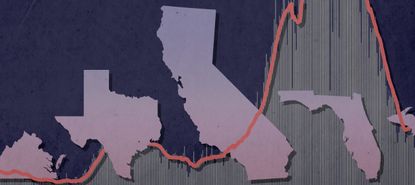 (Image credit: Illustrated | iStock)
Texas Gov. Greg Abbott (R) this week lifted his statewide mask mandate and allowed businesses to operate at 100 percent capacity, shocking public health officials worried the coronavirus variants circulating around the country could still lead to one final, deadly surge before the vaccination effort ends this crisis once and for all. President Biden assailed the move as "Neanderthal thinking," while conservatives cheered what they regard as a long-overdue step toward normalcy. But what if none of them are quite right?
Throughout the pandemic, one constant has been the gleeful finger-pointing on the left and right. I've done it, and so has almost anyone who has written publicly about this crisis. Opponents of hasty re-openings deemed them an "experiment in human sacrifice." Those who believed that lockdowns would wreak havoc on economies warned that America as we know it would be destroyed. But one year into this crisis, the haphazard state-by-state pandemic outcomes in the U.S. should challenge any cheap certainties about which states succeeded and failed at striking that elusive balance between saving lives and protecting economies.
States' decisions often lined up with partisan politics, but looking at the data available, it's difficult to discern any clear patterns that affirm the most strongly held beliefs about the right or wrong ways to handle the pandemic. Take, for example, Florida, where Gov. Ron DeSantis (R) in particular became a national lightning rod. When he resisted lockdown and snubbed a mask mandate, critics predicted mass death. And when a COVID surge didn't immediately manifest, allies insisted he deserved an apology. Then his critics spent the summer mocking him (and the aforementioned call for apology) during the South's surge.
Subscribe to The Week
Escape your echo chamber. Get the facts behind the news, plus analysis from multiple perspectives.
SUBSCRIBE & SAVE
Sign up for The Week's Free Newsletters
From our morning news briefing to a weekly Good News Newsletter, get the best of The Week delivered directly to your inbox.
From our morning news briefing to a weekly Good News Newsletter, get the best of The Week delivered directly to your inbox.
In the end, Florida's per-capita COVID-19 death toll remains middle-of-the-pack. And it is exactly the same as that of Washington, D.C., which embraced a strict lockdown. Meanwhile, on an economic level, strict lockdown states lost less year-over-year tax revenue than re-open-at-any-cost states. Florida's economic performance is pretty disastrous, with tax revenues down 11.3 percent from the same period in 2019-2020. If DeSantis had hoped keeping restaurants and resorts open would avoid a financial collapse, he failed miserably. While it's hard to find clear patterns in this revenue data, it is worth noting that all five states without sales taxes (Alaska, Delaware, New Hampshire, Montana, and Oregon) saw significant declines.
While red states have somewhat lower unemployment today, it's not obvious that ill-considered re-openings did much more to help than if they had simply paid everyone to stay home. Many "open" businesses aren't doing particularly well, and employees dependent on customer volume are suffering declines in their compensation anyway. On the other hand, it's not clear the restrictive closures we saw in many blue states actually saved many lives (outside of a handful of outliers like Vermont and Maine). But they did lead to higher unemployment. It might be helpful if everyone on both sides of this debate acknowledged that an economically critical segment of the national population was unwilling to go to restaurants and movie theaters and gyms no matter where they lived or what the government allowed.
One thing is clear: Because there are no internal border controls in the United States, it was always going to be exceedingly difficult to contain state-wide COVID-19 surges. While Americans traveled less in 2020 than in 2019, there were enough people taking their infections over state borders to render even the most stringent mitigation measures less effective.
It didn't help that most municipalities and states except Hawaii imposed quarantines of varying degrees of severity on travelers, but made basically no effort to enforce them. Maybe enforcement was impossible within the American legal framework, but the message received by citizens was wink-wink, do whatever you want. So they did. Expecting people not to do things that remained perfectly legal, even while public health experts begged them to do otherwise, was never particularly realistic.
A bigger factor might have been the enormous political pressure on governors and mayors to end bar, restaurant, salon, and gym closures. While there was significant divergence in state policies in the early months of the pandemic, by the summer even leaders who surely knew better were allowing these businesses to open back up, fearing a fiscal and budgetary apocalypse that never materialized. Once open, it became much more difficult to shut back down during the winter surge. Practically speaking, that means in spite of all the shouting and outrage, most states were doing roughly the same things, and so it shouldn't be terribly surprising that they ended up with similar death rates and unemployment levels.
Another interesting observation is that none of the states that have already ordered public K-12 schools open, including Iowa and Arkansas, crack the top 10 in per capita COVID-19 fatalities. This is certainly not to say that schools can't be super-spreader sites — particularly if teachers and students are forced back to the classroom without adequate investments in prevention measures — but rather more evidence that outcomes may not have depended exclusively on any of the lighting-rod decisions that so consumed public discourse.
Individual behavior, regardless of state rules and mandates, cannot be discounted. A certain subset of Americans never meaningfully changed their behavior after the initial lockdowns. Those who practiced social distancing were much less likely to get COVID than the heedless among us. The same is almost certainly true of those who have consistently worn masks in public. But unfortunately, the millions who refused to comply with either practice, particularly over the holidays, spread the virus all over the country, including to more sensible people who were trying desperately to avoid infection but who were not able to hermetically seal themselves in their homes for the whole year.
None of this should be read as a defense of the maddeningly inept response to the pandemic in the United States. Early failures to warn Americans of the imminent threat, sloughing off testing and tracing to overwhelmed state governments, denialism and mixed messaging from former President Trump — all of this meant the country never really had any hope of getting the virus under control without a vaccine or herd immunity, a process that might have involved the sacrifice of several million people. Even the most generous reading of the American response must acknowledge that some of this could have been avoided with better leadership and more coordinated policy between states rather than immediately scrambling to partisan battle stations.
Of course, lifting mask mandates now, when we are so close to vanquishing a disease that has killed more than 500,000 Americans, is absurd. They are almost costless, and it is better to be cautious about the ongoing threat of mutations and new infection spikes than to throw good sense to the wind to make a point in the culture wars. That said, the trajectory of this pandemic has now confounded us enough times that it would be wise to accept the limits of our current knowledge and wait for careful study in the future to help us answer bigger questions, including why certain countries got hit so much harder than others despite imposing similarly harsh lockdowns. Taking a deep breath and committing to that project of building knowledge will, if nothing else, help us better prepare for the next pandemic.

Continue reading for free
We hope you're enjoying The Week's refreshingly open-minded journalism.
Subscribed to The Week? Register your account with the same email as your subscription.