How I learned to stop worrying and love the vaccine line
The rollout should be better. But it's still cause for relief.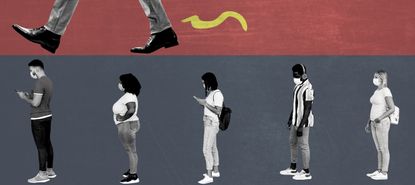 Most people who know me would not describe me as "calm," even in the best of times. But over the past year, I've been queasy with a near-daily anxiety about the people I love: a grandmother fresh off chemotherapy; two other grandparents in their 90s; my parents, with their own comorbidities; cousins and friends working in COVID-19 units without proper PPE.
Nothing, though, has been as agonizing as the past three months. I've been on a rollercoaster of emotions: elation at the approval of two (and now three) safe and effective vaccines, followed by bitter disappointment at how slowly the rollout is going. Sometimes it can seem like everyone but the most urgently at-risk people in my life are getting their shots, a judgment that initially made me resentful and suspicious every time I saw someone celebrating with a vaccine selfie before, what I had no right to assume, was their proper time.
Now, though, I'm embracing a radical acceptance of the process. And yes, that means taking a deep breath over the line-skippers, too.
Subscribe to The Week
Escape your echo chamber. Get the facts behind the news, plus analysis from multiple perspectives.
SUBSCRIBE & SAVE
Sign up for The Week's Free Newsletters
From our morning news briefing to a weekly Good News Newsletter, get the best of The Week delivered directly to your inbox.
From our morning news briefing to a weekly Good News Newsletter, get the best of The Week delivered directly to your inbox.
Accepting the vaccination process does not mean making excuses for it. Many Americans feel rightly confused and frustrated by the system, due to the lack of preparation by the previous administration and assorted state-level incompetencies. Trying to make an appointment in many places is maddening, and, depending on where you live, it can be difficult to get even basic information about what vaccination phase you're in, and who currently qualifies as eligible. The CDC reports that white Americans have received 63 percent of doses so far, though they only make up 56 percent of COVID cases. All around, public messaging needs to get better and guidelines need to be made clearer, there's no doubt about it.
The honor system method of confirming your own eligibility adds to the confusion, and raises suspicions: Does my former college roommate really have a preexisting condition? Wouldn't I have known about it, if he did?
I've been there. But it's unproductive, not to mention exhausting, to police everybody you know or sort-of-know. The real problem is, the system as it is currently set up provokes such scrutiny. In many states, the lack of clarity about what specifically qualifies as a preexisting condition has resulted in unfair pressure on people to disclose their private medical history, as to fend off the judgment of prying friends and colleagues. Not every eligible pre-existing condition is necessarily visible, and we need to trust that people are making the right decisions for themselves, based on information that we might not have access to.
Yes, there are going to be bad apples. Distributing the vaccine is way too urgent to be bogged down by the lengthy process of verifying the eligibility of every single recipient, and, as a result, it's fairly easy to lie in order to cut in line. Does that make doing so okay? Of course not. "The core ethical mistake here is thinking you're special and making an exception of yourself," said Pamela Hieronymi, a UCLA professor of philosophy who specializes in moral responsibility, and who spoke to Los Angeles Magazine. Reports of young people dressing up like "grannies," or elaborately stretching definitions, such as the SoulCycle instructor who ruled herself eligible as an "educator," abound. That's wrong, and those people should feel bad!
But on the whole, the vaccine clinics in America are doing what they're supposed to do: getting shots in millions of arms every day, and, in the process, rapidly lowering the future loss of life. As exasperating as it is on a personal level, what's unfolding is a minor miracle: that we have such effective vaccines in the first place, and that there could even be enough "for every adult in America" by the end of May.
That folks are so invested in the vaccine is exciting, even if it has the unfortunate side-effect of occasional line-jumpers and judgmental neighbors. Though the process is stressful, it's stressful specifically because so many people want and trust the vaccine. All the clamoring is actually a healthy indicator, in that regard.
There are other ways the government could have handled the rollout better. Distributing the vaccine by age brackets, as some states are doing, is a lot easier to understand — although the method has its own downsides, as it doesn't prioritize the people in high-exposure jobs, who are disproportionately affected by the pandemic. Best of all would be a system like the one in the U.K., where people who want to get vaccinated don't have to be actively searching for their chance to qualify, but instead are "invited" to get the shot when it's their turn.
But so long as we have the system we do, here's the thing to keep in mind: Every shot moves us closer to herd immunity. Every shot is a step toward making the country safer. If someone is eligible, then they should get the shot as soon as possible, guilt free. The rest of us, hang on. We are almost there.
I'm not perfect. The system still frustrates me, even if I'm trying to be more accepting of the circumstances. But what I know is this: we're all going to have a chance to get our shots, probably as soon as in the next few months. The process is working. That might not make me calm, exactly, but it gives me peace of mind.

Continue reading for free
We hope you're enjoying The Week's refreshingly open-minded journalism.
Subscribed to The Week? Register your account with the same email as your subscription.