Biden face-plants on evangelical outreach
The White House's first attempt to sell the reluctant population on COVID-19 vaccines was a lesson in what not to do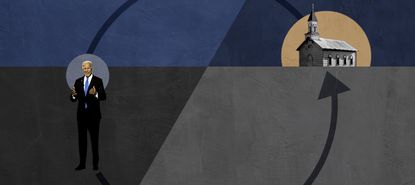 (Image credit: Illustrated | Getty Images, iStock)
White evangelicals have consistently stood apart from other major demographics in America in their views on the COVID-19 pandemic. Evangelical fears of infection declined more quickly than average; evangelicals were uncommonly likely to approve of former President Donald Trump's pandemic policy; and, early on, they were unusual in relying on Trump's coronavirus briefings as their top source of pandemic news. It comes as no surprise, then, that white evangelicals are also unique in their vaccine hesitancy, with 45 percent saying they "definitely or probably" will refuse the COVID-19 vaccine.
That number may well dwindle of its own accord, because many of the vaccine hesitant simply want to wait and see what happens after others get dosed. The Biden administration, understandably, is pushing for a faster shift — but the most visible piece of that project to date was stunningly clumsy as evangelical outreach, maybe even counterproductive. Is this indicative of how the White House plans to deal with white evangelicals for the next four years?
The awkwardness of the event in question might not be obvious outside evangelicalism. (I was raised evangelical and still fit the standard theological definition, but not the more common political connotation.) The Biden administration on Tuesday would be "hosting an event with evangelical leaders to discuss the vaccine and how we can partner with them," White House Press Secretary Jen Psaki said Monday. National Institute of Allergy and Infectious Diseases Director Dr. Anthony Fauci would be there, Psaki said, as would Dr. Francis Collins, who is director of the National Institutes of Health (NIH) and himself an evangelical who speaks fluently on faith and science.
Subscribe to The Week
Escape your echo chamber. Get the facts behind the news, plus analysis from multiple perspectives.
SUBSCRIBE & SAVE
Sign up for The Week's Free Newsletters
From our morning news briefing to a weekly Good News Newsletter, get the best of The Week delivered directly to your inbox.
From our morning news briefing to a weekly Good News Newsletter, get the best of The Week delivered directly to your inbox.
But this gathering wasn't focused on white evangelicals at all. As Religion News Service reporter Jack Jenkins confirmed, it was an assembly of "a diverse group of 25 interfaith clergy" at the National Cathedral in Washington. Does the Biden administration really imagine this will make vaccine-hesitant white evangelicals more likely to get vaccinated? If it influences them at all, I'd expect it to be for the worse.
The location is a mistake, for one thing. The National Cathedral is part of the Episcopal Diocese of Washington, and Episcopalians are far afield from the average evangelical on theology and politics alike. For many evangelicals, Episcopalians are the go-to example of a mainline Protestant denomination dying, they argue, because it abandoned the historic Christian faith to embrace a convenient but morally flimsy liberalism. Almost any other denominational host would have been a better choice for white evangelical outreach.
The building itself is no help, either. Its style is magnificent and elite, very high church — which is to say, not evangelical at all. Billed as the "spiritual home of the nation," the National Cathedral makes sense for elaborate state funerals and interfaith events like this one, but it's nothing like the churches most evangelicals know. The "smells and bells" are suspicious, not reassuring. Details like the Star Wars grotesque, the NASA window, and décor honoring secular heroes of U.S. history like first lady Eleanor Roosevelt would all be looked askance as inadequately churchy or churchy in the wrong way.
Perhaps the most significant misstep, however, in both building selection and event design, is the interfaith element. The cathedral has a "central mission ... to serve as a house of prayer for all people — no exceptions," and the vaccine event's roster of faith leaders wasn't all Christians. Though many evangelicals welcome interfaith dialogue, inviting non-Christian religious practice into Christian places of worship is very controversial among evangelicals. (More broadly, interfaith outreach in politics might seem efficient, but it's often of limited use unless it directly concerns interfaith relations: Killing two dozen birds with one stone only works if the birds like to sit together, and they frequently don't.)
The Biden administration, as Psaki acknowledged Monday, is at an inherent disadvantage in appealing to vaccine-hesitant white evangelicals, who are overwhelmingly Republican. But, she said, "the president's goal is to vaccinate all Americans, not just those who voted for him." That's a good aim, but the administration is off to a remarkably weak start here.
The question I struggle to answer is why. Though President Biden's Catholicism is far removed from evangelicalism, he has advisers who surely could have planned something with a better shot at success. Perhaps Psaki merely failed to mention that other, better outreach ideas — intracommunity work by evangelicals, for evangelicals — are underway. I hope so for the sake of vaccination rates, and for the sake of our political culture for the next few years. Evangelicals (as that vaccine poll measures them) make up about a quarter of the U.S. population. That's just way too many people for communication this inept.

Continue reading for free
We hope you're enjoying The Week's refreshingly open-minded journalism.
Subscribed to The Week? Register your account with the same email as your subscription.