Add fire to your food: the ultimate BBQ guide
Dish up some classic barbecue food with these cooking tips and tricks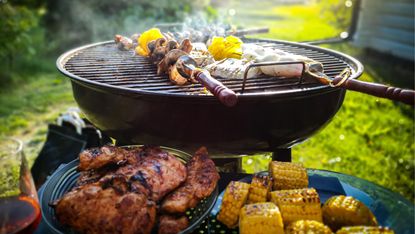 (Image credit: Björn Forenius/Alamy Stock Photo)
Sign up to our 10 Things You Need to Know Today newsletter
A free daily digest of the biggest news stories of the day - and the best features from our website
Thank you for signing up to TheWeek. You will receive a verification email shortly.
There was a problem. Please refresh the page and try again.
With the sun finally making a welcome appearance in the UK it's time to fire up the BBQ.
But before you start marinating the meats, prepping the veg and mixing up some cocktails, make sure you have some tricks up your (chef's apron) sleeve.
In this guide chefs and experts reveal their top tips for cooking barbecue food, plus we pick out some recipes and cocktails for a summer gathering.
Subscribe to The Week
Escape your echo chamber. Get the facts behind the news, plus analysis from multiple perspectives.
SUBSCRIBE & SAVE
Sign up for The Week's Free Newsletters
From our morning news briefing to a weekly Good News Newsletter, get the best of The Week delivered directly to your inbox.
From our morning news briefing to a weekly Good News Newsletter, get the best of The Week delivered directly to your inbox.
1. Charcoal or gas?
Friends have fallen out and neighbours have gone to war over this question. They needn't have bothered. "Charcoal is obviously the best," said Tony Turnbull in The Times – "ideally single varietal and from a hand-coppiced wood in Oxfordshire or something". Some enthusiasts invest in charcoal "libraries" of oak, apple and ash chips for various grilling needs, "as if they are culinary curators rather than middle-aged wannabes overseeing a sausage incinerator". But there's no doubt. Charcoal gives you the best flavour, especially if you throw on some branches of rosemary or a sprig of thyme for added aroma.
Charcoal it is. And charcoal's charcoal, right? Er, no. "You may think that one bag of charcoal is almost identical to another," said Olivia Abel on Business Insider UK. But you would be wrong. "There are actually many different types and styles of charcoal to choose from." For starters, you have your briquettes, lump charcoal and flavoured briquettes.
2. Susy Massetti's top BBQ tips and hacks
Chef Susy Massetti has travelled the globe and been at the helm of some of the finest five-star restaurants. Here she shares her top BBQ hacks, and the most common mistakes people make when using a grill.
How to make sure the charcoal is just right
The biggest mistake is to rush into the cooking and not waiting for the charcoals to be just right. A white charcoal doesn't necessarily mean that is ready, wait until there is a somewhat uniform temperature and at least two-thirds of the charcoals have turned to white. Then, depending on the time you need to grill, make sure your food is spread out in an even layer.
Keeping the grill at the same temperature won't do your cooking any favours. It is very important to prepare your charcoal so one area is searing hot. You won't achieve that beautiful, caramelised crust and you'll be unable to sear your meat before moving to a warmer area to complete the cooking process nice and slowly.
Not preparing your barbecue in this way will usually result in your food not being cooked how you like and how many times have we moaned that the fire is going out before we have finished cooking?!
How to avoid a chemical fire starter
Using a chemical smelling fire starter will, you guessed it, leave your food smelling like chemicals. Too many people make this mistake when barbecuing. Always prepare your fire with a chemical free version.
It's all in the marinade and not the fat
My top tip is to marinate your food. It doesn't matter if you are using vegetables, meat or fish, a good marinade makes all the difference. However, avoid lots of fats at all costs as they will just drip on the coals and start up flames that will unpleasantly burn bits of whatever you are cooking.
Ditch the foil for parchment paper
Wrap up your food in a parcel before grilling. This will ensure your food is cooked in an enclosed environment that will turn into a juicier, completely full of delicious flavour. Try wrapping in parchment paper then in aluminium foil for best results. Take it out when ready and let it rest for a few minutes then unwrap and place on the hot side of the grill to acquire that deliciously appealing charred finish! Leave the juices in the wrap and place it over the hot area to reduce. Drizzle on the juices and serve.
Cook your veggies under the meat
If you are serving vegetables with your meats, always place it under the meat to catch all the yummy drippings which in turn will make your veggies super delicious.
Mind the meat-to-fat ratio and watch the seasoning
Make sure you have at least a 70/30 meat-to-fat ratio. So, if you are grilling a classic burger remember that fat is what minced meat needs in order to result in a juicy burger. Limit the seasoning to sea salt and pepper and grill all the toppings with the burger. Nothing is more delicious than grilled onions and tomato in my opinion. Should you decide to go for a much leaner meat mix, ensure you wrap it up as I suggested above in parchment paper to avoid a dry and potentially burnt burger.
Chicken: leave the bones on and use a brick
Chicken is one of the hardest meats to cook correctly and safely when barbecuing. To achieve the best charcoal grilled chicken that is not burned to a bitter crisp and ends up tasteless and dry, my top hack is to leave bones and skin on, spatchcock it and flatten with a meat mallet and marinate with your favourite spices/herbs.
Another tip is to place a clean brick on the hottest side of the grill and wrap your chicken (parchment first then aluminium foil) and cook it for 20 to 35 minutes depending on the size of the bird. Then take it out and let it rest for five to ten minutes. Remove the meat from the wrap and place it meat-side down on the warm side of the grill and top the skin side with the super-hot brick. Leave it for seven to ten minutes and serve immediately with its own juices.
3. Farmison & Co and Jeff Baker's dos and don'ts for cooking BBQ food
Online butcher Farmison & Co and Michelin-starred chef Jeff Baker have put together their dos and don'ts for a perfect BBQ.
The dos
Do prepare in advance! Jot down a job list and be realistic what you can achieve on the BBQ. Trying too many different items will end in failure.
Do invest in good quality tongs and heat resistant gloves to make the BBQ experience much easier and safer.
Do use a high grade lump charcoal (my favourite is Hickory and oak) which will burn both cleaner and longer.
Do use a chimney starter to get the charcoal fired up both quick and evenly.
For controlled cooking use a meat thermometer. Always probe the meat/poultry at the thickest point and remember the temperature will continue to rise once you stop cooking. This can be as much as a additional 10°C on thick joints.
For enhanced smoke-flavour add the natural hardwood at the start of the cook process so the flavour permeates the meat.
Always rest your meat in a warm place loosely covered to relax and lock in the juices.
The don'ts
Don't keep opening the lid. However tempted you might be, this will lose temperature and create inconsistent cooking temperatures.
Don't apply sweet sticky marinades until the final stage of cooking as the sugar can burn easily.
Don't place oil directly on the grill as it will flare, the oil will burn and it will taint the meat/poultry.
Don't forget the BBQ is also really good for summer vegetables and stone fruits.
4. Parson's Nose BBQ trends
Online and London-based butchers Parson's Nose has identified some top trends for barbecuing this summer and shared tips on cooking to perfection outdoors.
Cheaper cuts – quick and hot
Roll over sirloin, this year we'll be enjoying cheaper cuts of steak such as bavette and flat iron which have exceptional flavour and benefit fast cooking on a hot barbecue. Bavette, also known as a flank or skirt, has often been called the butcher's cut, because it is said butchers reserved it for their own pleasure. It responds well to marinating, cook medium rare, cut across the grain and serve with bold herby accompaniments such as chimichurri. Parson's Nose beef is responsibly reared, high welfare and grass fed in the Glens of Scotland and aged for 28 days.
Low and slow
In contrast, larger joints like whole chicken, pork hocks or lamb ribs are delicious cooked low and slow. Patience is key, keep the temperature low (about 90-110°C) and the meat away from the direct flame – a kettle barbecue with a lid is essential. Rub the meat with a combination of salt, sugar and spices and leave it to cure overnight or try ready-made rubs. For whole chicken or duck, open up the cavity and spread the legs so that it will cook evenly.
More fish feasts
Fish will feature more on barbecues this year. Any of the small, oily fish – sardines or mackerel – are cheap and delicious when grilled. They're also easy to handle on the barbecue and served with lovely sauces such as salsa verde or aioli to spoon over the top.
Use quality charcoal
Parson's Nose believe that the secret to a great tasting barbecue is not only in the meat (fish or veg) but also in using the best charcoal you can which enhances the taste and flavour. Good quality charcoal burns longer so you'll use less and isn't packed with chemicals like mass-produced charcoal – it's simply a clean and natural baked English timber. Parson's Nose Eco Charcoal is a premium sustainable charcoal, made from English coppice woodlands. It is one of the UK's oldest charcoal companies and has consistently been producing amazing charcoal since the 1980s.
Top BBQ tips
Firstly, give yourself time to get the barbecue going before your guests arrive. It can take 30 minutes to get to the right temperature
Secondly, take your meat out of the fridge at least an hour before cooking to avoid meat which is cold in the middle and burned on the outside.
Season your meat well and an oil-based marinade will stop moisture leaching away.
Don't keep poking your meat to see if it's cooked… you'll let out all the succulent juices, instead invest in a digital thermometer to know when your meat is cooked.
Finally, while you relax with a drink, let your meat do the same. Resting is one of the most important stages of any barbecue, it will continue to cook and the tissues will relax so it will be more tender.
5. How to cook the perfect steak over charcoal
In an extract from his book "PRIME: The Beef Cookbook", chef Richard H Turner explains how to prepare your favourite cut of meat over charcoal.
Cooking on a live fire grill is a skill and craft all of its own, made easier by the performance and quality of the material you're burning.
Success in cooking over a flame, whether direct or indirect, is down to the ability to control temperature, and while it is possible to give you guidance as to how to do this, the technique can really only be learned through practice. Just keep lighting your grill and cooking on it, and you will begin to understand the hot spots and cool spots, how long it takes for the coals to burn down for the optimum grilling temperature, and how long a full load of charcoal lasts.
Light the grill early enough to allow it to die down before cooking the first piece of meat. Make sure the grill is hot, but not too hot: the charcoal should have burned down and be coated in white ash. It should not be so hot that you can't stand close to it; if it's too hot for you, then it's probably too hot for the steak.
The aim is to get a good char on the outside while keeping the meat juicy and tender inside, which is impossible with a thin piece of meat – ideally, the steak should be at least 4cm (1.5 inches) thick.
Take it out of the refrigerator 30 minutes before cooking, to bring it up to room temperature. At the last second, season the meat well, but don't use any oil on it – if the grill is at the correct temperature, the meat won't stick.
6. Best wines for barbecues
Grapes grown in hot climates, such as the Mediterranean, Australia, Chile and California, "ripen easily and the wines made from them are full-flavoured and taste sweeter", making them perfect for BBQ food, said wine and spirit merchants Berry Bros & Rudd.
With chicken or fish it is best to go for a French white vin de pays or crisp chardonnay from Australia or California, but with heavier, darker meats such as hamburgers or steaks, plump for an Australian shiraz, Californian zinfandel or red vin de Pays d'Oc.
The Trefethen 2015 dry riesling offers "flavours of nectarine, pear and apple complemented by aromas of orange blossom and white flower" that makes it perfect "paired with spicy barbecue and grilled seafood", said Gayot. But for outdoor eating, it's hard to go wrong with a sauvignon blanc. The "perfectly decent, crisp, citrusy" Frontera 2015 from Chile's Central Valley really "hits the spot", said Fiona Beckett in The Guardian.
7. Recipe: skewered lamb kebabs
While in Srinagar, I ate sheekh kebab at a few places, said Romy Gill – it is a popular appetiser and I am a huge fan. This recipe has a perfect balance of flavours and is super easy to make at home.
Ingredients: serves 3-4 people
1kg minced (ground) lamb (ideally leg meat)
2-3 tsp Kashmiri chilli powder
1½ tsp of salt
1 tsp of dried mint
1 tsp of ground cumin
1 tsp of saffron strands
1 tsp of black cardamom seeds, crushed to a powder in a pestle and mortar
½ a tsp of black cumin seeds, crushed to a powder in a pestle and mortar
handful of fresh coriander leaves, chopped, plus extra to serve
1 large egg, lightly beaten
To serve
sliced shallots
lime wedges
chutney of your choice (optional)
Method
Combine all the ingredients, except the egg, in a large mixing bowl. Mix together, kneading as you would a dough, until well combined. Cover and refrigerate for 1 hour.
Remove from the refrigerator, then place the mixture in a food processor. Add the egg and blend to a paste.
Divide the mixture into 6 equal-sized portions. Wet your hands with cold water and mould each portion around a skewer, gently pressing and shaping each into a long sausage. Damp your hands again and smooth the surface of each kebab.
Meanwhile, prepare a barbecue or preheat the oven grill to high.
Cook the skewers on the hot barbecue or under the grill for 8-10 minutes, turning them after 5 minutes and rotating them frequently until well browned and cooked on all sides.
Serve scattered with coriander and sliced shallots, with lime wedges for squeezing and a chutney of your choice, if you like.
Taken from On the Himalayan Trail: Recipes and Stories from Kashmir to Ladakh by Romy Gill, published by Hardie Grant at £27. Photography by Matt Russell. To buy from The Week Bookshop for £21.99, call 020-3176 3835 or see theweekbookshop.co.uk
On the Himalayan Trail by Romy Gill
8. Recipe: tandoori lamb chops
Everyone needs a good tandoori recipe up their sleeve, said Nisha Katona. Most home cooks don't have a tandoor – a traditional clay oven – but that's fine: these chops are superb under the grill, in the oven or on the barbecue.
Ingredients: serves four people
120ml vegetable oil
1 heaped tbsp tomato purée
300ml plain yoghurt
juice of 1 lemon
1 cube frozen crushed garlic, defrosted, or 3 garlic cloves, crushed
2 tbsp garam masala
1 tbsp paprika
1 tsp fenugreek powder
1½ tsp salt
8 lamb chops
small handful fresh coriander, leaves picked, to garnish
cooked rice, flatbreads or wraps, to serve
Method
Preheat the grill to high and line a grill pan with foil, or prep a barbecue.
Put all of the ingredients except the lamb in a large bowl and stir to combine. Add the lamb chops to the bowl and use your hands to coat them with the marinade. If you have time, you could leave these to marinate in the fridge for a few hours at this point, or they can be cooked straight away.
Cook the marinated lamb chops under the grill or on the barbecue for 5-6 minutes on each side, until the meat is cooked to your liking and the edges begin to char.
Serve the lamb garnished with fresh coriander, and with your choice of rice, flatbreads or wraps alongside.
Recipe from 30 Minute Mowgli by Nisha Katona, published by Nourish Books at £25. To buy from The Week Bookshop for £19.99, call 020-3176 3835 or visit theweekbookshop.co.uk.
30 Minute Mowgli by Nisha Katona
9. Recipe: barbecued marinated carrots
Carrots can be a rather unexciting vegetable, said Helen Graves, editor and co-founder of live-fire cooking magazine Pit. However, when marinated then grilled over a live fire, and served shiny and aromatic with a hot spiced butter, they really come into their own.
Prepare the carrots
500g carrots, peeled and cut into quarters lengthways
For the carrot marinade
4 cloves garlic, peeled and crushed or grated
3 tbsp lime juice
2 tsp cumin seeds
2 tsp coriander seeds
2 cardamom pods, crushed and seeds removed
4 tbsp neutral oil e.g. groundnut
For serving
strained yoghurt or other thick, cold yoghurt (around 250g should do it)
a good knob of butter (about 25g), or ghee
a good handful of fresh curry leaves
2 tsp brown mustard seeds
Method
Toast the cumin and coriander seeds in a dry pan over a medium heat until fragrant, then grind or crush to a powder with the cardamom seeds.
Mix the spices with all the other ingredients for the carrot marinade in a dish large enough to hold the veg in a shallow layer.
Cook the carrots in boiling water for 3 mins, then drain. Add them to the marinade with some salt and mix well. Leave overnight or for a few hours.
Prepare your barbecue for direct cooking, with a medium heat (let any flames die down). Place the carrots on it, until cooked through and lightly charred – around 15-20 mins.
Spread the yoghurt onto a serving plate and top with the carrots. Melt the butter/ ghee in a small pan and add the seeds and leaves – when the seeds start to pop, pour the mixture over the carrots, sprinkle with some more salt, and serve.
10. Recipe: spiced yoghurt, cauliflower and mango
When you discard the idea that barbecues are just for cooking meat, a world of possibilities opens up, said Katy Beskow. A delicious example are these cauliflower florets, marinated in a simple spiced yoghurt and then grilled on skewers with mango.
Ingredients: serves four people
6 tbsp plain soya yoghurt
1 tbsp sunflower oil
1 tbsp mild curry paste
½ tsp ground turmeric
½ tsp ground cumin
pinch of dried chilli flakes
pinch of sea salt
1 small cauliflower, leaves discarded, broken into about 16 bite-sized florets
2 firm mangoes, peeled and diced into about 12 bite-sized chunks
juice of ¼ of an unwaxed lemon
small handful of fresh coriander leaves, roughly torn
Method
Barbecue cooking temp: medium heat
In a large bowl, whisk together the yoghurt, oil, curry paste, turmeric, cumin, chilli flakes and sea salt until combined.
Add the cauliflower florets and coat in the marinade.
Cover the bowl with cling film or a lid and allow to marinate for 2 hours.
Get your barbecue to a medium heat.
Shake off the excess yoghurt marinade from the cauliflower florets and thread onto 4 metal skewers, alternating with the mango chunks. Aim for 4 cauliflower florets and 3 mango chunks per skewer.
Place the skewers onto the hot grill and cook for 12-15 minutes, turning a few times to ensure even cooking. Remove from the grill and carefully slide the cauliflower and mango off the skewers.
Squeeze over the lemon juice and scatter with coriander leaves.
Hot tip: as the mangoes cook on the barbecue, they will soften and become sticky. Start with slightly underripe mangoes so that they thread firmly onto the skewer and will be less likely to break off during cooking.
Recipe from Vegan BBQ: 70 Delicious Plant-Based Recipes to Cook Outdoors by Katy Beskow, published by Hardie Grant at £16.99. Photography by Luke Albert. To buy from The Week Bookshop for £13.99, call 020-3176 3835 or visit theweekbookshop.co.uk
11. Cocktail recipes: drinks to serve at a BBQ
A refreshing drink is a great complement to any BBQ feast. Of course you can serve up a classic jug of Pimm's or Aperol Spritz, or you could get creative by mixing a cocktail. Here we pick out three cocktails to serve this summer...
Rackhouse Lemonade
Daddy Rack Tennessee Straight Whiskey is lovely to drink on its own, with or without ice. However, it really comes alive as part of the brand's own signature cocktail, the Rackhouse Lemonade. With its refreshing peachy undertones, this is a perfect drink for the outdoor season.
Ingredients
45ml Daddy Rack
20ml Crème De Pêche
15ml lemon juice
90ml lemon-lime soda
Combine all the ingredients in an ice-filled Collins glass. Stir and garnish with a slice or twist of lemon.
The Lost & Mojito
Leave regular mojitos in the past and try something new with The Lost Explorer Mezcal. The Lost & Mojito makes for a fabulous alternative mojito serve, bringing deep, rich and smoky flavours to this wonderful cocktail.
Ingredients
45ml The Lost Explorer Espadín
30ml simple syrup
30ml lime juice
8-10 mint leaves
Club soda
Muddle all ingredients except the club soda. Pour into a highball glass filled with ice. Garnish with a sprig of fresh peppermint.
Pinktini
Shaken not stirred, the Pinktini is a cocktail created by Pinkster Gin.
Ingredients
50ml Pinkster Gin
10ml elderflower cordial
Fill shaker with ice, throw in several raspberries and then add five parts Pinkster to one part cordial, shake and pour. Garnish with a raspberry and sprig of spanked mint.
Continue reading for free
We hope you're enjoying The Week's refreshingly open-minded journalism.
Subscribed to The Week? Register your account with the same email as your subscription.