Wiltons review: say good morning to old school, proper restaurant-ing
Enjoy culinary theatre with an iconic carving trolley and sublime pudding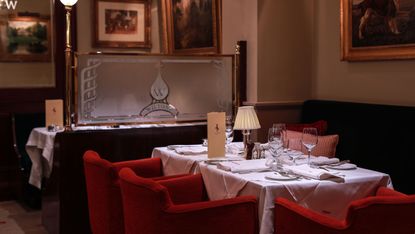 Sign up to our 10 Things You Need to Know Today newsletter
A free daily digest of the biggest news stories of the day - and the best features from our website
Thank you for signing up to TheWeek. You will receive a verification email shortly.
There was a problem. Please refresh the page and try again.
I'd never been to Wiltons. In this line of work – or, yes, "work" as my friends frequently insist on calling it – we chase new openings, we keep tabs on promising chefs as they add to their CVs, we get tipped off to street food projects and local gems that take us miles from our comfort zones (and, frequently, any form of public transport). But we oh so rarely get to try, or even revisit, some of the culinary world's longer-running places.
Clearly such things haven't bothered Wiltons, which is currently, in 2022, celebrating 280 years of trading, initially as a fishmongers, then as a fishmongers and oyster counter and then as a full-blown restaurant. Seafood still plays its part but, well, that's the case at many restaurants, obviously. The main draw for me – as well as filling in an embarrassing gap in my London restaurant knowledge, of course – was two words that you see all too rarely these days. And those words are "carving trolley".
Time travelling
Seriously, isn't that one of the most appealing two-word phrases in the restaurant lexicon? It's old school, it's proper restaurant-ing, a daily changing, prepped-at-tableside bit of culinary theatre. Wednesday is roast sirloin, with roast potatoes and Yorkshire pudding. Tuesday is roast rack of Blythburgh pork with roast potatoes and apple compote. Personally, I'd have gone for Thursday – honey glazed gammon, pommes puree – but it was pointed out to me, domestically, that I was wrong and clearly meant Monday for roast leg of Dorset lamb, roast potatoes and mint sauce. Cough.
Subscribe to The Week
Escape your echo chamber. Get the facts behind the news, plus analysis from multiple perspectives.
SUBSCRIBE & SAVE
Sign up for The Week's Free Newsletters
From our morning news briefing to a weekly Good News Newsletter, get the best of The Week delivered directly to your inbox.
From our morning news briefing to a weekly Good News Newsletter, get the best of The Week delivered directly to your inbox.
And so, finally, instead of walking past Wiltons's relatively tiny façade on Jermyn Street, we ventured in to discover: a) we'd time travelled; and b) appropriately, given point a, the restaurant opens out enormously like a wood-lined TARDIS. As for that first point… "Good morning," declared the person checking reservations. "Well, we're early, but I think it's afternoon…" I replied, checking my watch. "Ah," explained the maître d, stepping in to take us to our table, "at Wiltons it's always morning until you've had your lunch". And, as if to prove it, a passing waiter also wished us "good morning", ditto the waiter who brought us bread…
Appealing classics
As befits the room – wood, white linen, works of art – the menu is a list of appealing classics, simple dishes and no little luxury: Iranian beluga, anyone? As befits the postcode, pricing is a little eye popping: the aforementioned beluga is £240, oysters come in around £6 a pop, and even potted shrimp will set you back £18. However, there is a seasonal menu where your various choices, including half a dozen rock oysters, the trolley and the crumble (about which I plan to wax lyrical in a couple of hundred words or so), can be purchased for a really quite reasonable £39.95 for two courses, or £47.95 for three. Actually, given the room, the service, the deep sense of tradition, the ingredients and the quality of the cooking – not to mention current supermarket prices and the price of cooking at home – that's actually a bargain. But I digress…
Masterpiece of simplicity
In such a classic spot, and with the main course already known, we ask our waiter – yes, after another "good morning" – for recommendations, their biggest sellers and received the Devonshire crab and avocado (£29), and the twice-baked Colston Bassett stilton soufflé (£18). The former is a celebration of well-sourced fish with a garnish of perfectly ripe avocado, the latter a light but still splendidly artery-hardening burst of big flavoured comfort eating. A la carte, well, no, they're not cheap but the quality of the ingredients is clear so I'd argue that they're better value than they first appear.
The lamb appears and, predictably, it's perfectly cooked, pleasingly pink, tender and delicious lamb. The trimmings are great, the sauce ditto. The last spuds are saved to make sure we've got every last drop of gravy which, surely, is the mark of a good roast?
And then there's the crumble. It sounds so simple, doesn't it? Apple and hazelnut crumble. But it's a masterpiece of simplicity. The apple still has texture, and a little tartness. The crumble is buttery and borderline decadent, but the presence of hazelnuts moderates the richness, adds texture and balances the sweetness. It's sublime, and genuinely one of the best puddings I've had this year. It even makes me regret my choice of Welsh Rarebit because of course there's a "Savouries" menu, and of course I chose something from it. It's perfectly decent Welsh Rarebit, but, well, it's not the crumble…
Lightness of touch
It's a resolutely traditional lunch, in a resolutely traditional spot but we don't – as would often be traditional in such circumstances – roll out groaning and pledging to start a diet the following day. We're comfortably replete, yes, but not painfully so, as there's also a surprising lightness of touch here. Admittedly, unlike the very well dressed, clearly-Wiltons-regulars tables to our side and just behind, we also didn't drink our bodyweights in Claret. Wiltons very clearly can be that kind of place but, unlike many such places, it never feels like you've crashed a members' club or don't belong, and that's an admirable trick to pull off.
Wiltons, 55 Jermyn Street, St. James's, London, SW1Y 6LX; wiltons.co.uk
Continue reading for free
We hope you're enjoying The Week's refreshingly open-minded journalism.
Subscribed to The Week? Register your account with the same email as your subscription.
Sign up to our 10 Things You Need to Know Today newsletter
A free daily digest of the biggest news stories of the day - and the best features from our website