10 things you need to know today: March 24, 2022
U.S. accuses Russia of Ukraine war crimes, Supreme Court nominee Ketanji Brown Jackson faces tense questioning by GOP senators, and more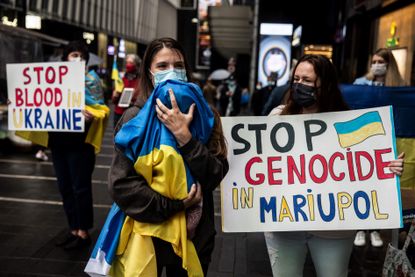 (Image credit: ISAAC LAWRENCE/AFP via Getty Images)
1. U.S. formally accuses Russia of war crimes in Ukraine
Secretary of State Antony Blinken on Wednesday formally accused unnamed members of Russia's armed forces of committing war crimes in Ukraine. Blinken vowed to hold those responsible accountable for such "atrocities" as attacks on hospitals and schools. President Biden recently said he believed Russian President Vladimir Putin, who ordered the Ukraine invasion, to be a "war criminal," but Blinken didn't single out the Russian leader. Biden landed in Brussels on Wednesday. He plans to meet with NATO and European Union leaders and push for tougher sanctions against Russia. Biden, who also will visit Poland, is expected to announce sanctions against more than 300 members of Russia's State Duma, and call for deploying more NATO forces on Europe's eastern flank to prevent the war from expanding.
2. Supreme Court nominee Ketanji Brown Jackson faces tense GOP questioning
Supreme Court nominee Ketanji Brown Jackson defended her sentencing decisions as a judge in sometimes tense questioning Wednesday by Republican senators trying to portray her as soft on crime, and a judicial activist who would legislate from the bench. "Judges can't make law; judges should not be policymakers," Jackson responded during the third day of her confirmation hearings. GOP Sens. Josh Hawley (Mo.), Ted Cruz (Texas), and Lindsey Graham (S.C.) grilled Jackson about what they said were light sentences she gave in several child pornography cases, frequently interrupting her as she responded. Jackson said she followed federal guidelines and instructions from Congress to rehabilitate offenders. The Senate Judiciary Committee will hear from witnesses for and against Jackson in the final day of hearings Thursday.
Subscribe to The Week
Escape your echo chamber. Get the facts behind the news, plus analysis from multiple perspectives.
SUBSCRIBE & SAVE
Sign up for The Week's Free Newsletters
From our morning news briefing to a weekly Good News Newsletter, get the best of The Week delivered directly to your inbox.
From our morning news briefing to a weekly Good News Newsletter, get the best of The Week delivered directly to your inbox.
The Washington Post The New York Times
3. Madeleine Albright, 1st female secretary of state, dies at 84
Madeleine Albright, the first woman to serve as secretary of state, has died of cancer, her family said in a statement Wednesday. She was 84. Albright was a key figure in President Bill Clinton's administration, serving as the U.S. ambassador to the United Nations before becoming the nation's top diplomat in Clinton's second term. Albright played a key role in forging Western foreign policy following the end of the Cold War, pushing to expand NATO and have it intervene to stop genocide and ethnic cleansing in the Balkans. "Few leaders have been so perfectly suited for the times in which they served," Clinton said in a statement, calling Albright "a passionate force for freedom, democracy, and human rights."
4. Russian climate envoy reportedly quits over Ukraine invasion
Russian climate envoy Anatoly Chubais resigned from his post out of opposition to Russian President Vladimir Putin's invasion of Ukraine, Bloomberg reported Wednesday, citing people familiar with the situation. Bloomberg reported that Chubais, who once served as former President Boris Yeltsin's chief of staff, had left the country. The New York Times reported that Russian state news agency Tass said only that Chubais had left his Kremlin post. If Chubais' departure is confirmed, he will be the highest-ranking Russian official to come out in opposition to the Ukraine invasion. Chubais was a member of a small group of economists who designed Russia's post-Soviet economic reforms, and one of the few 1990s-era reformers remaining in Putin's government.
5. Moderna says trial shows COVID vaccine safe in young children
Moderna announced Wednesday that it would seek emergency approval of its COVID-19 vaccine in children under age 6. The request came after interim clinical-trial results showed the vaccine was safe, and children in that age group got an immune response from a quarter dose that was similar to the one seen in vaccinated young adults. Moderna, which also is researching the effectiveness of a booster shot, said the vaccine was 44 percent effective in preventing symptomatic illness among children ages 6 months to 2 years, and just 37 percent effective in those ages 2 to 5. "What I will say is 37.5 percent and 43.7 percent are higher than zero," said Dr. Jacqueline Miller, Moderna senior vice president for infectious disease.
6. Black box from crashed China Eastern Airlines jet found
Search crews found one of the two black boxes belonging to the China Eastern Airlines plane that crashed Monday in the mountainous terrain of the southern China region of Guangxi, Chinese state media said Wednesday. The box reportedly was "heavily damaged," state media said. All 132 people who were on board the Boeing 737-800 jet were feared dead. The plane was cruising at 29,100 feet when it went into a nosedive, briefly recovered and climbed, then plunged to the ground. The airliner dropped more than 25,000 feet in about two minutes before slamming into the ground. Authorities have not yet confirmed any fatalities. Investigators have not yet said what could have caused the crash.
7. N.Y. prosecutor who resigned says Trump guilty of felonies
Manhattan prosecutor Mark F. Pomerantz wrote in his resignation letter that after investigating former President Donald Trump and the Trump Organization, he believes Trump is "guilty of numerous felony violations," The New York Times reported Wednesday. Pomerantz also said it would be a "grave failure of justice" not to hold Trump accountable. The letter, which was obtained by the Times, was submitted on Feb. 23 to new Manhattan District Attorney Alvin Bragg. Pomerantz and Carey R. Dunne, another senior prosecutor involved in the Trump inquiry, resigned after Bragg paused pursuing an indictment. Pomerantz and Dunne had intended to charge Trump with falsifying business records. A Trump lawyer said the former president wasn't charged because he did nothing wrong. Trump's company said Pomerantz was "a never-Trumper."
8. Trump withdraws Rep. Mo Brooks endorsement after call to drop election complaints
Former President Donald Trump said Wednesday that he was withdrawing his endorsement of Rep. Mo Brooks (R-Ala.) in the 2022 Republican Senate primary. Trump described Brooks as "woke," and criticized him for saying at a rally last year that people should move on from the 2020 presidential election, which Trump considered disloyal due to his continuing unfounded claim that the election was stolen from him by fraud. "When I endorsed Mo Brooks, he took a 44-point lead and was unstoppable. He then hired a new campaign staff who 'brilliantly' convinced him to 'stop talking about the 2020 Election,'" Trump said in a statement. "Very sad but, since he decided to go in another direction, so have I." Trump reportedly has met with other primary candidates, including Katie Britt, a former aide to retiring Sen. Richard Shelby (R-Ala.).
9. Supreme Court blocks Wisconsin legislative map with new Black voting district
The Supreme Court on Wednesday blocked a revised plan for Wisconsin legislative districts that would have created a new Black voting district touching Milwaukee. In an unsigned opinion, the Supreme Court said the plan, drawn by Democratic Gov. Tony Evers and opposed by Republicans, was an example of "the sort of uncritical majority-minority district maximization that we have expressly rejected." The high court declined to block new Wisconsin congressional district maps. State Republicans had challenged those, too. The new maps tweak boundaries of the state's eight congressional districts, but were expected to preserve Republicans' 5-3 advantage. The Wisconsin case was the latest of what is expected to be dozens of redistricting challenges heading for the Supreme Court following the 2020 census.
10. U.S. granted consular access to WNBA star Brittney Griner in Russia
The United States has been granted consular access to basketball star Brittney Griner, who has been detained in Russia for weeks, State Department spokesperson Ned Price told CNN on Wednesday. A U.S. embassy official was granted consular access to Griner "within the past couple of hours" and was "able to check on her condition," Price said, adding that the official found her "to be in good condition." Russian officials arrested Griner at the airport in February after cannabis vape cartridges were allegedly found in her suitcase. She has been detained in Russia since Feb. 17. A Russian court recently extended Griner's detainment until at least the end of May. She reportedly asked to be released on house arrest, but the request was denied.

Continue reading for free
We hope you're enjoying The Week's refreshingly open-minded journalism.
Subscribed to The Week? Register your account with the same email as your subscription.