10 things you need to know today: June 1, 2022
Biden says the U.S. will send Ukraine advanced rockets, Uvalde school police reportedly stop cooperating, and more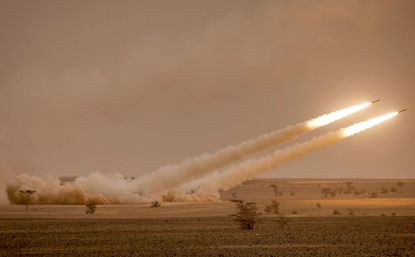 (Image credit: FADEL SENNA/AFP via Getty Images)
1. Biden says U.S. sending Ukraine advanced rocket systems
The United States is sending advanced medium-range rocket systems to Ukraine, the most significant weapons that President Biden has sent since the start of the war. Ukraine has long pushed for the U.S. to provide the High Mobility Artillery Rocket System, which can fire satellite-fired rockets, despite concerns in Washington that Russia would see that as a provocation. Biden said in a guest essay in The New York Times that the latest aid would help Ukraine "fight on the battlefield and be in the strongest possible position at the negotiating table." The rockets will give Ukraine the capability of attacking beyond the current reach of its artillery. Biden and other administration officials stressed that the weapons would help Ukraine to defend its own territory, not to attack Russia.
2. Report: Uvalde school police stop cooperating with investigators
The Uvalde Independent School District police force and Uvalde Police Department have stopped cooperating with Texas state officials investigating last week's deadly school shooting at Robb Elementary School, ABC News reported Tuesday, citing multiple law enforcement sources. A spokesperson for the Texas Department of Public Safety said Uvalde police "have been cooperating" but the school district police chief has not responded to a request for a follow-up interview made two days ago. Police have faced intensifying criticism over their response. State officials also said Tuesday that a teacher didn't leave a door propped open, as initially reported, but the door didn't automatically lock as designed, allowing the 18-year-old attacker to use it to enter the school.
Subscribe to The Week
Escape your echo chamber. Get the facts behind the news, plus analysis from multiple perspectives.
SUBSCRIBE & SAVE
Sign up for The Week's Free Newsletters
From our morning news briefing to a weekly Good News Newsletter, get the best of The Week delivered directly to your inbox.
From our morning news briefing to a weekly Good News Newsletter, get the best of The Week delivered directly to your inbox.
3. Biden, Powell discuss plans to fight inflation
President Biden met Tuesday with Federal Reserve Chair Jerome Powell to discuss Biden's plan to fight high inflation, which he explained in a Wall Street Journal op-ed on Monday. Biden said bringing down inflation has become his top domestic priority and that he would not "interfere" in the Fed's role in containing rising prices. "My plan to address inflation starts with the simple proposition: Respect the Fed, respect the Fed's independence, which I have done and will continue to do," Biden told reporters during his meeting with Powell, recently confirmed to a second term. Republicans blame Biden for inflation and the threat of a recession. Biden says the root of the problem is Russia's invasion in Ukraine, which has worsened supply-chain disruptions and driven up oil prices.
4. Jury acquits Clinton campaign lawyer Michael Sussmann
A Washington, D.C., jury on Tuesday found prominent Democratic lawyer Michael Sussmann not guilty of lying to investigators in a 2016 meeting in which he shared data on an alleged link between Trump Tower and Russia's Alfa Bank that was later debunked. Special Counsel John Durham, a holdover appointed during the Trump administration, accused Sussman of hiding his ties to Hillary Clinton's 2016 presidential campaign when he brought the allegations with then-FBI general counsel Jim Baker. Sussman said the jury recognized he "told the truth" and was "falsely accused." Durham, who was assigned to seek signs of misconduct during the investigation into former President Donald Trump's ties to Russia, said in a statement he was "disappointed" but respected the jury's decision.
5. Ukrainian forces resist Russian push into strategic Luhansk city
Ukrainian forces are holding out in Severeodonetsk, Ukraine's seat of power in Luhansk province, as Russian troops, Chechens, and pro-Moscow separatists tried to complete the takeover of the city. "Unfortunately, the front line divides the city in half. But the city is still defending itself, the city is still Ukrainian, our soldiers are defending it," Mayor Oleksandr Striuk told a Ukrainian broadcaster on Tuesday. Russia has seized much of the city, which has been nearly completely destroyed in the fighting. Russia also heavily shelled the city of Slovyansk, its next target in its offensive in eastern Ukraine.
6. Ukraine court sentences 2 Russian soldiers to more than 11 years
A central Ukraine court on Tuesday sentenced two Russian soldiers to 11 and a half years in prison in connection with the shelling of the town of Derhachi, north of Kharkiv in northeastern Ukraine. The court found Aleksandr Bobikin and Aleksandr Ivanov, a Russian artillery driver and a gunner, guilty of shelling the town from Russia. "The guilt of Bobikin and Ivanov has been proven in full," Judge Evhen Bolybok told the courtroom. Prosecutors said the men shelled an educational facility, although no casualties were reported. Defense lawyers said the men were following orders. The decision was the second guilty verdict handed against Russian soldiers involved in the invasion of Ukraine.
7. Supreme Court leak hunt intensifies
Supreme Court officials are stepping up their investigation into the leak of a draft decision potentially overturning the landmark 1973 Roe v. Wade decision that legalized abortion nationwide, CNN reported Tuesday, citing three sources with knowledge of the situation. Several law clerks have been ordered to turn over cellphone records and sign affidavits, according to CNN. The unprecedented inquiry into the rare leak has increased already high tensions at the court as the newly strengthened conservative majority is expected to soon overturn precedents that established a constitutional right to have an abortion up to the point of fetal viability at about 22 weeks.
8. Shanghai eases COVID-19 restrictions after 2-month lockdown
Shanghai Vice Mayor Zong Ming said full bus and subway service, and rail connections to other parts of China, would be restored Wednesday as the country's largest city reopens after a two-month COVID-19 lockdown that has damaged China's economy and worsened supply-chain problems around the world. Schools will partially reopen. Shopping malls, supermarkets, pharmacies, and convenience stores will reopen slowly, at up to 75 percent of capacity. Movie theaters and gyms will remain closed. "The epidemic has been effectively controlled," Zong said. Officials said in early May they were shooting for a June 1 reopening.
9. Supreme Court temporarily blocks Texas social media law
The Supreme Court on Tuesday temporarily blocked a Texas law that restricts social media platforms like Facebook, Twitter, and YouTube from moderating content. The law, HB 20, prohibits large social-media platforms from banning and blocking posts and accounts. Justices Elena Kagan, Samuel Alito, Clarence Thomas, and Neil Gorsuch dissented from the 5-4 majority, with Alito writing for himself, Thomas, and Gorsuch that the Texas law is "groundbreaking" and addresses "the power of dominant social media corporations to shape public discussion" of important issues. The law is being challenged by tech industry advocacy groups, who called HB 20 "an unprecedented assault on the editorial discretion of private websites" that could force them to disseminate everything from Russian propaganda to hate speech.
10. Agatha downgraded but could redevelop in Caribbean, Gulf
Hurricane Agatha was downgraded to a tropical depression on Tuesday as it rapidly weakened crossing Mexico after slamming into the country's Pacific coast. Agatha, which made landfall with top sustained winds of 105 miles per hour, was the most powerful May storm ever to come ashore during the Pacific hurricane season. Forecasters warned that remnants of the storm could redevelop into a tropical storm as it heads east over the Caribbean and the Gulf of Mexico near Cuba. If it does regain that strength, it would be called Alex, the first named storm of the Atlantic hurricane season. Some models show the storm bringing rain to South and Central Florida around the middle of next week.

Continue reading for free
We hope you're enjoying The Week's refreshingly open-minded journalism.
Subscribed to The Week? Register your account with the same email as your subscription.