10 things you need to know today: June 20, 2022
Macron loses his majority in France's National Assembly, Kinzinger warns 2024 election could be a "mess," and more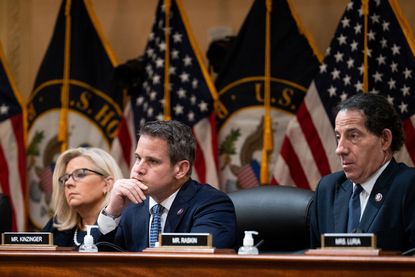 (Image credit: Bill Clark/CQ-Roll Call, Inc via Getty Images)
1. Macron's coalition loses majority in French parliament
Preliminary vote counts indicate that French President Emmanuel Macron's centrist Ensemble! coalition lost its majority in the lower house of parliament in Sunday's second round of national elections. Projections showed Macron's allies winning 205 to 250 seats in the 577-seat National Assembly, more than rival blocs but short of a majority. Losing an absolute majority will not completely block Macron's agenda if he can negotiate alliances with more parties, but it will give lawmakers far more power than they had in the newly reelected Macron's first term. The far-right National Rally increased its number of seats to 85-90 from eight in 2017, furthering its push from the fringe to the mainstream. The leftist Nupes coalition came in second place, behind Ensemble!, with around 131 seats.
2. Kinzinger warns 2024 election could be a violent 'mess'
Rep. Adam Kinzinger (R-Ill.), one of two Republicans on the House Jan. 6 committee, warned Sunday that the 2024 election would be a "mess," as officials who have embraced former President Donald Trump's baseless claims that the 2020 election was stolen will be in charge of certifying elections in many states. "There is violence in the future," Kinzinger said on ABC's This Week. "And until we get a grip on telling people the truth, we can't expect any differently." Kinzinger, who isn't seeking reelection, said that last week, as the committee held public hearings on the 2021 Capitol attack by Trump supporters, he received a mailed death threat at his home, threatening him, his wife, and their 5-month-old baby.
Subscribe to The Week
Escape your echo chamber. Get the facts behind the news, plus analysis from multiple perspectives.
SUBSCRIBE & SAVE
Sign up for The Week's Free Newsletters
From our morning news briefing to a weekly Good News Newsletter, get the best of The Week delivered directly to your inbox.
From our morning news briefing to a weekly Good News Newsletter, get the best of The Week delivered directly to your inbox.
3. Federal government marks Juneteenth, but some states lag behind
Federal workers on Monday have the day off to celebrate Juneteenth, commemorating the day in 1865 when enslaved African Americans in Galveston, Texas, learned they had been freed, two years after the Emancipation Proclamation. President Biden made Juneteenth a paid federal holiday last year, but so far 26 states, including seven former Confederate states, have not added Juneteenth as a state holiday, according to the Pew Research Center. Some Black activists said many states are dragging their feet. "There's still work left to do in South Carolina," said Jamal Bradley, who has started a petition to recognize Juneteenth in the state. Doris Moore Bailey of Florida said Juneteenth should be celebrated like the Fourth of July. "We have two Independence days," she said.
4. Swimming's governing body bars transgender women from competing
FINA, the global governing body of swimming, on Sunday adopted a new "gender inclusion policy" that effectively bans transgender women from competing in women's swimming competitions. The policy takes effect Monday. The only transgender women who will be allowed to compete in women's events under the policy are those who transitioned before age 12. "This is not saying that people are encouraged to transition by the age of 12. It's what the scientists are saying, that if you transition after the start of puberty, you have an advantage, which is unfair," James Pearce, spokesman for FINA president Husain Al-Musallam, told The Associated Press. There are no transgender women swimmers currently competing internationally at elite levels, Pearce said.
5. Germany to restart coal-fired power plants
Germany announced Sunday that it will restart coal-fired power plants to offset natural-gas supplies Russia cut to Europe last week. Berlin also said it will offer incentives for companies to curb gas consumption. The measures are part of a broader push by Germany and other European nations to wean themselves off Russian energy in response to Russian President Vladimir Putin's invasion of Ukraine. Russia's decision to cut off the supplies before many nations could find replacement sources has raised the threat of fuel shortages next winter. Moscow has also raised prices, adding to inflation pressures in Europe. "It is obviously Putin's strategy to rattle us, drive up prices and divide us," said Germany's economic minister, Robert Habeck. "We won't allow that."
6. Ex-guerrilla Gustavo Petro wins presidency in Colombia
Former guerrilla Gustavo Petro defeated wealthy businessman Rodolfo Hernández, a political outsider, on Sunday to become Colombia's first leftist president in what is historically one of South America's most conservative countries. Petro received more than 50 percent of the votes, according to preliminary results. The 62-year-old senator's win reflects a desire for change in Latin America's third-largest nation, where poverty has intensified during the coronavirus pandemic, analysts say. Petro, who spent time in prison in the 1980s for his work in the M-19 urban guerrilla group, has called for universal health care and free higher education. His running mate, Francia Marquez, will be the first Afro-Colombian to serve as one of the country's top officials.
7. 200 killed in suspected Ethiopia rebel attack
More than 200 people died over the weekend in an attack blamed on a rebel group in Ethiopia's Oromia region, witnesses said Sunday. "I have counted 230 bodies. I am afraid this is the deadliest attack against civilians we have seen in our lifetime," Abdul-Seid Tahir, a local resident, told The Associated Press after the Saturday attack. "We are burying them in mass graves, and we are still collecting bodies." Witnesses said the attackers targeted mostly ethnic Amhara. They blamed the Oromo Liberation Army for the attack, as did the regional government, but the rebel group denied responsibility and said government forces and local militia committed the attack while retreating in the face of a rebel offensive.
8. Yellowstone prepares partial reopening after floods
Yellowstone officials plan to reopen some sections of the national park starting Wednesday, following floods and mudslides that forced more than 10,000 visitors and locals to evacuate last week. Visitors will be allowed back into Yellowstone's south loop first, giving them access to several iconic features, including Old Faithful. Extensive flood damage is expected to force officials to keep the north loop closed for a "substantial length of time," the National Park Service said. Days of unprecedented rainfall cause such severe flooding to the world's first national park and the roads leading into it that repairing all of the damage could cost more than $1 billion and take years.
9. Pixar's 'Lightyear' has disappointing opening weekend
Pixar's Lightyear had a disappointing opening weekend at the domestic box office, coming in second place behind Jurassic World Dominion and grossing $51 million, missing projections of $70 million or more. For comparison, Toy Story 4 opened to $120 million in 2019, while Toy Story 3 opened to $110 million in 2010. Lightyear was Disney's first film spinoff of the Toy Story franchise. It's about the man who inspired the toy Buzz Lightyear, not the toy itself. It's also the first Pixar movie released in theaters since the start of the coronavirus pandemic in 2020. Reviews for Lightyear were mostly positive but weaker than other Toy Story movies.
10. Matt Fitzpatrick wins U.S. Open, his 1st major championship
Matt Fitzpatrick edged out Will Zalatoris and Scottie Scheffler to win the U.S. Open by one stroke on Sunday, claiming his first major golf championship. Fitzpatrick, a 27-year-old from England, is ranked No. 18 in the world, and entered the tournament the world's second-highest ranked golfer without a PGA Tour victory. He finished the final seven holes with two birdies and no bogeys to win the tournament at 6 under par, edging out Zalatoris, who had been his co-leader after 54 holes, and Scheffler, winner of the 2022 Masters. "No words," Fitzpatrick said. "It's what you grow up dreaming of."

Continue reading for free
We hope you're enjoying The Week's refreshingly open-minded journalism.
Subscribed to The Week? Register your account with the same email as your subscription.