Is it all change at John Lewis?
Proposed changes to company's business model have been causing concern in Middle England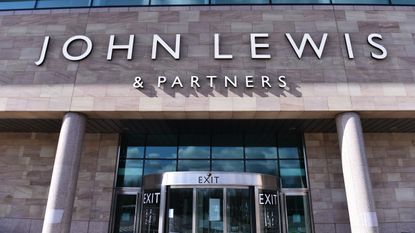 (Image credit: Nathan Stirk/Getty Images)
It was reported last month that the John Lewis Partnership (JLP) is looking into selling a minority stake of up to £2bn in the firm, which has been entirely owned by its staff, known as "partners", since 1950.
Thanks to the department shop group's iconic role in upper-middle-class British life, and the similar status of its Waitrose supermarkets, the result was "a national panic attack", reported The Irish Times.
The broadcaster and retail consultant Mary Portas published an open letter to Sharon White and Nish Kankiwala, JLP's chair and CEO, warning them that a business that's "part of our collective cultural identity" had "let go of its soul".
Subscribe to The Week
Escape your echo chamber. Get the facts behind the news, plus analysis from multiple perspectives.
SUBSCRIBE & SAVE
Sign up for The Week's Free Newsletters
From our morning news briefing to a weekly Good News Newsletter, get the best of The Week delivered directly to your inbox.
From our morning news briefing to a weekly Good News Newsletter, get the best of The Week delivered directly to your inbox.
Columnists fulminated, and MPs expressed concern. But JLP is reportedly still talking to its financial advisers about possible changes to its ownership structure.
Has it always been mutually owned?
The firm's eponymous founder was a dedicated capitalist, born in 1836, who started out, aged 14, as a draper's apprentice in Somerset.
He set up his own small draper's shop in London on the site of what's now the flagship Oxford Street store in 1864, sourcing high-quality goods and selling them at a modest mark-up.
The business prospered and expanded into a department store in the 1880s; he bought a second, Peter Jones on Sloane Square, in 1905. Lewis became a grandee, with a seat on the London County Council and a Hampstead mansion, named "Spedan Towers" after an aunt, Ann Speed, who had largely brought him up.
Employees' rights weren't high on his agenda. He would not recognise unions, which led to a strike in 1920. His eldest son, John Spedan Lewis, was horrified when he realised that he, his brother and his father were each paid as much as the rest of the firm's staff put together.
How did it become owned by its workers?
Earlier, in 1909, Spedan Lewis was badly injured in a fall from his horse in Regent's Park. It took him two years to recover, during which he brooded on his feeling that it was "all wrong to have millionaires before you have ceased to have slums".
He concluded that giving the workforce a fairer share of the profits would not only help stave off communism, but increase productivity, and from 1914 he put his theories to the test – first at the Peter Jones store in Chelsea, and then, after his father's death, across the John Lewis empire.
His first innovations – such as hot and cold running water in accommodation for staff – seem unremarkable now but, in time, he gave the workers more say in how the company was run.
In 1929, profits were given to employees, while he retained control. In 1950, a new constitution transferred full ownership of JLP to trustees to hold for the benefit of the partners.
How did that work out?
Over the century, John Lewis thrived and expanded, buying up Waitrose in 1937 and Selfridge's network of provincial stores in 1940.
The firm became a hallowed British brand, renowned for its helpful, well-informed shop assistants, the quality of its merchandise, and its ironclad after-sale care. "Never knowingly undersold", a slogan first used in 1925, became proverbial.
A wedding list at John Lewis became a rite of passage for generations of middle-class couples, and the firm developed a style that was both modern and reassuringly British (epitomised by Barbara Hepworth's sculpture Winged Figure, installed on the side of the Oxford Street store in 1963).
The poet John Betjeman once remarked that, come the end of the world, he'd like to be in Peter Jones, "because nothing unpleasant could ever happen there". The paradox of a venerable upmarket brand being a quasi-socialist collective attracted the interest of politicians, too (see box).
Why is the company in trouble now?
Its problems date back to the 2000s and 2010s, when John Lewis opened 21 new shops in nine years, and the number of Waitrose outlets almost doubled. This meant signing long leases on bricks-and-mortar stores just as online shopping was taking off.
Sharon White, who was installed as JLP's chair in 2020, just in time for the Covid-19 pandemic, is also having to deal with the aftershocks of Brexit and runaway inflation.
The cost-of-living crisis has hit Waitrose particularly hard: Aldi and Lidl suddenly look more attractive, while Marks & Spencer is resurgent at the more affluent end of the market – as, online, is its former partner Ocado.
More generally, department stores now seem old-fashioned. "Never knowingly undersold" was dropped last August because online discounts had made it a dead letter.
How bad do things look?
JLP announced pre-tax losses of £517m for 2020-21, £27m in 2021-22, and £234m for 2022-23. Under White's leadership, it has closed about a third of John Lewis stores, and laid off 4,000 partners in the aftermath of Covid (of around 80,000 in total).
Previously, its bonus was a point of pride, with all staff from the shelf-stackers to the boss receiving the same percentage of their salary. This year, for the second time in three years, there was no bonus.
Is restructuring the answer?
White recently expressed that JLP's partnership model would "not only survive, but thrive for another 75 years". But she added that it might "evolve".
JLP has already diversified into financial services and property development. And in some respects it has already compromised its model: it employs contract staff without partnership rights in its distribution centres.
It may now try to dilute staff's 100% ownership to raise money: executives reportedly want to invest in better technology and data analysis; as a mutual, JLP can't raise equity from its staff, and, with £1.7bn of debt, its power to borrow is limited.
But any changes to the constitution would have to be agreed by the partnership council, and are likely to be fiercely resisted.

Continue reading for free
We hope you're enjoying The Week's refreshingly open-minded journalism.
Subscribed to The Week? Register your account with the same email as your subscription.