Is it time for Britons to accept they are poorer?
Remark from Bank of England's Huw Pill condemned as 'tin-eared'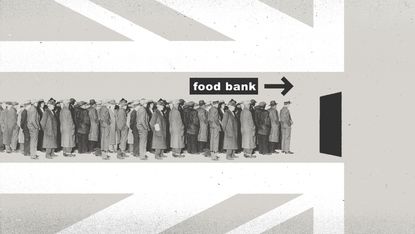 (Image credit: Illustrated/Getty Images)
The Bank of England's chief economist has come under fire for urging British people to accept they are poorer.
Warning that inflation risks remaining doggedly high, Huw Pill told a Columbia Law School podcast that "somehow in the UK, someone needs to accept that they're worse off" and "stop trying to maintain their real spending power by bidding up prices whether through higher wages or passing energy costs on to customers".
He added: "What we're facing now is that reluctance to accept that, yes, we're all worse off and we all have to take our share."
Subscribe to The Week
Escape your echo chamber. Get the facts behind the news, plus analysis from multiple perspectives.
SUBSCRIBE & SAVE
Sign up for The Week's Free Newsletters
From our morning news briefing to a weekly Good News Newsletter, get the best of The Week delivered directly to your inbox.
From our morning news briefing to a weekly Good News Newsletter, get the best of The Week delivered directly to your inbox.
His remarks have been condemned as a "red rag to the bull" and "absolutely outrageous", said the BBC. But was he right?
What did the papers say?
The interview will "surely go down as one of the most tin-eared", wrote Ben Marlow, chief city commentator for The Telegraph, and has "rightly" provoked a "backlash from across the political divide".
"Almost everyone in some form, and through no fault of their own, is markedly worse off than they were 18 months ago," said Marlow, so "why shouldn't people demand more pay if their cost of living has gone through the roof?" To ask for a pay rise is "an entirely normal reaction to seeing everyday life become so eye-wateringly expensive", he said.
Writing for The Independent, Ryan Coogan, who was brought up by a single mother in "one of the most deprived areas of the UK", said that "for me, for my family, and for the people I grew up around, 'accepting' that we're poor has never been an option".
"Throwing our hands up and saying 'you got me, Huw, I guess this is just my life now' is unacceptable," he said. "Even if you can't improve your lot in any meaningful way, you have to fight like hell to. Because if you don't, what's the alternative?"
Reporting from a community centre in Wolverhampton, the local authority with the highest fuel poverty rate in England, Jessica Murray of The Guardian said the economist's "choice of language has riled those who come face to face with the reality of the cost-of-living crisis on a daily basis".
Pill "isn't going to win a popularity contest", but he is right, said Ross Clark for The Spectator. "In an economy which is stagnant, where productivity is flat", it "ought to be obvious that we can't all have a real-terms pay rise", he argued.
Clark added that "certain groups of workers" can have a pay rise "at the expense of others", or "we can all have a nominal pay rise", but inflation "ensures we cannot have the economic equivalent of a perpetual motion machine" because "if wages go up in a stagnant economy, prices will rise to match".
What next?
Behind Pill's remarks is a fear that inflation, rather than falling this year as previously predicted, might remain at its current level. Economists at the Bank of England are "worried" that "as workers try to bid up their wages to protect their finances from inflation and businesses raise prices to shield profit margins", high inflation will "become a permanent fixture of the UK economy", explained City A.M..
In March, inflation in the UK dropped by less than expected, to 10.1%. In contrast, annual price growth in the eurozone is 6.9%, and 5% in the US. This "extra stickiness" in the UK's inflation is "linked to a few factors", said the Financial Times. Energy prices have been "the driving force behind European inflation" and "the plunge in wholesale natural gas prices, and thus the decline in inflation, is filtering through faster in some EU countries compared with the UK" partly due to differences in how consumer energy prices are set.
Britain's underlying inflation is higher than in many advanced economies, it added, "in part down to a unique set of factors causing labour shortages, including early retirement, sickness and a change in immigration rules post-Brexit". Nevertheless, predicted the paper in a leader comment, "prior interest rate increases will increasingly filter through, weigh down demand, raise unemployment, and ease price pressures".
"Barring another big energy price shock", the UK's cost-of-living pressures "should be easing over the coming year," agreed Mehreen Khan, economics editor, and Oliver Wright, policy editor, in The Times. Inflation will "automatically drop from March" as "the rate of annual price increases will no longer include the sharp spikes in gas and oil prices recorded last year".
However, they added, "even on current trends", the Office for Budget Responsibility does not expect incomes to have recovered to 2019 levels until 2028 at the earliest.
"Pill's comments about the UK being poorer are indisputably true," they said, but the idea of accepting this is "out of step" with the Bank's own analysis that "wage pressures will subside from the second half of the year".

Continue reading for free
We hope you're enjoying The Week's refreshingly open-minded journalism.
Subscribed to The Week? Register your account with the same email as your subscription.