Is coronavirus disease X?
World Health Organization predicted unknown international pandemic in 2018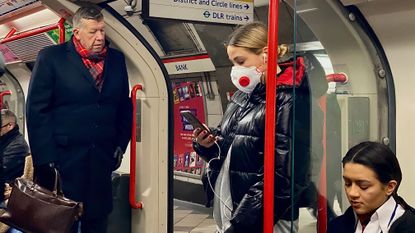 (Image credit: DANIEL LEAL-OLIVAS/AFP via Getty Images)
Coronavirus is "rapidly becoming" the unknown "disease X" that scientists had warned about, a World Health Organization (WHO) expert has said.
WHO said in February 2018 that it was preparing for an unknown international epidemic it called disease X.
And Professor Marion Koopmans, head of viroscience at Erasmus University Medical Centre in Rotterdam, has said coronavirus fits the profile.
Subscribe to The Week
Escape your echo chamber. Get the facts behind the news, plus analysis from multiple perspectives.
SUBSCRIBE & SAVE
Sign up for The Week's Free Newsletters
From our morning news briefing to a weekly Good News Newsletter, get the best of The Week delivered directly to your inbox.
From our morning news briefing to a weekly Good News Newsletter, get the best of The Week delivered directly to your inbox.
What is disease X?
In 2018, WHO included "disease X" in its list of eight "priority diseases" that required immediate attention based on epidemic potential or lack of sufficient countermeasures or vaccines.
Disease X was a placeholder name adopted by WHO for any new pathogen that could cause a pandemic but was not yet known to scientists.
According to WHO at the time, disease X "represents the knowledge that a serious international epidemic could be caused by a pathogen currently unknown to cause human disease, and so the R&D [research and development] Blueprint explicitly seeks to enable cross-cutting R&D preparedness that is also relevant for an unknown Disease X as far as possible".
Dr Anthony Fauci, director of the US National Institute of Allergy and Infectious Diseases, said back in 2018: "As experience has taught us, more often than not the thing that is going to hit us is something that we did not anticipate. Just the way we didn't anticipate Zika, we didn't think there would be an Ebola that would hit cities."
As such, "X" stands for unexpected, he said.
Is coronavirus disease X?
Writing in the journal Cell, Professor Koopmans said: "Whether it will be contained or not, this outbreak is rapidly becoming the first true pandemic challenge that fits the Disease X category, listed to the WHO's priority list of diseases for which we need to prepare in our current globalised society.
"Initial resemblances with the SARS outbreak in terms of its origin, the disease associated with infection, and the ability to spread are clear."
Koopmans said that increased globalisation had made stopping the spread of the virus harder: "But since 2003, global air travel has increased more than tenfold, and the efforts needed to try to contain the epidemic are daunting."
"In a nutshell, Covid-19 is Disease X," says Peter Daszak, a disease ecologist and member of WHO's R&D Blueprint group, in The New York Times.
"Disease X, we said back then, would likely result from a virus originating in animals… would probably be confused with other diseases early in the outbreak and would spread quickly and silently; exploiting networks of human travel and trade," says Daszak.
"Disease X… would have a mortality rate higher than a seasonal flu but would spread as easily as the flu. It would shake financial markets even before it achieved pandemic status."
As for a future after the new coronavirus outbreak, Daszak says: "Pandemics are on the rise… yet the world's strategy for dealing with pandemics is woefully inadequate."
He continues: "Pandemics are like terrorist attacks: We know roughly where they originate and what's responsible for them, but we don't know exactly when the next one will happen. They need to be handled the same way – by identifying all possible sources and dismantling those before the next pandemic strikes."
–––––––––––––––––––––––––––––––For a round-up of the most important stories from around the world - and a concise, refreshing and balanced take on the week's news agenda - try The Week magazine. Start your trial subscription today –––––––––––––––––––––––––––––––
Did WHO know that Covid-19 was coming?
No.
An article by the Daily Express in February headlined "Did scientists know about coronavirus before outbreak? 'Disease X' warning revealed" implies experts may have known about the new coronavirus in 2017.
But "the fact that the WHO was talking about 'Disease X' in 2018 does not mean that it knew about Covid-19," says fact-checking website Full Fact. "It means they were aware that some kind of new disease might emerge in future, just as Covid-19 has."
WHO expected a pandemic was coming, but did not know the specifics of that disease – and certainly not that it would be novel coronavirus.
Dr Josie Golding, epidemics lead at the Wellcome Trust, told Full Fact: "Disease X does not refer to a specific pathogen. It is a term given to any as-yet unknown disease with the potential to cause a serious epidemic."

Continue reading for free
We hope you're enjoying The Week's refreshingly open-minded journalism.
Subscribed to The Week? Register your account with the same email as your subscription.