10 things you need to know today: September 20, 2023
Zelenskyy, Biden urge UN members to oppose Russian aggression, hardline Republicans block spending bill as shutdown looms, and more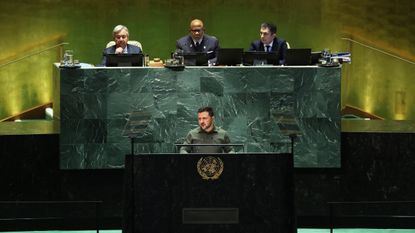 (Image credit: Michael M. Santiago / Getty Images)
1. Zelenskyy, Biden urge UN members to counter Russian aggression
Ukrainian President Volodymyr Zelenskyy warned the United Nations General Assembly on Tuesday that Russia's aggression could threaten countries other than Ukraine. "The goal of the present war against Ukraine is to turn our land, our people, our lives, our resources into a weapon against you, against the international rules-based order," Zelenskyy said in his speech. President Biden said the United States would stand by the "brave people of Ukraine" in the face of Russia's "naked aggression." Zelenskyy, making his first in-person appearance at the U.N.'s annual gathering since Russia invaded his country, is also expected to attend a U.N. Security Council meeting Wednesday. The New York Times, Politico
2. Far-right House Republicans block spending bill as shutdown looms
Five right-wing House Republicans on Tuesday blocked debate on the usually bipartisan annual military spending bill, handing an embarrassing defeat to Speaker Kevin McCarthy (R-Calif.) as he scrambles to avert a government shutdown at the end of the month. McCarthy and other Republican leaders are trying to pass year-long spending bills and a temporary measure to keep government agencies funded for a month after they run short of money Sept. 30. A dozen hardline conservatives on Sunday almost immediately rejected a stop-gap spending bill proposed by McCarthy and negotiated by Republican centrists and conservatives. That plan would cut domestic agency budgets by 8% and reinstate some Trump-era border restrictions. The New York Times
3. Azerbaijan hammers breakaway Nagorno-Karabakh region
Azerbaijan on Tuesday bombarded the breakaway region of Nagorno-Karabakh, which is controlled by ethnic Armenians, killing at least 32 people in what it described as an "anti-terrorist" operation. After Azerbaijani troops broke through their lines, Armenian separatists surrendered Wednesday and agreed to disarm and allow Baku control over Nagorno-Karabakh, a bitterly contested region inside Azerbaijan's borders that had been under full Armenian control from 1994 until a six-week war in 2020. The cease-fire that took effect Wednesday was to be followed by talks on Thursday about the fate of the 120,000 ethnic Armenians who call the region home. Russian peacekeepers had relayed the terms of surrender to the separatists. Reuters, BBC News
Subscribe to The Week
Escape your echo chamber. Get the facts behind the news, plus analysis from multiple perspectives.
SUBSCRIBE & SAVE
Sign up for The Week's Free Newsletters
From our morning news briefing to a weekly Good News Newsletter, get the best of The Week delivered directly to your inbox.
From our morning news briefing to a weekly Good News Newsletter, get the best of The Week delivered directly to your inbox.
4. Prosecutors examine Musk's Tesla perks
Federal prosecutors in New York are seeking information on possible personal benefits Tesla is suspected of providing to CEO Elon Musk, The Wall Street Journal reported Tuesday, citing people familiar with the investigation. The criminal investigation dates to 2017, earlier than previously known. Prosecutors are looking at numerous issues, including a proposed house for Musk known at Tesla as "Project 42." The big glass building was allegedly planned to be built near the electric-car maker's factory and headquarters in the Austin, Texas, area. The Securities and Exchange Commission is conducting a separate civil investigation. Musk said on X, formerly Twitter, that no glass house was "built, under construction or planned." The Wall Street Journal
5. Republicans slam Schumer for relaxing Senate dress code
Republican senators and conservative commentators lashed out at Senate Majority Leader Chuck Schumer's (D-N.Y.) decision to relax the chamber's dress code. Critics focused their criticism on Sen. John Fetterman (D-Pa.), who often wears shorts and hoodies to work. Conservative commentator Monica Crowley called Fetterman "a revolting slob." Rep. Marjorie Taylor Greene (R-Ga.) said the new dress code was "disgraceful." Fetterman responded by saying, "America, it's about freedom and choice." Schumer agreed. "Senators are able to choose what they wear on the Senate floor," he said in a statement. "I will continue to wear a suit." The Hill
6. House panel schedules 1st Biden impeachment hearing
The House Oversight Committee on Tuesday scheduled a first hearing in the Republicans' impeachment inquiry targeting President Biden. The Sept. 28 hearing "will focus on constitutional and legal questions" surrounding Biden's alleged potential "involvement in corruption and abuse of public office," a committee spokesperson said. The panel, one of three conducting inquiries, also plans to subpoena the personal and business bank records of the president's son Hunter Biden and brother, James Biden. White House spokesperson Ian Sams dismissed the hearing as a "political stunt" by "extreme House Republicans" trying to cover up the GOP's inability to prevent a looming government shutdown. NPR
7. Federal charges filed over New York toddler's fentanyl death
The owner of the New York City day care center where a 1-year-old boy, Nicholas Dominici, was sickened by apparent opioid exposure and later died now faces federal charges accusing him and a tenant of storing a kilo of fentanyl on children's play mats. Three other children fell ill at the day care center but survived. The Drug Enforcement Administration complaint, which was unsealed Tuesday, accuses Grei Mendez, the Divino Niño Daycare owner, and Carlisto Acevedo Brito, who was renting a room from Mendez, of narcotics possession with intent to distribute resulting in death, and conspiracy to distribute narcotics resulting in death. Both suspects were already in custody. NBC News
8. Man suspected of killing elderly women slain in Texas prison cell
Texas prison guards on Tuesday found convicted murderer Billy Chemirmir dead in his cell. Authorities said Chemirmir, who was convicted last year for the murders of two of the more than 20 older women he was accused of slaying, was killed by his cellmate, who is also serving a murder sentence. Relatives of Chemirmir's victims said they were shocked at the news, but also relieved. "My mother died in fear. This man did not have a peaceful passing. There's some relief in feeling that he didn't get off easily," said Shannon Dion, whose 92-year-old mother, Doris Gleason, was among the women Chemirmir was accused of robbing and killing in a two-year spree. The Associated Press
9. Spain's World Cup–winning women's soccer players agree to end boycott
Players on Spain's World Cup champion women's soccer team agreed Wednesday to end their boycott of the national team. The majority of the team had signed a letter last week saying they would not represent Spain again until the Royal Spanish Football Federation (RFEF) enacted reforms in ongoing fallout over then-boss Luis Rubiales' unwanted kiss of player Jenni Hermoso during the World Cup award presentation. After hours of meetings involving the players, their union, RFEF officials, and the National Sports Council, the federation committed to making "immediate and profound changes" to its structure. The talks began after most of the World Cup team was named to a squad facing Switzerland and Sweden, even though they had said they wouldn't play. Reuters, CNN
10. Bijou Phillips files for divorce from Danny Masterson after rape sentencing
Actor Bijou Phillips has filed for divorce from former "That '70s Show" star Danny Masterson, days after he was sentenced to 30 years to life in prison for two rape convictions. Phillips and Masterson have been married for nearly 12 years and have a 9-year-old daughter. Phillips, 43, stood by Masterson, 47, through two trials, the first of which ended in a mistrial. She wept in court when he was convicted in May, and again when he was sentenced on Sept. 7. In a letter to the judge before Masterson was sentenced, she called him an "amazing father" and said their "daughter and I are heartbroken that he is not home with us." Masterson won't be eligible for parole for 25 1/2 years. The Associated Press

Continue reading for free
We hope you're enjoying The Week's refreshingly open-minded journalism.
Subscribed to The Week? Register your account with the same email as your subscription.