10 things you need to know today: September 24, 2023
Nagorno-Karabakh's Armenian population to leave region amid fears of persecution, Atlantic coast remains under flood warnings from Ophelia, and more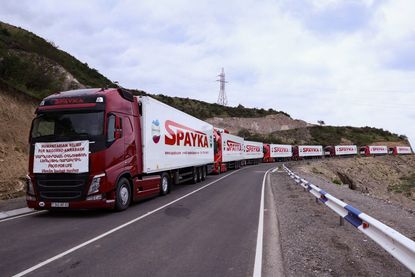 (Image credit: Alain Jocard / AFP via Getty Images)
1. Nagorno-Karabakh's Armenian population to leave region amid fears of persecution
Around 120,000 ethnic Armenians will begin leaving the Nagorno-Karabakh region after an Azerbaijan offensive and return to Armenia, fearing persecution from Azerbaijanis. The first convoys of Armenians began leaving Nagorno-Karabakh on Sunday in preparation for what humanitarian officials said could be a mass exodus from the region. The decision to leave comes after Azerbaijan attacked Nagorno-Karabakh, a disputed territory in the Caucasus that was previously part of a Soviet-era conflict. Armenians in the area are reportedly worried that the influx from Azerbaijani forces could lead to ethnic violence and don't want to live as part of Azerbaijan. The Armenians of Nagorno-Karabakh were previously forced to declare a cease-fire after Azerbaijan attacked. Reuters, Politico
2. Atlantic coast remains under flood warnings from Ophelia
Much of the Atlantic seaboard and East Coast remained under flood watches on Sunday, as intense weather from Ophelia remained a looming threat. Ophelia made landfall in North Carolina on Saturday as a tropical storm, and has since been downgraded to a tropical depression as it heads north toward Washington, D.C. and Virginia. Despite this, Ophelia was still expected to bring heavy flooding and pouring rain to areas across the region, especially on Sunday morning. The eye of the tropical depression is slated to center around the eastern shore of Maryland, where residents are being urged to remain cautious and prepare for high winds. No deaths from the storm have been reported. NPR, The Washington Post
3. US to open new embassies in Pacific in effort to strengthen ties against China
The United States will open two new embassies in the Cook Islands and Niue, President Biden is expected to announce on Monday. The announcement of the new diplomatic missions comes as Biden is slated to host leaders from the Pacific Islands as part of a continued effort to strengthen ties in the region against a growing Chinese influence. The recognition of the Cook Islands and Niue could also be compounded by another potential embassy in Vanuatu, which the United States is currently negotiating to open. Some Pacific leaders have chosen to skip the summit, though, arguing that the U.S. has not done enough to protect their interests in the Pacific or helped derail the threat of climate change. The Associated Press, Reuters
Subscribe to The Week
Escape your echo chamber. Get the facts behind the news, plus analysis from multiple perspectives.
SUBSCRIBE & SAVE
Sign up for The Week's Free Newsletters
From our morning news briefing to a weekly Good News Newsletter, get the best of The Week delivered directly to your inbox.
From our morning news briefing to a weekly Good News Newsletter, get the best of The Week delivered directly to your inbox.
4. Philippines accuses China of installing 'floating barrier' in South China Sea
The Philippines condemned China on Sunday for installing what it described as a "floating barrier" in the disputed South China Sea. Officials lambasted China for setting up the barrier, which Philippine Coast Guard spokesperson Jay Tarriela said was nearly 1,000 feet in length. The Coast Guard said that the barrier was preventing Filipino fishing boats from entering the area, particularly stopping them from working in a fertile fishing lagoon near the Scarborough Shoal. Territorial ownership of the South China Sea has long been disputed between China and numerous other countries, including the Philippines. China has denied placing the barrier in the waters, with officials calling the accusation "false and groundless." CNN, BBC
5. Space capsule to return to Earth with NASA's first asteroid samples
A NASA space capsule is set to drop off asteroid samples on Sunday, marking the first material from an asteroid to be brought back to Earth by the U.S. space agency. The sample from the OSIRIS-REx probe is slated to touch down around 80 miles southwest of Salt Lake City, Utah, on Sunday morning, after being released hours earlier from the OSIRIS-REx. The sample contains materials from the near-Earth asteroid Bennu. Around 1,650 feet wide, the asteroid became the smallest body to ever be orbited by a spacecraft when reached by OSIRIS-REx in 2018. Samples from Bennu's surface were collected by OSIRIS-REx in 2020, though the exact amount collected remains unclear. Space.com, The New York Times
6. Doug Burgum appears to qualify for second Republican debate
North Dakota's Republican governor, Doug Burgum, appears to have qualified for the second GOP presidential debate this coming week, NBC News reported Saturday. An analysis from NBC found that Burgum received just enough recent polling to get him onto the debate stage, after the longshot Republican presidential candidate appeared to be losing traction following the first debate. Burgum appeared to get in just under the wire, as the last day to qualify for the debate is Monday. Candidates must meet polling thresholds from the Republican National Committee and receive 50,000 unique donors to debate, something the Burgum campaign said it has already achieved. NBC News
7. Family of Black student suspended for hairstyle sues Texas
The family of a Black student who was suspended from his Texas high school over his dreadlocks is suing the state, alleging that Texas failed to enforce a law that prevents discrimination over hairstyle. The family of 17-year-old Darryl George is suing Texas Gov. Greg Abbott (R) and Texas Attorney General Ken Paxton (R) after George was suspended from Barbers Hill High School in Mont Belvieu for more than three weeks. The teen was kicked out because his dreadlocks violated the district's dress code for male students, school officials said. His family is alleging that this is a violation of the CROWN Act, which prohibits discrimination over hairstyles that are "commonly or historically associated with race." CNN, The Associated Press
8. California vetoes bill requiring human drivers in autonomous trucks
California Gov. Gavin Newsom (D) vetoed a bill on Friday that would have required human drivers to be present in autonomous trucks. While driverless trucks are not operational on California's roads yet, industry insiders cautioned that the emergence of this technology could have harmful repercussions for the state's trucking industry. Builders of autonomous trucks, though, warned that vetoing the bill could force the rise of driverless vehicles to occur in other states instead of California. While Newsom has been an ardent supporter of his state's tech industry, his decision to veto a bill that had the support of the Teamster's Union and most truckers in California could make enemies on both sides. Bloomberg, Wired
9. Ruth Bader Ginsburg postage stamp to be issued this October
A postage stamp featuring the visage of late Supreme Court Justice Ruth Bader Ginsburg is set to be unveiled on Oct. 2. The stamp will be revealed during a ceremony at the National Portrait Gallery in Washington, D.C, where Ginsburg's granddaughter Clara Spera is reportedly slated to speak. The U.S. Postal Service typically honors deceased individuals on stamps three years after they die, a timeframe that rings true given that Ginsburg passed away in September 2020. Few stamps have depicted Supreme Court justices, though the Court's first African-American justice, Thurgood Marshall, was given this honor in 2003. The longest-serving chief justice, John Marshall, has also received a stamp. Politico
10. Former hockey player Nic Kerdiles dies in motorcycle crash
Former hockey player Nick Kerdiles died in a motorcycle crash in Nashville, Tennessee, on Saturday, Nashville Police said. Officials said Kerdiles, 29, ran a stop sign in a residential area before hitting the side of a BMW around 3:30 a.m. No signs of impairment were suspected from either driver, police said. Kerdiles was originally drafted by the Anaheim Ducks in 2012 and played three games for the club before being traded to the Winnipeg Jets. He eventually exited hockey in favor of a career in real estate, and was previously engaged to reality television star Savannah Chrisley in 2019. Los Angeles Times

Continue reading for free
We hope you're enjoying The Week's refreshingly open-minded journalism.
Subscribed to The Week? Register your account with the same email as your subscription.