Doctor Who series 8 scripts leak: to read or not to read?
BBC issues plea to keep spoilers secret after five scripts, including Deep Breath, find their way online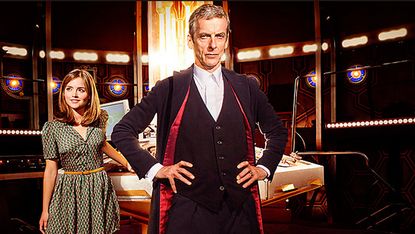 (Image credit: BBC)
Sign up to our 10 Things You Need to Know Today newsletter
A free daily digest of the biggest news stories of the day - and the best features from our website
Thank you for signing up to TheWeek. You will receive a verification email shortly.
There was a problem. Please refresh the page and try again.
With just six weeks to go before Peter Capaldi makes his grand entrance in the premiere of Doctor Who series eight, scripts for the first five episodes have leaked online.
The BBC has urged fans not to share or read the episodes and, so far, most media outlets and Timelord fan sites have refrained from posting spoilers.
The leak came from BBC's new Latin America office in Miami, where they were being translated, the Radio Times reports. The private servers for bbcmiami.com appear to have been left open to public indexing, allowing people to find the content using search engines such as Google, it says.
Subscribe to The Week
Escape your echo chamber. Get the facts behind the news, plus analysis from multiple perspectives.
SUBSCRIBE & SAVE
Sign up for The Week's Free Newsletters
From our morning news briefing to a weekly Good News Newsletter, get the best of The Week delivered directly to your inbox.
From our morning news briefing to a weekly Good News Newsletter, get the best of The Week delivered directly to your inbox.
The cover of a script for the first episode, Deep Breath, written by Steven Moffat, appeared on website Bleeding Cool alongside four others. Despite bbcmiami.com taking its server offline, copies of many of the documents were still available in online caches.
"Probably the very last thing you should do is leave five of the scripts lying around on a public web server that can be indexed by search engines," writes security expert Graham Cluley on his blog. "And yet, that's exactly what someone did."
Previous leaks, including a rehearsal script left in the back of a taxi, led to each Doctor Who script being watermarked with its owner's name to track down any leaked copies, deliberately or accidentally.
The five scripts leaked this week apparently belong to "Marcelo Camargo" – although his position at the BBC and the part he played in the leak, if any, is yet to be confirmed. Nevertheless, Doctor Who fans are describing him on Twitter as the show's "greatest villain".
The BBC says it is investigating the leak and has apologised to the cast and crew. "We would like to make a plea to anyone who might have any of this material and spoilers associated with it not to share it with a wider audience so that everyone can enjoy the show as it should be seen when it launches," it added.
Bleeding Cool, which avoids giving away spoilers itself, has got a second warning for fans. Even if they manage to avoid the spoilers this time round, debut episode Deep Breath will gets its premiere at a screening in Cardiff on 7 August, three weeks before it is shown on TV. "At that point," it says, "you might as well just switch off the internet."
Date for new Doctor Who finally set: what can we expect?
30 June
Dates for the next Doctor Who series have finally been set as fans prepare for some of the biggest changes to the show since it returned in 2005.
The much-anticipated new run, starring Peter Capaldi as the 12th Doctor, will begin on the BBC on Saturday 23 August with a feature-length premiere episode called Deep Breath. The announcement coincides with the release of a new teaser trailer (see below). The Thick of It star Capaldi made his debut last year in the 50th anniversary special, The Day of the Doctor, in which he turned up to help save the planet of the Time Lords. Here's what we can expect from his next adventure...
'Mad and dangerous' doctor
Doctor Who fans can expect a "radical" change from David Tennant and Matt Smith's incarnations of the Time Lord. Writer and executive producer Steven Moffat has said it is time for the show to "flip around a bit". He told Doctor Who Magazine: "The last two Doctors have been brilliant, and have been your 'good boyfriend' Doctors. But the Doctor isn't always like that. There is the sort of Tom Baker, Christopher Eccelston end of the spectrum, where he is mad and dangerous and difficult." Capaldi's new costume was revealed earlier this year, and described by the actor as "no frills, no scarf, no messing, just 100 per cent rebel Time Lord".
Clara kept on her toes
How will companion Clara Oswald react to the new Doctor? Moffat hints that "control freak" Clara, played by Jenna Louise Coleman, will be led on a "merry dance" by the "much older, fiercer, madder, less reliable" Doctor. Working with Matt Smith's Doctor in series seven, Clara seemed "so totally in control and so sort of perfect and sweet that you really wanted to mess her around a bit and say, now let's give her a situation that she can't control", says Moffat. Her confusion can be seen in today's new teaser, in which the Doctor asks "Am I a good man?" to which she replies "I don't think I know who the Doctor is anymore."
New faces
Gavin & Stacey actor Samuel Anderson will be joining the cast as a second companion, Danny Pink, a teacher at Coal Hill School where Clara works. Actress Ellis George is also believed to be playing a pupil at the school, reports Den of Geek. Moffat has hinted that Coal Hill will play a key role in the series and will even come to the aid of the Tardis for the fourth time in Doctor Who history. Meanwhile, members of the 'Paternoster Gang' will reprise their roles. Neve McIntosh will return as Madame Vastra, Dan Starkey as Strax and Catrin Stewart as Jenny Flint.
Cameos
Line of Duty star Keeley Hawes plays an evil alien banker called Ms Delphox, while Ben Miller, of the Armstrong and Miller comedy duo, will play the Sheriff of Nottingham in a Robin-Hood-themed episode. Comedian Frank Skinner, a long-time fan of the show, is also expected to pop up in the new series. Details of his character are yet to be announced, but Moffat says Skinner has been volunteering to be "third monster on the left" for as long as he has worked on the show. Spooks star Hermione Norris, singer-songwriter Foxes and Green Wing actress Michelle Gomez will also join the cast.
Monsters and villains
Aside from Ms Delphox and the Sheriff of Nottingham, Doctor Who is expected to take on Daleks, creepy robots and a creature that looks like a Minotaur. It was revealed today that the Doctor will also face the Cybermen, last seen in the 2013 Christmas special. The first episode of the new series, set in Victorian London, is rumoured to include Clockwork Droids, originally seen in the series two episode The Girl in the Fireplace in 2006. The Master is rumoured to return as a major villain in the series, which will have 12 episodes and a 13th serving as the Christmas Special. However, both the return of the Clockwork Droids and the Master are yet to be confirmed. Capaldi has also been spotted struggling to get out of a tiny Tardis during filming on Barry Island, suggesting that the time machine will somehow shrink in the next series.
Continue reading for free
We hope you're enjoying The Week's refreshingly open-minded journalism.
Subscribed to The Week? Register your account with the same email as your subscription.
Sign up to our 10 Things You Need to Know Today newsletter
A free daily digest of the biggest news stories of the day - and the best features from our website