The pros and cons of private schools
Labour intends to scrap private school tax exemptions if it wins the next election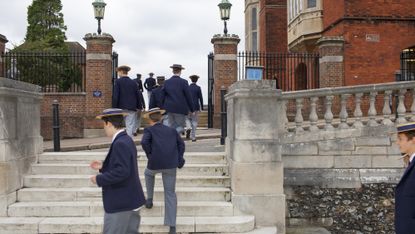 (Image credit: Peter Dench/Getty Images)
Some private schools in the UK are offering parents the chance to pay in advance for their child's schooling to avoid fee rises resulting from a Labour-proposed end to tax exemptions.
With an election expected by the end of 2024 and Labour currently leading in the polls, it is expected to follow through on its pledge "to hit fee-paying schools with a 20 per cent VAT bill within the first year of government", said The Telegraph.
Labour has said the move will "bring in £1.7 billion which can be used to recruit 6,500 teachers for state schools", but some trade unions have warned that the move "could cost teachers jobs", the paper reported in a separate article.
Subscribe to The Week
Escape your echo chamber. Get the facts behind the news, plus analysis from multiple perspectives.
SUBSCRIBE & SAVE
Sign up for The Week's Free Newsletters
From our morning news briefing to a weekly Good News Newsletter, get the best of The Week delivered directly to your inbox.
From our morning news briefing to a weekly Good News Newsletter, get the best of The Week delivered directly to your inbox.
The party's leader Keir Starmer has "batted away claims that his party is contemptuous of aspirational parents" and private schools, said The Economist, arguing that it is "unjust to continue exempting from tax a service bought mostly by the rich".
But what are the benefits and drawbacks of private schools? Here are the pros and cons.
Pro: provide better prospects
Research from 2019 showed that those in top jobs, including politicians, judges, leading civil servants and diplomats, were "five times more likely to have been to a fee-paying school than the general population".
According to research by the think tank The Sutton Trust, "power rests with a narrow section of the population" – the 7% who attended private schools and the 1% who graduated from Oxbridge. It said there was a clear "pipeline" leading from "fee-paying schools through Oxbridge and into top jobs".
Research by University College London and Cambridge showed that private school graduates are also likely to "earn 17% more than workers from similar homes" by the age of 25, said The Economist.
Con: fundamentally unfair
While private schools provide a "richly resourced" environment for pupils, they "pose a serious problem for Britain's education system and society", said UCL professor Francis Green on The Conversation. They remain "very socially exclusive" and attempts to open opportunities for low-income students through bursaries show "no sign" of working.
Less than 10% of Britain's population is privately educated, said Green, but they occupy a "high proportion when it comes to positions of public influence". An education from one of these schools "enables pupils to jump the queue for many of the high-status rungs of British society", he added, which is of "little value" socially if the majority of pupils are held back.
Pro: good for the economy
Private schools offer a significant contribution to the economy and "provide as many jobs as Asda, Sainsbury's and Co-op combined", said the Daily Mail.
A report by the Independent Schools Council (ISC) suggested that Britain's fee-charging schools contributed "£16.5 billion to the economy" and that figure had grown "by a fifth in just four years". The report also suggested that private schools save an "estimated £4.4 billion" for the government per year in not having to provide those pupils with state school places.
The ISC said that private schools have a major effect on the areas around them and that there were "small regional schools with big contributions to local economies".
Con: expensive
Private schools are expensive and their fees are continuing to rise. According to an Institute for Fiscal Studies report this year, there has been a "20% real-terms increase in average private school fees since 2010" and attendance remained "concentrated at the very top of the income distribution". The average fee for 2022-2023 was £15,200, "nearly 90% higher than state school spending per pupil". Top private boarding schools cost significantly more.
These fees are now "pricing out the sons and daughters of dentists, police officers and high-flying civil servants", said Charlie Peters in The Critic, with schools having to "increasingly cater to the super wealthy of the international city class".
Pro: greater range of activities and subjects
Private schools "offer a wider choice of subjects to study and sports to play" than state schools can, wrote Peter Caddick-Adams in The Critic. If he had attended a state school, he argued, there would not have been the "same opportunities to row or fence; mingle with foreign students; scamper over Welsh hills with tent, map and compass; or visit foreign lands".
Access to some sports, for example, is borne out in statistics within men's professional sport, where "37 per cent of rugby internationals and 43 per cent of the England cricket team" attended independent schools, said The Sutton Trust, while only 5% of the men's football team did. Likewise, of the "best-selling popstars" in 2019, 30% attended independent schools, while 44% of "top actors" were privately educated.
Con: exacerbate inequality
There has been a "widening attainment gap in education" since the Conservatives came to power in 2010, said The Observer. Despite "repeated pledges by ministers", A-level results from 2023 showed that private school pupils were "more than twice as likely to achieve A or A* grades as those in the state sector".
There is a "chain of entitlement" in Britain's education system that needs to be broken to allow "radical change", said The New Statesman. While the complete abolition of private schools "remains a taboo subject", it added, unless Britain is to "undergo a genuine transformation of its education system", then "its inequalities will endure".

Continue reading for free
We hope you're enjoying The Week's refreshingly open-minded journalism.
Subscribed to The Week? Register your account with the same email as your subscription.