Biden's revealing silence at SOTU
What he didn't say says as much as what he did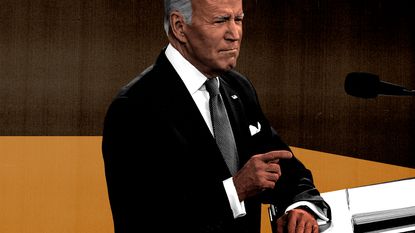 (Image credit: Illustrated | Getty Images, iStock)
The best way to understand President Biden's State of the Union address is to think about what he didn't say.
There was no mention of Afghanistan, even though troop withdrawals began almost exactly a year before Biden delivered his remarks Tuesday night. There was no mention of his predecessor in the White House or the ongoing congressional investigation into the events of Jan. 6, 2021. Climate change barely came up. Neither did "equity," discrimination, or other aspects of race politics. Biden even managed to announce his nomination of Ketanji Brown Jackson without mentioning that, if confirmed, she will be the first Black woman to serve on the Supreme Court — a historic first that another Democrat facing different political conditions likely would have trumpeted. And there was no tribute to Biden's chief medical adviser, Anthony Fauci, or other public health officials. While Biden continued to warn against the risks of COVID-19, the maskless faces of the audience announced the administration knows the emergency phase of the pandemic is over.
These significant — and presumably deliberate — omissions give a clue about Biden's target audience. He wasn't talking to the progressive wing of his party, for which many of these issues rank close to the top of the agenda. The rift was clear in Rep. Rashida Tlaib's (D-MI) response on behalf of the left, which was one of several unusual post-SOTU speeches by Democrats representing various factions. Characterizing progressives as the president's most loyal supporters, Tlaib called for executive action on student debt, carbon emissions, and other matters Biden seemed reluctant to discuss.
Subscribe to The Week
Escape your echo chamber. Get the facts behind the news, plus analysis from multiple perspectives.
SUBSCRIBE & SAVE
Sign up for The Week's Free Newsletters
From our morning news briefing to a weekly Good News Newsletter, get the best of The Week delivered directly to your inbox.
From our morning news briefing to a weekly Good News Newsletter, get the best of The Week delivered directly to your inbox.
Biden wasn't trying to conciliate the right, though. The opening section on the Ukraine crisis was squarely within the bipartisan consensus that the United States should help Ukraine and punish Russia without playing a direct military role. After that, however, he veered into a wishlist of proposals that would face dim prospects among Republicans even without the threat of inflation. Despite Biden's general avoidance of culture war themes, moreover, no Democratic speech would be complete without a pledge of allegiance to the sexual revolution. In addition to familar struggles over abortion, social conservatives will hear Biden's promise to "our younger transgender Americans" as a threat to extend a radical conception of gender identity to every aspect of federal policy.
No, this was a speech aimed squarely at a group whose importance is disproportionate to their small numbers: voters who supported Biden in 2020 but have been disappointed by his first year in office. Some of those voters are reliable Democrats, but others are true independents, and a few even defected from the Republican Party. As a group, they make up much of the difference between the 51 percent of the popular vote Biden won in 2020 and the roughly 41 percent who approve of the job he's doing now.
Presidential speeches aren't magic spells, and there's nothing Biden could have said that would draw those voters back to him overnight. But both the language and content of his remarks indicate the administration plans to make them its priority as we move toward the 2022 midterms.
That goal explains Biden's repeated invocations of bipartisanship, an ideal the public loves even if pundits and partisan activists don't. It also accounts for promises that could have been borrowed from earlier, more populist generation of Democrats (if not from former President Donald Trump himself), including "buy American" rules for infrastructure projects and pledges to "secure the border."
The biggest problem haunting the speech — and therefore the administration's strategy of courting disappointed Biden voters — isn't merely that these things are easier said than done, as the demise of Biden's Build Back Better agenda indicates. It's that several of Biden's promises are mutually exclusive, however well they perform in polls and focus groups. The tension is particularly stark when it comes to inflation, the top issue for independent voters: Everyone likes the "good paying jobs" Biden promised to bring back from overseas competitors. But few relish the higher prices associated with domestic production.
But the truth is these rhetorical contradictions don't matter very much. State of the Union speeches have little impact on presidential approval, and both historical and contemporary data suggest Democrats face serious losses in the midterm elections no matter what Biden says — or doesn't say.
In 1995, then-President Bill Clinton responded to historic Republican gains by adopting a "triangulation" strategy credited with saving a floundering presidency. It remains to be seen whether Biden can pull off the same trick in policy as well as words.

Continue reading for free
We hope you're enjoying The Week's refreshingly open-minded journalism.
Subscribed to The Week? Register your account with the same email as your subscription.