Game of Thrones season 7: Key questions after episode 3
Daenerys and Jon finally meet, Bran has an unsettling homecoming and another character bows out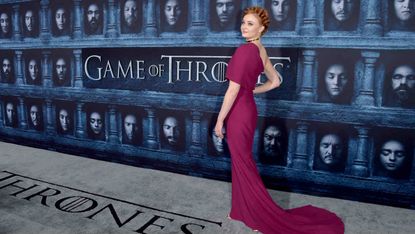 (Image credit: Photo by Alberto E. Rodriguez/Getty Images)
Sign up to our 10 Things You Need to Know Today newsletter
A free daily digest of the biggest news stories of the day - and the best features from our website
Thank you for signing up to TheWeek. You will receive a verification email shortly.
There was a problem. Please refresh the page and try again.
Spoiler alert: Contains information about episode three of Game of Thrones
The Queen's Justice, the third episode of Game of Thrones's seventh season, was another action-packed affair that saw a long-awaited meeting and the tragic departure of another of the show's great characters.
The episode gave fans the long-teased meeting between Jon Snow (Kit Harington) and Daenerys (Emilia Clarke) – "ice" and "fire" as Melisandre underlined. It also saw the return of Bran to Winterfell with some major intel and strategic manoeuvring by Cersei (Lena Headey) in her war against Dany.
Subscribe to The Week
Escape your echo chamber. Get the facts behind the news, plus analysis from multiple perspectives.
SUBSCRIBE & SAVE
Sign up for The Week's Free Newsletters
From our morning news briefing to a weekly Good News Newsletter, get the best of The Week delivered directly to your inbox.
From our morning news briefing to a weekly Good News Newsletter, get the best of The Week delivered directly to your inbox.
As the stakes were raised, so were some key questions:
Can Daenerys and Jon Snow get along?
Jon and Dany didn't exactly hit it off in their first meeting. A frosty Dany made it clear she is born to rule and wants to reclaim her birthright. A sceptical Jon, on the other hand, believes that the right to rule must be earned and tried to school Dany in the challenges ahead. But while both regarded the other with suspicion, they were also careful not to alienate each other.
Things defrosted a little in their second meeting when Jon tried to access Dany's much-needed stockpile of dragonglass and Dany, still smarting from her military loss to Euron, realised that an alliance with the King in the North might not be such a bad thing. But can these two ambitious rulers put aside their egos and work together to defeat their common enemies?
What are Bran's plans?
Bran (Isaac Hempstead Wright) has now fully assumed his role as the Three-Eyed Raven and has returned to Winterfell, not so much for a cosy family reunion with Sansa (Sophie Turner), but to reveal some significant information to Jon.
It's not clear, however, whether Bran wants to tell Jon about his true parentage or give him strategic background on the White Walkers – or both. He certainly hasn't endeared himself to his sister by bringing up her traumatic wedding night with Ramsay. As Ed Power notes in the Daily Telegraph, Bran is now "the weird sibling you find yourself avoiding at family gatherings".
And what of poor faithful Meera (Ellie Kendrick), now that Bran has been safely delivered home? It's never a healthy thing on this show to lack a clear purpose.
Does Littlefinger have secret knowledge?
Sansa seems to be enjoying her leadership role, although she's still taking advice from Littlefinger (Aidan Gillen), which is problematic.
Littlefinger's advice this week was particularly interesting. "Every possible series of events are happening all at once," he told Sansa. This seemed like a deliberate link to the way Bran has been describing the world and a step away from his habitually pragmatic language. Was it a coincidence, or does Littlefinger know more about the mysterious powers than he has revealed so far?
Is there no end to Sam's skills?
Sam (John Bradley-West) has had some nasty jobs lately, including emptying bedpans and curing Jorah of greyscale by removing scaly flesh piece by piece, but he's acquitted himself admirably. Now he's secured a place in the Citadel and been given the seemingly tedious task of copying out some old scrolls for the Archmaester. Could this be another opportunity for Sam to shine? Will Sam's attention to detail reveal a hidden piece of information about the White Walkers that will prove crucial and confirm Sam as the heroic quiet achiever of the show?
Have we seen the last of Olenna?
Sadly, it looks like we've seen the last of the marvellous Olenna (Diana Rigg). She ended the episode by glugging down a glass of poison, but she went out in style. The scene between Olenna and Jaime (Nikolaj Coster-Waldau) gave both actors a chance to strut their stuff. Jaime showed his sinisterly tender side by offering Olenna a "humane" exit, while she had the last laugh by revealing a few home truths. Jaime seemed genuinely shocked when Olenna revealed her role in Joffrey's death and unsettled by her comments about his relationship with Cersei. Olenna may be gone, but perhaps her influence will live on.
Will Jaime come good?
Jaime knows that Tyrion wasn't responsible for the death of Joffrey – Jaime's incestuous son with Cersei – so what will he do? Jaime can follow Cersei out of lust and a misguided sense of loyalty, or do the right thing. When the big showdown comes, as it's bound to before the season is out, will he choose his brother Tyrion, or stick to his toxic allegiance with Cersei?
Can Cersei pull off a surprise turnaround?
"What if Cersei is the hero of this story?" asks Todd Vanderwerff on Vox. The critic feels that the much-foreshadowed idea that Dany and Jon will join forces to face off against Cersei and then battle against the evil White Walkers is "a little too easy".
He asks if we're really supposed to cheer on Cersei, who has learnt from her many failures. Vanderwerff admits that Cersei "will probably see her comeuppance" but says this episode "came dangerously close to making me think she not only will win the war but should win the war".
Game of Thrones, Stormborn: Key questions from Episode 2, Season 7
24 July
Warning: spoilers up to episode two of season seven
After a quiet start to the seventh season of Game of Thrones - featuring plenty of plotting but not much action - the second episode, Stormborn, raised the stakes with a bloody, action-packed conclusion.
The episode saw the dramatic resurgence of arch villain Euron Greyjoy (Pilou Asbaek) and the possible exit of some characters we have grown to know and love.
Here are some key questions Stormborn raised.
Will Euron be Westeros's worst villain yet?
Euron, new King of the Iron Islands, is also the uncle of Theon (Alfie Allen) and Yara Greyjoy (Gemma Whelan), and the younger brother of their father, Balon Greyjoy, who he murdered for the throne.
Amy Blumsom in the Daily Telegraph points out that Game of Thrones has produced some "properly messed up" villains, including the sadistic King Joffrey and the dog-loving Ramsay. So can Euron top them?
He has already killed his brother and disinherited his niece and nephew, Yara and Theon, and this week went into full-on "mad pirate mode", ransacking Theon and Yara's fleet, and capturing the latter. But according to Blumson, if we take George R R Martin's novels as a guide, "we ain't see nothing yet".
Will Jon Snow repeat Ned's mistakes?
Last week Sansa Stark (Sophie Turner) accused Jon Snow (Kit Harington) of being too much like her father Ned, who also raised Jon and was thought to be his father. (In the season six finale, however, we discovered that Jon is actually the son of Ned's sister Lyanna and possibly Rhaegar Targaryen).
This week, Jon pushed Littlefinger (Aidan Gillen) against the wall in what seemed like a throwback to season one. So is Jon doomed to inherit Ned's temper and lack of survival instincts? It's hard to say, but while he may lack the manipulative skills Sansa has developed by studying her own captors, he seems to know enough not to trust Littlefinger.
Is Varys really behind Daenerys?
Varys (Conleth Hill) has always been a slippery customer, but in recent times he seems to be backing Daenerys as the great hope for restoring order to the seven kingdoms. When the Khaleesi questioned his loyalty, he replied that "people have no better chance" than her and said his loyalties lay with the people.
But Varys, like Littlefinger, hasn't survived as long as he has by blind loyalty and he may not be so keen on the company Daenerys keeps, including Melisandre. As we know from Varys's brutal upbringing, he's no fan of sorcery.
Will Daenerys and Jon be allies?
Daenerys and Jon both seem to have it written in their stars that they will leaders, but who will ultimately lead? And can the two form an allegiance? These are some of the big questions of this season.
Hillary Kelly of Vulture.com predicts the two will start off as "salty almost-enemies", then become "friends-out-of-desperation, then enemies again, and finally, one will sacrifice his or her life for the other".
Can Theon Greyjoy redeem himself?
Theon didn't exactly cover himself with glory in the great battle scene. Instead, he reverted to his former self, Reek, the snivelling slave of Ramsay. When the moment of crisis came in the sea battle with Euron, poor Theon went to water, literally. He leapt over the side of a ship as Euron snatched his sister Yara. The move failed to endear him to critics. Todd VanDerWerff on Vox writes: "I know the show is doing something about trauma with Theon, but dude, c'mon. It's your sister."
But the season isn't over yet, so maybe Theon will somehow recover from this and come to the rescue.
Can Arya stop killing?
It seemed like nothing could stop young assassin Arya (Maisie Williams) from her mission to strike everyone on her kill list, but this week we might have seen her pause for thought.
Arya learned that Jon had come down from Castle Black with a Wildling army, won the Battle of the Bastards and become King in the North. Then Arya spotted her beloved Direwolf Nymeria. The wolf didn't seem so keen on her, however. Nymeria didn't abandon her pack and rejoin Arya, so perhaps their sacred bond is broken, or is Nymeria afraid of the wild girl? The two, however, managed to avoid killing each other, so that's a start, and we're bound to see Nymeria again. Can the love of a wolf save a deeply scarred Arya?
What will happen to Yara and Ellaria?
Things are looking bad for Yara and Ellaria Sand (Indira Varma) after Euron and his ships sprung from the darkness and boarded the ship carrying Yara, Theon and Ellaria.
After Theon made his unmanly escape, the two women were left to fend for themselves.
Euron is planning on giving Cersei a gift, and the pair would make an excellent offering. Ellaria, however, seemed to take poison to avoid being captured, but we never actually saw her dead. Likewise Yara might be in Euron's clutches, but she isn't dead yet, we hope.
Perhaps there's still a chance for Theon to take up Euron's offer to "come get her". More likely, if they are still alive, the sisters will have to save themselves.
Game of Thrones season 7: Key questions after premiere
17 July
Warning: spoilers ahead
After more than a year of waiting, Game of Thrones finally returned to our TV screens with a sombre season seven premiere.
The first episode, Dragonstone, focused heavily on Daenerys (Emilia Clarke) establishing her stronghold at the Targaryen ancestral seat of Dragonstone. It also signalled the first signs of sibling rivalry between Jon Snow (Kit Harington) and Sansa Stark (Sophie Turner), saw a heavy-handed cameo by Ed Sheeran, and featured plenty of doomy reminders that "winter is here".
The opener also raised some Key questions for viewers.
What is the significance of Dragonstone?
The first episode focused on Daenerys Stormborn of the House Targaryen reclaiming her ancestral home of Dragonstone and, in so doing, altering the balance of power in Westeros.
Dragonstone had been in the control of Stannis Baratheon, after he helped his brother King Robert in the rebellion against the Targaryen's. But Stannis left Dragonstone unguarded when he pursued his ultimately ill-fated campaigns, first to oust the Lannisters and take the Iron Throne and then as Melisandre's "Lord of Light", to fight the White Walkers in the North.
When Daenerys turned up she found her old home abandoned and reclaimed it with ease. This marks a historical moment, as Dragonstone had belonged to her family for hundreds of years, long before the fall of the magical kingdom of Valyria. Perhaps it signals that Daenerys is finally ready to be the true leader of her people.
What's so special about Dragonstone?
Aside from being the Targaryen seat, it turns out that Dragonstone could be very significant in any upcoming battles with the undead. As Night's Watch braniac Sam Tarly (John Bradley-West) discovered as he was labouring in the Citadel, a restricted book described how Dragonstone conceals a supply of the Walker-slaying dragonglass. Surely, that's the sort of knowledge that could be very useful in conflicts to come.
Will Sansa and Jon fall out?
Things are a bit tense between the siblings after Sansa and Jon disagreed about what to do with some pesky associates. Sansa wanted to take the Karstarks and Umber lands as punishment for swapping their allegiance to the Boltons. Thinking more in terms of strategy than revenge, Jon however argued that the ancient families should keep their lands, because they might be useful allies in the battles to come.
This understandably annoyed Sansa and prompted Jon to put his foot down. "You are my sister but I am king now," Snow told Sansa, after she compared him to Joffrey. Meanwhile, Lord Baelish waited in the wings, possibly planning to exploit the rift.
Will the Lannisters' repair family bonds?
Speaking of sibling rivalry, things are pretty edgy in the Lannister household as well. When Cersei (Lena Headey) asked her brother (and sometime lover) Jaime (Nikolaj Coster-Waldau) if he was afraid of her, he replied: "Should I be?"
Meanwhile, brother Tyrion, who Cersei tried to dispose of, but Jaime freed, is sailing back to Westeros as Daenerys' advisor. But the family dynamics seemed to make Queen Cersei more determined than ever to hold onto power as she surveyed the map of the kingdoms and outlined her plans to keep the empire in family hands.
"It's ours now, we just have to take it," Cersei told Jaime.
Jaime seemed to be wondering what family she was talking about, given that all their incestuous offspring are dead.
What is Euron offering?
Cersei admitted she can't win the war alone, and even though the Lannisters have burned a lot of bridges, there's one ruthless leader still lining up to join her.
The dastardly Euron Greyjoy (Pilou Asbaek) successfully knocked off his relative to take control of the Iron Islands, but Yara and Theon escaped and pledged themselves to Daenerys Targaryen. Given that Cersei and Euron seem to share a common enemy, an alliance makes sense, but a marriage might be taking it a step too far.
Euron has arrived with his new fleet and plans for an alliance via a marriage proposal, but Cersei has had enough of marriage. Undeterred, Euron offered to return with a precious gift to seal the alliance. What could it be?
Are the Stark sisters going to the dark side?
When he saw Sansa determined to extract her revenge, Jon started to worry that his sister was sounding a little like Cersei.
"You almost sound as if you admire her," Jon said.
"I learned a great deal from her," Sansa replied.
But it isn't just Sansa who is struggling with her dark side. Arya also seems consumed with vengeance.
Dragonstone began with young Arya musing on the best way to get revenge, reminding us of how she wreaked havoc on the Frey family. Certainly, they've had a lot of have things happen to them, but can the Stark women overcome their growing appetite for revenge and find their better selves, or will they fall prey to their own bloodlust like Cersei has?
Will the Hound be redeemed?
In one of the most poignant scenes in the episode, we saw the Hound, having joined the Brotherhood without Banners, (along with Beric and Thoros of Myr), arrive at a stricken farm. It was there, in Season 4, that The Hound had met a starving farmer and his daughter, and stole their remaining silver.
The two are now dead, and the Hound, no doubt troubled by his role in their deaths, decided to make a small gesture of amends by burying the two in the frozen night. Perhaps this small gesture indicates the road to salvation for the Hound.
It's also significant that the Hound is now seeing visions in the fire of the dead marching past a castle near "where the Wall meets the sea". Perhaps he'll become a believer after all.
Continue reading for free
We hope you're enjoying The Week's refreshingly open-minded journalism.
Subscribed to The Week? Register your account with the same email as your subscription.
Sign up to our 10 Things You Need to Know Today newsletter
A free daily digest of the biggest news stories of the day - and the best features from our website