Dead or Alive 6 review: has the controversial fighting game finally grown up?
After a four-year break, Team Ninja's beat 'em up series returns to console and PC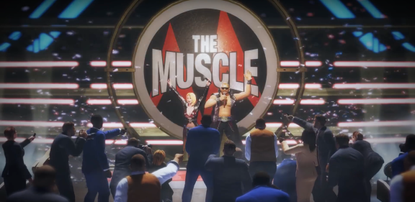 (Image credit: Sony )
The latest instalment in the Japanese fighting game franchise Dead or Alive arrives in the shops today.
Returning after a four-year hiatus, the Team Ninja-developed fighting game features a roster of 24 characters, ranging from mystical ninjas to gigantic wrestlers, who battle in a host of outrageous arenas.
Along with revamped graphics and improved fighting mechanics, Team Ninja has focused its efforts on helping new players get to grips with what has traditionally been a very challenging game.
Subscribe to The Week
Escape your echo chamber. Get the facts behind the news, plus analysis from multiple perspectives.
SUBSCRIBE & SAVE
Sign up for The Week's Free Newsletters
From our morning news briefing to a weekly Good News Newsletter, get the best of The Week delivered directly to your inbox.
From our morning news briefing to a weekly Good News Newsletter, get the best of The Week delivered directly to your inbox.
Here are our impressions of the beat 'em up and where you can pick up a copy:
The Week reviews Dead or Alive 6
There aren't many games that divide fans and critics quite like the Dead or Alive series.
The fighting franchise has been criticised in recent years for its portrayal of women. For instance, players could spend hundreds of pounds on downloadable costumes, many of which were very revealing, for characters in Dead or Alive 5.
Meanwhile, the 2016 spin-off beach volleyball game Dead or Alive Xtreme 3, which features only the franchise's female characters, did not launch in Europe or the US because the developer alluded to a potential backlash from Western fans, Kotaku reported.
But Team Ninja insists that it has changed in Dead or Alive 6, as it's looking to put fighting - and not its scantily-clad female characters - at the forefront of the game.
On the surface, the Japanese video game maker seems to have turned a corner with DOA6. Kasumi, the poster fighter of the franchise, swaps her revealing blue cheongsam, a type of Chinese dress, for a tactical body-covering ninja suit.
Dig a little deeper, though, and the story begins to look a little different.
The game has a new feature called DOA Central, a menu option that lets players customise their character's look with new outfits, hairstyles and accessories. Among the unlockable outfits are skin-tight body suits, maid costumes and school uniforms.
The male characters get the same treatment, too, but the women of DOA6 have far more outfits at their disposal.
But it's not just the outfits that feel outdated. Some of the younger female characters are borderline childlike in the hope of appearing cute. Their act, however, only made us grimace and reach for the button to skip the cutscene.
To top it all off, there's a button in the settings menu to adjust the "softness" of a character's breasts. This is pointless and, as we've said before, completely outdated.
It's a shame and a frustration. That's because, underneath it all, DOA6 is a wonderful fighting game.
The series has been notoriously difficult in the past, but Team Ninja has added a host of new features to make DOA6 more accessible to newcomers. The stand-out game mode is DOA Quests, which have users complete a series of challenges, while at the same time teaching them how to pull off complicated moves.
The combat itself feels like a huge step up from DOA5, with fights feeling more fluid and energetic than ever before. There's a new attack called "Fatal Rush", allowing players to unleash a devastating blow on their opponents, which unlocks after they repeatedly hit an enemy. It's a great addition that significantly increases the pace of fistfights.
DOA6's colourful Sega Dreamcast-esque design is also welcome, particularly as most of today's games have a somewhat darker, grittier look to them.
As expected with a DOA title, the story is completely baffling and ridiculous. The story's timing of events jumps all over the place, making it almost impossible to follow. But it's almost "so bad it's good", especially as the game doesn't take itself even remotely seriously.
So where does this leave DOA6?
For the franchise's most dedicated fans, DOA6 will feel like a solid upgrade over its predecessor. It handles better, the game modes are more engaging and the character models are impressively detailed.
However, we're not convinced that Team Ninja has done enough to make fighting game fans take the franchise more seriously. There are simply too many skimpy outfits in the game.
And that's disappointing, because DOA6 is a great pick-up-and-play fighting game. Just expect your friends to giggle, or frown, when you ask: "fancy a game of DOA?"
Where to order
Amazon is the best place to pick up a copy of DOA6. It can be had for around £45 on the PlayStation 4 and Xbox One.
It's also available on PC through Steam for £49.99.

Continue reading for free
We hope you're enjoying The Week's refreshingly open-minded journalism.
Subscribed to The Week? Register your account with the same email as your subscription.