The week's good news: March 7, 2019
It wasn't all bad!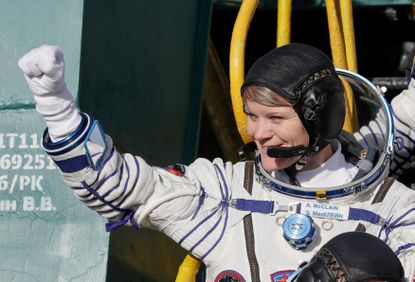 (Image credit: Shamil Zhumatov/Getty Images)
1. Scientists report a 2nd person has been cured of HIV
Researchers report that a man with HIV, dubbed the "London patient," appears to have been cured of the infection following a bone marrow transplant. He is the second known person to experience sustained remission from HIV; the first man, Timothy Ray Brown, was cured 12 years ago. In both cases, the men had cancer and were treated with bone marrow from a donor with the CCR5 mutation; CCR5 is a protein HIV uses to enter certain immune cells. The London patient underwent the transplant in May 2016, and in September 2017, he stopped taking antiretroviral drugs. He is tested often, and his HIV viral load is undetectable. Since Brown's case, several people with cancer and HIV have been treated with bone marrow transplants, but in other cases, the virus came back about nine months after they stopped taking their antiretroviral drugs or the patients died of cancer.
2. NASA launches first women-led spacewalk
Astronauts Anne McClain and Christina Koch will join Expedition 59 for a barrier-breaking trip in NASA's first women-led spacewalk later this month. "As currently scheduled, the March 29 spacewalk will be the first with only women," NASA spokeswoman Stephanie Schierholz told CNN. "In addition to the two female spacewalkers, the Lead Flight Director is Mary Lawrence, and Jackie Kagey (also a woman) is the lead EVA (spacewalk) flight controller." Canadian Space Agency flight controller Kristen Facciol will offer support on the ground from NASA's headquarters in Houston, Texas. NASA says the spacewalk will last about seven hours. Both McClain and Koch were space trainees for NASA's 2013 Astronaut Class.
Subscribe to The Week
Escape your echo chamber. Get the facts behind the news, plus analysis from multiple perspectives.
SUBSCRIBE & SAVE
Sign up for The Week's Free Newsletters
From our morning news briefing to a weekly Good News Newsletter, get the best of The Week delivered directly to your inbox.
From our morning news briefing to a weekly Good News Newsletter, get the best of The Week delivered directly to your inbox.
3. When a student couldn't find a sitter for his baby, his professor stepped in to help
While teaching an algebra class last week, Morehouse College Prof. Nathan Alexander multitasked, using his right hand to write on the board and his left to rock a student's baby daughter to sleep. When Wayne Hayer couldn't find a babysitter for his daughter, Alexander told him to bring her to class. The professor noticed Hayer was having a hard time taking notes and keeping an eye on his daughter, so he offered to hold the baby. She was quiet the entire class, and even fell asleep, leading Alexander to quip, "My lecture must be getting boring." Alexander told The Atlanta Journal-Constitution it's important that he offer his students assistance, giving them any necessary accommodations to help them learn and be successful. "Teachers do this in their own way every day," he said. "This is what they do."
The Atlanta Journal-Constitution
4. Florida family credits cat with saving them from carbon monoxide poisoning
Bella the cat's incessant meowing saved the life of Paul and Leona Jones of Volusia County, Florida. On Feb. 27, Paul and Leona came home from dinner in a rush, and after parking their car in the garage, forgot to push the off button. The car emitted carbon monoxide for hours, and the couple inhaled it without realizing. At about 1 a.m., Bella started meowing loudly, and Paul, with carbon monoxide built up in his bloodstream, was barely roused awake. Leona was able to call 911, and firefighters rushed to the scene, where they gave oxygen to Paul, Leona, and Bella. To make sure this never happens again, the family installed carbon monoxide detectors in the house and put up signs in the garage, reminders to turn off the car. If Bella hadn't started meowing, alerting the family to danger, "we would have slept through it and never woken up," Leona told CBS Miami.
5. Teenager saves his paychecks for 2 years to buy friend electric wheelchair
For two years, high school senior Tanner Wilson set aside the money he earned from his job at an auto repair shop until finally he had enough to buy something he'd had his eye on. It wasn't a video game system or a smartphone: Wilson wanted to purchase an electric wheelchair for his longtime friend Brandon Qualls. The teens attend Caddo Hills High School in Norman, Arkansas, and for years, Qualls used a hand-push wheelchair, which made his arms tired. Wilson told CNN he decided to surprise his buddy with an electric wheelchair because "he's just been a really good friend, and I wanted to do him a favor. I just felt like I needed to do it." When Wilson showed up at school with the new wheelchair, Qualls couldn't believe it. "It's been my dream to just have one of these," he told News9. "And my dream came true."

Continue reading for free
We hope you're enjoying The Week's refreshingly open-minded journalism.
Subscribed to The Week? Register your account with the same email as your subscription.