Who killed JFK? The assassination that spawned 60 years of conspiracy theories
Sixty years ago, on 22 November 1963, the US president was shot dead in Dallas, Texas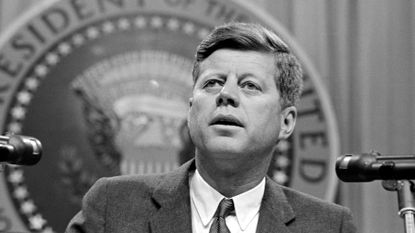 (Image credit: Bettmann/Contributor/Getty Images)
In November 1963, John Fitzgerald Kennedy was nearly three years into his first presidential term, having narrowly beaten his Republican opponent Richard Nixon in the 1960 election. He was the youngest man ever to be elected to the White House; charismatic, photogenic and married to the glamorous Jackie, he seemed to embody a new era.
Having assumed office at the height of the Cold War, he had navigated the Cuban Missile Crisis in 1962, and was certain to seek the Democratic nomination to fight the 1964 election.
Texas was a key battleground, and on 21 November 1963 – with an eye on the coming vote – Kennedy departed with his wife on Air Force One for a two-day, five-city tour of the state. After stops in San Antonio and Houston, he spent the first night at the Hotel Texas in Fort Worth.
Subscribe to The Week
Escape your echo chamber. Get the facts behind the news, plus analysis from multiple perspectives.
SUBSCRIBE & SAVE
Sign up for The Week's Free Newsletters
From our morning news briefing to a weekly Good News Newsletter, get the best of The Week delivered directly to your inbox.
From our morning news briefing to a weekly Good News Newsletter, get the best of The Week delivered directly to your inbox.
How did the events of 22 November unfold?
In his hotel suite, Kennedy was shown a black-bordered advert in that day's Dallas Morning News, which accused him of pro-Communist sympathies; he mused about how easy it would be to assassinate a travelling president. After taking a short flight to Dallas Love Field Airport, Kennedy got into the back seat of a convertible limousine alongside Jackie. John Connally, Texas's Democratic governor and his wife, Nellie, were in the same car, sitting in front of the president and his wife; Kennedy's vice-president, Lyndon B. Johnson, and his wife Claudia were in another car.
A 150,000-strong crowd had come to greet them. At around 12.30pm, Kennedy's car turned onto Dealey Plaza in downtown Dallas. As it passed the Texas School Book Depository, gunfire was heard: Kennedy was hit by one bullet in his neck, and another – fatally – in the back of his head. "They have killed my husband," Jackie cried out. "I have his brains in my hand."
What happened to Kennedy next?
His car went directly to the Parkland Memorial Hospital, around four miles away, but it was soon apparent that he couldn't be saved. A Catholic priest administered the last rites and, at 1pm, Kennedy was pronounced dead, aged 46. At 2.38pm, a stony-faced Lyndon B. Johnson took the oath of office on board Air Force One at Love Field Airport. Jackie, still in blood-stained clothes, stood next to him. Kennedy's body was then taken to Washington where, over 21 hours, 250,000 people paid their respects as it lay in state. Kennedy was buried in Arlington National Cemetery on 25 November. By then, though, media attention was focused on the fate of Lee Harvey Oswald, the prime suspect.
What happened to Oswald?
Witnesses saw a man firing from the sixth floor of the Texas School Book Depository, where Oswald worked. He left soon afterwards, and 90 minutes later shot dead a policeman, J.D. Tippit, who tried to arrest him. Oswald, then 24, was an emotionally disturbed high-school dropout, who had joined the US marines at 17 – he was a trained sharpshooter – and had been court-martialled twice. In 1959, he had defected to the Soviet Union, and had spent over two years there, but had returned, with his Russian wife, Marina. Upon his arrest, Oswald denied having killed Kennedy, claiming he was "a patsy", a fall guy. But while being transferred from Dallas Police HQ on 24 November, he was shot dead on live TV by Jack Ruby, a nightclub owner. Ruby claimed that he had been deeply upset by the assassination, and had killed Oswald in order to spare Jackie Kennedy from having to testify at Oswald's trial.
So there was never a trial?
No, but the Warren Commission was set up by President Johnson to investigate. It was chaired by the US chief justice, Earl Warren, with six others, including four politicians and former CIA director Allen Dulles. It reported by September 1964. The central conclusion of its 888-page report was that Oswald acted alone, firing three bullets from a sixth-floor window, the third of which killed Kennedy. It offered no "definitive" motive and dismissed suggestions of Russian involvement, finding "no evidence" that Oswald was "part of any conspiracy, domestic or foreign". It also concluded that Ruby acted alone, and had no prior relationship to Oswald or organised crime. The US establishment accepted all this, but by 1966 less than 40% of Americans were convinced.
Why was the Warren Commission doubted?
It was widely felt that the commission's cut-and-dried conclusions simply didn't explain a very murky series of events. Three of the commission's members later doubted its findings, and it has since emerged that the Johnson administration had pushed hard to find Oswald solely responsible – in order, it seems, to avoid conflict with the Soviet Union. In some respects the report was plain wrong: it found that the CIA had little intelligence on Oswald, and played down his links to Cuban groups, because the agency had misled it. To prop up the lone-gunman verdict, it supported the "single-bullet theory": that one bullet had hit both Kennedy and Connally, causing a total of seven exit and entry wounds. In 1979, the Select Committee on Assassinations produced a new report concluding that JFK was probably killed as the result of a conspiracy.
What have we learnt since?
In 1992, congress passed the JFK Records Act, calling for the release of all assassination-related documents within 25 years. The tens of thousands released since then have included revelations that the FBI had warned Dallas police of a threat to kill Oswald; that Oswald spoke to a member of a KGB assassination unit weeks before the killing; that the CIA had an extensive file on him, which it later hid. The White House says that 99% of records have now been made public. However, more than 14,000 documents remain fully or partly locked away, ostensibly to protect still-living agents and informants. Inevitably, this feeds suspicions about the events of 22 November 1963.
What are the conspiracy theories?
Conspiracy theories existed before the death of JFK: there was a long tradition of suspicious political thinking in the US, particularly on the Right. But the assassination helped conspiracist thinking become a cultural phenomenon. It began in earnest with Mark Lane's 1966 book, "Rush to Judgment", which critiqued the Warren Commission.
As the official theory fell out of favour, alternatives were proposed: JFK had been killed by the Soviet or Cuban governments; by Cuban exiles; by the CIA, with which he often clashed; by the Mafia; by Texan right-wingers. In 1967, the New Yorker noted that amateur experts – "assassination buffs" – were poring over every detail: the ballistics; the autopsy; the 8mm film taken at the scene by Abraham Zapruder; unconfirmed reports of a second shooter on the "grassy knoll" in Dealey Plaza. About 40,000 books have been published about Kennedy, and, according to the author Vincent Bugliosi, doubters of the lone gunman theory have accused 42 groups and 82 assassins of being involved. Oliver Stone's 1991 film "JFK" turbocharged the conspiracists.
In retrospect, the assassination marked an inflection point in US history – aided by Vietnam and Watergate – when suspicion of authority became a major feature of American life.

Continue reading for free
We hope you're enjoying The Week's refreshingly open-minded journalism.
Subscribed to The Week? Register your account with the same email as your subscription.