Instant opinion: 'English schools must tackle their arts emergency'
Your guide to the best columns and commentary on Monday 2 September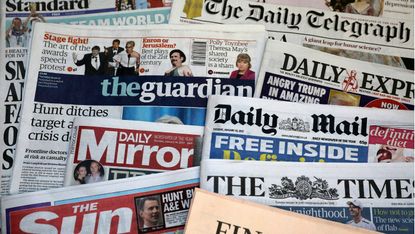 The Week's daily round-up highlights the five best opinion pieces from across the British and international media, with excerpts from each.
1. Michael Rosen in The Guardian
on education
Subscribe to The Week
Escape your echo chamber. Get the facts behind the news, plus analysis from multiple perspectives.
SUBSCRIBE & SAVE
Sign up for The Week's Free Newsletters
From our morning news briefing to a weekly Good News Newsletter, get the best of The Week delivered directly to your inbox.
From our morning news briefing to a weekly Good News Newsletter, get the best of The Week delivered directly to your inbox.
Term is starting – and English schools must tackle their arts emergency
"There should be room in education for schooling to be more responsive to events, more focused on varying interpretations and more able to create artistic and technological responses to the world as it changes. There should be more time both in and outside of lessons for students to follow personal and cultural interests. All this requires the delivery of knowledge – plenty of it – but in ways that ask students to do things with that knowledge rather than to just absorb it. Some of this knowledge may be difficult or even impossible to measure, but so be it."
2. Jim Pickard and Robert Shrimsley in the Financial Times
on Labour's revolution
Jeremy Corbyn's plan to rewrite the rules of the UK economy
"[Shadow chancellor John] McDonnell, the architect of the economic agenda, has been careful to avoid causing too many controversies. But even the plans already announced are breathtaking in scope: the nationalisation of rail, water, mail and electricity distribution companies; significantly higher taxes on the rich; the enforced transfer of 10 per cent of shares in every big company to workers; sweeping reform of tenant rights; and huge borrowing to fund public investment. But this may be just the start. The leadership is also studying an array of even more radical ideas, including a four-day week, pay caps on executives, an end to City bonuses, a universal basic income, a 'right to buy' for private tenants and a shake-up in the way that land is taxed to penalise wealthy landlords. To supporters this is about fairness; about reorienting an economy that works for those at the top but not for the young, the unemployed or those struggling on zero-hours contracts. To his opponents and those likely to be at the sharp end of such a programme — high-earners, business owners, investors and landlords, it is alarming."
3. Edward Lucas in The Times
on Chinese misrule
Hong Kong crisis threatens to spoil Xi's party
"This dilemma is Mr Xi's fault. His predecessors, Jiang Zemin and Hu Jintao, were no softies. They too chipped away at the rights and freedoms guaranteed under the "one-country, two-systems" approach formulated by Deng Xiaoping in the 1980s. But experience suggests that they were too pragmatic to have got into this mess. They would not have imposed the hated extradition law that sparked this year's protests. They would not have expelled foreign correspondents, nor kidnapped booksellers, especially not one with a foreign passport (the Swedish bookseller Gui Minhai). They would not have authorised hysterical, stakes-raising propaganda attacks, with ludicrous allegations of foreign meddling. Their approach to dissent would, I suspect, have sought safety valves, not confrontation. They might have nudged the Hong Kong government to ease social tensions, particularly those relating to the price and scarcity of housing. They might even have inched forward on the promise of extending suffrage. Such a self-confident approach would reflect the sensible assumption that as China becomes richer, Hong Kong becomes less important."
4. Ian Leslie in the New Statesman
on a double standard in politics
Why for many politicians likeability matters far more than competence
"Academic research shows that likeability matters more for one group of politicians than another; you can probably guess which. Political scientists have consistently found that voters will support a male candidate they do not like, if they think he is qualified, but are less likely to vote for a woman they dislike. That means men have the option to present themselves as gruff rather than compassionate; as fighters instead of huggers, while women are more constricted in their choice of self-presentation. They have to smile a lot. In the age of authenticity, it's harder for politically ambitious women to avoid pretence."
5. Nick Timothy in The Daily Telegraph
on the choice facing Tory MPs this week
Tory rebels must back down, or risk a ruthless general election purge
"What in the end do they hope their actions will achieve? The purgatory of ongoing EU membership? A second referendum and all the division that would bring? Or a general election presenting a choice between Boris's no-deal strategy and the crazy communism of Jeremy Corbyn? The rebels might not like Boris's policy, but they need to think their actions through very carefully. The stakes could scarcely be higher. For the sake of their country, and the fortunes of their party, they need to back down now."

Continue reading for free
We hope you're enjoying The Week's refreshingly open-minded journalism.
Subscribed to The Week? Register your account with the same email as your subscription.