Instant opinion: ballot box is 'Putin's nightmare'
Your guide to the best columns and commentary on Tuesday 3 September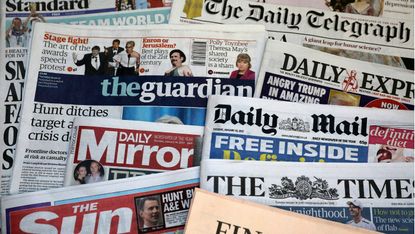 The Week's daily round-up highlights the five best opinion pieces from across the British and international media, with excerpts from each.
1. Michael Khodarkovsky in the New York Times
on Russia's upcoming regional elections
Subscribe to The Week
Escape your echo chamber. Get the facts behind the news, plus analysis from multiple perspectives.
SUBSCRIBE & SAVE
Sign up for The Week's Free Newsletters
From our morning news briefing to a weekly Good News Newsletter, get the best of The Week delivered directly to your inbox.
From our morning news briefing to a weekly Good News Newsletter, get the best of The Week delivered directly to your inbox.
Putin's Nightmare: The Ballot Box
"Putinism appears destined to last a far shorter time than either Marxism or Leninism. It was conceived as a hybrid autocracy in which a ruling elite controls most of the economy and media in the name of the state, but tolerates a limited number of independent but closely watched businesses and media outlets. Unlike the Chinese Communist Party, with its total control of society, Mr. Putin's Kremlin has chosen to leave an escape valve for dissenting opinions — as long as they remain marginal and pose no threat to those in power. But this model may have now reached its end."
2. Sian Cain in The Guardian
on the retroactive erasure of great works
Enid Blyton had racist views. But I still read her
"When a beloved literary figure from the past is refused some kind of recognition as a result of their personal views, a backlash against modern "culture warriors" inevitably follows. This is understandable to a degree. After all, records of human communication only go back so far; we can only guess what Shakespeare's opinions on trans people would be (actually he would have loved them, have you seen his plays?). To recognise racism in canonical authors like Blyton and Campbell is not to advocate for a Year Zero approach, blitzing the literary canon until only good-hearted, liberal authors remain. But I am as suspicious of that argument as I am of those who argue that Blyton was woke for writing a tomboy, or that she was only as racist as her time. In fact, in 1960, Macmillan rejected her manuscript for The Mystery That Never Was on the grounds of xenophobia."
3. Josh Campbell in CNN
on America's mass murder fatalism
Stop treating mass shootings like hurricanes
"When facing a threat, the first question we ask is, what power do we have over it? With a hurricane, we naturally resign ourselves to the fact the only thing one can do is prepare for the worst and try to flee from danger. You can't stop a hurricane -- only try to limit its impact. The annual hurricane season will never go away. This seems to be the same fatalistic approach we now employ when dealing with mass murder. We want to stop them, but feel powerless. Like hurricanes, it feels as though mass shootings are here to stay."
4. Yannick Marshall in Al Jazeera
on the average Trump fanatic
MAGA Dale is not a good guy
"There should be no hijabs, no henna-dyed beards, and if there must be blacks, they must be controlled and kept confined to their side of town. Dale wants as white a country as possible. In this he is a traditionalist, and not, as the media maintains, reacting to irrational but understandable anxieties brought on by globalisation and a new, changing country. The country - and world - has always been changing, for everyone, and the plunging of rights, status and well-being are more costly for less fragile people. Dale wants, implicitly, what far-right activist Richard Spenser calls for, explicitly; that is, the maintenance, and where possible, expansion of white privilege. This is Dale. He is simple folk, the silent majority watching through their living room blinds for signs that demographic change may upset their right to rule."
5. Rachel Sylvester in The Times
on the fortunes of a PM playing with fire
Boris Johnson's luck might be about to run out
"Sun Tzu's advice to warriors was 'appear weak when you are strong and strong when you are weak'. The prime minister has been praised for his decisive leadership but his shock-and-awe tactics are covering up enormous vulnerability. The reckless attacks on constitutional propriety and political decency have reduced the chances of Brexit being completed, made it harder for the Conservatives to win a general election and hastened a Tory split. 'He'll be the shortest lived PM in history and a loser alongside Theresa May' is the brutal verdict of one former cabinet minister. Mr Johnson may have won the battle to get to No 10 but he could yet lose the war."

Continue reading for free
We hope you're enjoying The Week's refreshingly open-minded journalism.
Subscribed to The Week? Register your account with the same email as your subscription.