Instant Opinion: 'Racists think England is theirs'
Your guide to the best columns and commentary on Monday 15 June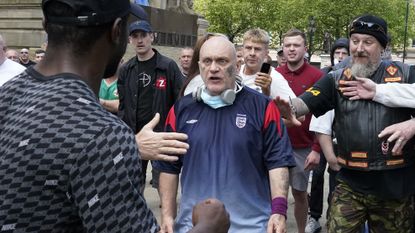 (Image credit: Christopher Furlong/Getty Images)
Sign up to our 10 Things You Need to Know Today newsletter
A free daily digest of the biggest news stories of the day - and the best features from our website
Thank you for signing up to TheWeek. You will receive a verification email shortly.
There was a problem. Please refresh the page and try again.
The Week's daily round-up highlights the five best opinion pieces from across the British and international media, with excerpts from each.
1. John Harris in The Guardian
on the need to 'take back control' from right-wing bigots
Subscribe to The Week
Escape your echo chamber. Get the facts behind the news, plus analysis from multiple perspectives.
SUBSCRIBE & SAVE
Sign up for The Week's Free Newsletters
From our morning news briefing to a weekly Good News Newsletter, get the best of The Week delivered directly to your inbox.
From our morning news briefing to a weekly Good News Newsletter, get the best of The Week delivered directly to your inbox.
Racists think England is theirs. It's time to show them it is not
"'The English need to rediscover who and what they are, to reinvent an identity of some sort better than the battered cliche-ridden hulk which the retreating tide of imperialism has left them,' wrote the Scots theorist and academic Tom Nairn in 1977. In the weekend's spectacle of those far-right thugs piling into London and chanting 'In-ger-land', there lies an imperative: to fight the populists and racists on their most treasured ground, and contest their archaic, hateful view of the country they think they speak for. This is not about the inanities of patriotism, but an understanding of the place we all call home, and how we interpret what is happening right now. As I watched that very different crowd throw Edward Colston into Bristol harbour, I thought of the final single put out by those great anti-racists The Clash, and two lines sung in anger and sadness that capture a challenge still unmet: 'This is England. This is how we feel.'"
2. Tim Stanley in The Daily Telegraph
on a Britain most Brits 'simply cannot recognise'
Extremists speak for nobody in this unwanted culture war
"In summary, a statue of the man who defeated fascism was defaced by anti-racism campaigners and then 'defended' by fat drunken fascists. I can imagine most of us would prefer to sit this culture war out – but on Saturday night, surveying the mayhem in Parliament Square caused by the fight over Churchill's monument, one ITV reporter saw an indictment of the entire country. He said, 'the lines that divide us are more deeply drawn and dangerous than ever'. Excuse me: no. It is highly impertinent to assume that what a mob of violent protesters thinks in any way reflects opinion in modern Britain, but this is the game our broadcast media plays. They take the most extreme views, amplify them and present them as if they were the only two choices available – as if the only options in life are madness or lunacy."
3. Kevin Maguire in the Daily Mirror
on a prime minister deploying diversion tactics
Boris Johnson using oldest trick in Tory book by playing statue wars
"Cynical and a proven liar, unprincipled Boris Johnson is using the oldest trick in the Tory book by deciding to play statue wars. Unlikely to ever be on a plinth of his own, this incompetent Prime Minister will do anything to divert public attention from his Government's disastrously world-beating pandemic record. OECD experts are predicting the UK will endure the costliest slump of any major economy on top of the globe's highest excess death toll. It is a poisonous double-whammy our country cannot afford. Johnson is a toppled Neville Chamberlain, not the reincarnated Winston Churchill of his dreams... Man of letters Dr Johnson's damning declaration that 'patriotism is the last refuge of the scoundrel' fits the plastic patriot PM in the 21st century, just as much as it did in the 18th as William Pitt self-consciously clothed himself in the flag to deflect criticism."
4. Claire Foges in The Times
on how criminalisation can detract from women's issue
Let's not expand 'hate crime' even further
"This lack of clarity about what misogyny means could turn the hate crime of misogyny into a grudge vehicle for the #MeToo generation to settle scores and bother the police with incidents that are not worthy of their time. Which leads to the final test this fails: it is not enforceable. Yes, there would be a scattering of cack-handed follow-ups, Humberside police-style, but in general the police are (or should be) far too busy to deal with non-crime incidents... Instead of changing the law to make misogyny a hate crime, we must do better at using existing law to prosecute and punish those who hurt women and girls. There has, to date, been one single successful conviction for female genital mutilation (FGM) in the UK. Rape charges, prosecutions and convictions in England and Wales are at their lowest levels in more than a decade; the number of prosecutions completed fell by 33 per cent over the year 2018-19. Then there is the odious 'rough sex defence', which has allowed dozens of men to claim that women died not as a result of murder but because consensual violent sex went wrong. It is in these areas that we should be pushing for more resources where required and more action where needed, not creating a new law that would open the floodgates to the reporting of trivial incidents."
–––––––––––––––––––––––––––––––For a round-up of the most important stories from around the world - and a concise, refreshing and balanced take on the week's news agenda - try The Week magazine. Start your trial subscription today –––––––––––––––––––––––––––––––
5. Michael E. O'Hanlon, senior fellow at the Brookings Institution, in The New York Times
on how Bush's Iraq War survival contains lessons for 2020
Joe Biden Needs to Learn an Urgent Lesson From the 2004 Election
"In spring 2004, it looked like a tight race, and the challenger led the incumbent in some early polls. Yet Mr. Bush ultimately won the fall election by some three million popular votes and by an Electoral College tally of 286 to 251. The economy was not in collapse at that time, as it is today. But the nation's top national safety and security problem — the Iraq war — was in a bad state and getting worse... What should this historical analogy instruct the Biden team to do in 2020? At least one thing seems clear: In choosing a vice-presidential candidate, Mr. Biden should prioritize how his political partner will help him develop, articulate and ultimately carry out a forward-looking, comprehensive plan for the chief threat facing the country today."
Continue reading for free
We hope you're enjoying The Week's refreshingly open-minded journalism.
Subscribed to The Week? Register your account with the same email as your subscription.
Sign up to our 10 Things You Need to Know Today newsletter
A free daily digest of the biggest news stories of the day - and the best features from our website