Instant Opinion: 'the final battle to keep our beloved NHS'
Your guide to the best columns and commentary on Tuesday 4 August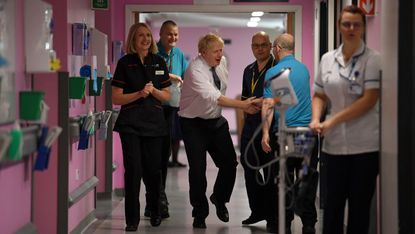 Sign up to our 10 Things You Need to Know Today newsletter
A free daily digest of the biggest news stories of the day - and the best features from our website
Thank you for signing up to TheWeek. You will receive a verification email shortly.
There was a problem. Please refresh the page and try again.
The Week's daily round-up highlights the five best opinion pieces from across the British and international media, with excerpts from each.
1. Jatinder Hayre in The Independent
on the fear of a US trade deal
Subscribe to The Week
Escape your echo chamber. Get the facts behind the news, plus analysis from multiple perspectives.
SUBSCRIBE & SAVE
Sign up for The Week's Free Newsletters
From our morning news briefing to a weekly Good News Newsletter, get the best of The Week delivered directly to your inbox.
From our morning news briefing to a weekly Good News Newsletter, get the best of The Week delivered directly to your inbox.
This is the final battle to keep our beloved NHS out of the grubby hands of profiteers
"Illness has become indulgence; disease has become damnation. An otherwise unassuming date, 20 July 2020, may mark the final battle for our NHS if it's to truly remain ours… or, remain at all. For it was on this date that 340 conservative MPs voted down 'New Clause 17'; an amendment to the post-Brexit trade deal to protect our NHS from foreign interference. In other words, for Donald Trump to keep his grubby little hands off our national pride and treasure. I call this the 'final battle' for the simple reason that the NHS has been fighting for her life for 40 years now. And she's losing. You may realise my personification of the NHS, referring to it as she and her. Why? Well, the narrative of the NHS is the narrative of all of us. How many of us were born in an NHS hospital? How many of our lives and our family's lives has she saved? The NHS is more than a set of buildings or a mere organisation; she is every one of us. A living, breathing establishment made up of 1.5 million dedicated workers, 66.6m patients. She is ours, and we are hers."
2. Rachel Sylvester in The Times
on the battle for supremacy between superpowers
China is winning this war of the worlds
"There is talk of a new Cold War, but the geopolitical rivalry is less an ideological clash between capitalism and communism than a power struggle with innovation at its heart. 'Great scientific and technological capacity is a must for China to be strong,' Xi Jinping told his people in 2016 and he has certainly acted on his words. To begin with, China was seen as the underdog that was determined to catch up with the West; now the roles have been reversed and it is the West that is being left behind on the silicon Silk Road. China has around 70 per cent of the global drone market, dominates 5G communication and is ploughing huge state resources into artificial intelligence, robotics and other emerging technologies. During the Covid crisis, patients in Wuhan were treated by robots that delivered food and medicine around the wards. Last year China became the first country to successfully land a discovery probe on the dark side of the moon. A Chinese company has even used 3D printing to create a ten-house village in a day. With no need to worry about human rights or individual privacy, Beijing has a huge inbuilt commercial advantage and none of the moral constraints of its liberal democratic rivals."
3. John Coulter in The Daily Telegraph
on the passing of an Irish political heavyweight
John Hume gave true meaning to the idea of 'sharing' in Irish power-sharing
"John Hume, the icon of moderate nationalism in Ireland, will be remembered as one of the key architects of the Irish peace process, and especially the 1998 Good Friday Agreement. It was not a case of him taking gung-ho political risks which marked him out and earned him a Nobel Peace Prize, but his steadfast ability to put principle before party. Coming from the Catholic part of Londonderry, Hume initially got involved with the Civil Rights Movement in the 1960s before Northern Ireland literally exploded into decades of sectarian violence. Politically, he recognised that if change was to come to Northern Irish politics, that vehicle could no longer be either the Stormont-based Irish Nationalist Party or the soft-socialist Northern Ireland Labour Party. Along with the late Republican Labour MP, Gerry Fitt - later Lord Fitt - he established the moderate nationalist movement, the Social Democratic and Labour Party (SDLP). Within years, it was to become the majority voice within Northern nationalism."
4. Jamelle Bouie in The New York Times
on government of the minority, chosen by a minority
Trump Doesn't Need the Most Votes. What if He Doesn't Even Want Them?
"Nearly everyone involved in reporting on, analyzing or forecasting the upcoming presidential election agrees that Donald Trump could win another term in office. But no one save his most dedicated sycophants thinks he could do so with a majority of the public on his side. We have accepted, as a matter of course, that Trump could be constitutionally re-elected through the Electoral College, but not democratically selected by the voting public. That's how he won in 2016, and the reason is straightforward. Enough of the president's base is concentrated in swing states like Florida, Michigan, Pennsylvania and Wisconsin. Because of that fact, he can lose by as many as five million votes and still win an Electoral College majority."
5. Jonathan Portes, professor of economics and public policy at King's College London, in The Guardian
on whether rightwing academics are being silenced
The rightwing defence of 'academic freedom' masks a McCarthyite agenda
"Another day, another skirmish in Britain's culture war. Once again, universities have found themselves on the frontline. According to a report from the thinktank Policy Exchange, Academic Freedom in the UK, pro-Brexit and rightwing academics are being "forced to hide their views". The report cites a YouGov poll of 820 academics, which found that 32% of those who identify their political views as 'right' or 'fairly right' have 'stopped openly airing opinions in teaching and research'. On the surface, these numbers sound legitimate – but simple statistical detective work tells us that this equates to no more than about 10 academics currently employed at UK universities. The survey has been padded out with a large proportion of retired academics, and the report itself is littered with basic statistical errors... To be fair, it's not just leavers who are persecuted; one 'centrist remainer' was apparently removed from a programme after they failed to show sufficient deference towards a photograph of Jeremy Corbyn on a manager's desk. That the authors were apparently gullible or lazy enough to print these responses, which seem to me like deliberate piss-takes, tells us all we need to know about the report's credibility."
Continue reading for free
We hope you're enjoying The Week's refreshingly open-minded journalism.
Subscribed to The Week? Register your account with the same email as your subscription.
Sign up to our 10 Things You Need to Know Today newsletter
A free daily digest of the biggest news stories of the day - and the best features from our website