'President Donald J. Trump: The End'
Your digest of analysis and commentary from the British and international press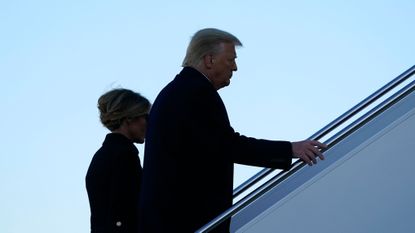 (Image credit: Donald Trump boards Air Force One for the last time)
1. President Donald J. Trump: The End
Thomas L. Friedman in The New York Times
on a terrible experiment
"Folks, we just survived something really crazy awful: four years of a president without shame, backed by a party without spine, amplified by a network without integrity, each pumping out conspiracy theories without truth, brought directly to our brains by social networks without ethics - all heated up by a pandemic without mercy. It's amazing that our whole system didn't blow, because the country really had become like a giant overheated steam engine. What we saw in the Capitol last week were the bolts and hinges starting to come loose. The departure of Donald J. Trump from the White House and the depletion of his enablers' power in the Senate aren't happening a second too soon. Nor is Joe Biden's inauguration, but he has his work cut out for him. Because we haven't even begun to fully comprehend how much damage Trump, armed with Twitter and Facebook and leveraging the bully pulpit of the presidency and the cowardice of so many who knew better, has done to our nation's public life, institutions and cognitive immunity."
Subscribe to The Week
Escape your echo chamber. Get the facts behind the news, plus analysis from multiple perspectives.
SUBSCRIBE & SAVE
Sign up for The Week's Free Newsletters
From our morning news briefing to a weekly Good News Newsletter, get the best of The Week delivered directly to your inbox.
From our morning news briefing to a weekly Good News Newsletter, get the best of The Week delivered directly to your inbox.
2. Joe Biden can't heal America without help from the rest of the world
Gordon Brown in The Guardian
on the president-elect's challenge
"The Trump impeachment trial notwithstanding, day one will see Biden delivering on his plans to roll out mass vaccination and to reboot the ailing US economy by forcing the biggest fiscal stimulus in history through Congress. Given that body's new political makeup and Biden's own inclinations, his multi-trillion-dollar plan will be greener than anything ever contemplated by US lawmakers. But Biden must then go global. His presidency will be forged or broken on the anvil of those existential crises, and the internationalist in him knows that not one of these three domestic objectives - a virus-free, an economically resilient and a pollution-free US - can be fully realised without multilateral cooperation."
3. Tea with the new First Lady? It's the least you can do, Melania
Allison Pearson in The Daily Telegraph
on a lack of grace
"The sting of defeat can make things hard. Not to mention the prospect of being turfed out of your beautiful home by someone who has publicly insulted your spouse on a daily basis for the past 12 months. Yet, all First Ladies of the modern era have managed to swallow their pride and be the bigger person for the sake of what Lady Bird Johnson called 'the great quadrennial American pageant'. Not Melania Trump. At the time of writing, the woman who ceases to be First Lady on Wednesday has not extended the hand of friendship – or even a cup of Lapsang and a mini muffin – to Jill Biden. As an act of omission, it's as graceless as Donald Trump's announcement that he would be boycotting the inauguration."
4. Give us a road map out of this madness
Sarah Vine in the Daily Mail
on lockdown exit
"People are counting the hours until restrictions lift. How much harder will it be to keep the lid on lockdown when everyone over 75 is safe and the rest of us are still under house arrest? That's why it's important ministers plot the next few weeks with caution. I understand they don't want to raise false hopes — they've been burned before. But based on the assumption the vaccine is effective (and with the caveat that this might change if a new strain emerges), we need a clear and coherent road map out."
5. How Covid kids can become Generation Grit
Alice Thomson in The Times
on toughening up
"Millennials, now in their mid-twenties and early thirties, had more stable, optimistic childhoods. But as a new book by Anne Helen Petersen, Can't Even - How Millennials Became the Burnout Generation suggests, they have been so over-nurtured that they are often too soft and give up at the slightest setback, doomed to disappointment with unrealistic expectations. By contrast, today's Covid children, like those who came of age after the two world wars, might emerge stronger. When I look at my daughter in her first year of doing a degree, it's comforting to know that her great grandmother and grandmother also started at university at the end of a period of huge global upheaval when they had both lost family members. They didn't just survive, they thrived."

Continue reading for free
We hope you're enjoying The Week's refreshingly open-minded journalism.
Subscribed to The Week? Register your account with the same email as your subscription.