'Hypocritical eco warriors are getting their lines wrong on travel'
Your digest of analysis and commentary from the British and international press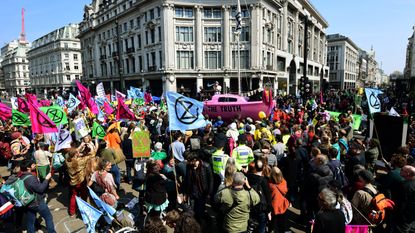 (Image credit: Leon Neal/Getty Images)
Sign up to our 10 Things You Need to Know Today newsletter
A free daily digest of the biggest news stories of the day - and the best features from our website
Thank you for signing up to TheWeek. You will receive a verification email shortly.
There was a problem. Please refresh the page and try again.
1. Eco-warriors like Chris Packham think it's one rule for them, another for the hoi-polloi
Robert Taylor in The Telegraph
on green hypocrites
"There are many reasons why I'd never call myself woke. The biggest? I couldn't live with the hypocrisy," writes Robert Taylor in The Telegraph. "You pretty much have to be perfect, not just by today's standards, but by those of two centuries' time. Sooner or later, you'll be outed," he adds. "Take eco-warriors. Some are sincere, but too many get their lines wrong." As an example he cites BBC Springwatch presenter Chris Packham, who "loudly campaigns for Extinction Rebellion, yet we now discover he also leads long-haul tourism to places like Alaska and the Falklands." The Falklands are "magnificent" but "even the fastest route takes 20 hours of flying time, via a pitstop in Ascension Island or Cape Verde. Green tourism it ain't," Taylor says. "You just cannot bang on about climate change if you promote tourism to the South Atlantic. It's like holding a vegan support group in an Angus Steakhouse". And it's not just Packham, "the great and good are at it all the time". As the philosopher Aldo Leopold wrote: "Ethical behaviour is doing the right thing when no one else is watching", says Taylor. "How many pious eco-warriors would pass that test?"
Subscribe to The Week
Escape your echo chamber. Get the facts behind the news, plus analysis from multiple perspectives.
SUBSCRIBE & SAVE
Sign up for The Week's Free Newsletters
From our morning news briefing to a weekly Good News Newsletter, get the best of The Week delivered directly to your inbox.
From our morning news briefing to a weekly Good News Newsletter, get the best of The Week delivered directly to your inbox.
2. Starmer needs to stop talking like a loser
Stephen Bush in The Times
on preparing to fail
"What does its poor showing in the Chesham & Amersham by-election tell us about Sir Keir Starmer's Labour Party?" writes Stephen Bush in The Times. "History suggests he may be on course to make major gains at the next election." Nevertheless, "the most predictable part of the Chesham & Amersham result was that Labour would be squeezed" and the party "ought to have prepared the ground in the press for a poor showing". "Not for the first time has Labour's approach to communication under Starmer been better suited to a Trappist monastery than a political party," Bush adds. "Yet the bigger problem is that Starmer's Labour frequently seems to be ashamed of the parts of the country that have reliably voted for it for more than a decade, and even more ashamed of those parts moving towards it," he continues. Starmer treated the 2021 local elections as "an unalloyed disaster" and "frequently speaks as if a Labour Party that wins Hartlepool is of greater moral worth than a Labour Party that wins Worthing", writes Bush. "It's insulting to the voters whose support Labour currently has, and hardly appeals to anyone thinking of joining those ranks."
3. How to save fiction
Niamh Mulvey on UnHerd
on sensitive readers
"Romance author Elin Hilderbrand was hauled over the coals for including an Anne Frank joke in her recently published novel Golden Girl," writes Niamh Mulvey on UnHerd. "I wonder if a way to deal with the endless contretemps around problematic language in literature at the moment is to offer the reader two versions of the work they wish to read." The first, "produced by the writer with nothing on her mind but the business of getting a good story onto the page". The second, "put through the filter of sensitivity readers who will remove anything that could possibly be interpreted by any group as a slight". "The alternative, I guess, is that all we are allowed to read will be campus novels about young people with lovely politics arguing sexily before falling into bed with one another. I have no problem with such novels – but I'm not sure if that's all I want to read." The problem seems to be "that we are dealing with a gap between how people behave in 'the real world' and how people in cultural institutions like publishing houses wish they would behave", writes Mulvey. Indeed, anyone who has worked in a bar, McDonald's or any other public setting is sure to "have heard language that would make the most hardened sensitivity reader faint clean away".
4. Taking the knee isn't the best way of showing black lives matter
Cass Pennant in The Spectator
on symbolic gestures
"As a black football fan who grew up going to matches in the seventies and eighties, I know more than most about the beautiful game's troubles with racism," writes Cass Pennant in The Spectator. "Nowadays, racism in football is less obvious but it still exists – and it needs to be called out," he says, "but I'm convinced that 'taking the knee' isn't the way to do it." Pennant explains: "Because the more footballers insist on genuflecting before kick-off, even if fans boo them in response, the more trouble is likely to erupt as a result. And the more that this divisive gesture is rammed down fans' throats, the more problems it's going to cause," he says. "To make matters worse, this gesture also allows those within football who could – and should – be doing more to tackle racism, to hide behind the players, while changing little," he adds. "Now that players have been taking the knee for some months now, it's also worth asking: what has really changed?"
5. GB News is no joke, despite the risible start
Nesrine Malik in The Guardian
on anti-woke television
"The most striking thing about GB News, the television news channel that launched this month, is not how original it is, but how familiar it feels," writes Nesrine Malik in The Guardian. Its "only novelty lies in the fact that it's on television", and indeed the channel is "essentially a combination of the sensationalism of the print tabloid press and the ill-temperedness of phone-in radio". "To sustain 24 hours of TV with little original newsgathering and a lot of chat between anchors and guests, the tone needs to be constantly pitched at a high note of something: outrage, frustration, dolefulness," Malik writes. "One gets the sense that anchors don't quite know how they are going to finish a sentence once they start it off," she adds. "But finishing a thought is not really the point of GB News. The project is building on the political energy that is already out there, rather than generating it. GB News has gathered up the material of grievance that has been floating around for years." Indeed, "it would be a mistake to write it off as a rickety project that will be sunk by its poor quality. It may be plagued by comedic technical issues, but it is entirely serious."
Continue reading for free
We hope you're enjoying The Week's refreshingly open-minded journalism.
Subscribed to The Week? Register your account with the same email as your subscription.
Sign up to our 10 Things You Need to Know Today newsletter
A free daily digest of the biggest news stories of the day - and the best features from our website