'The fight against far-right extremism doesn't start with classics written in a past society'
Your digest of analysis and commentary from the British and international press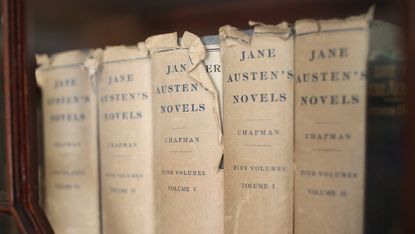 (Image credit: Dan Kitwood/Getty Images)
1. Literature is powerful – but sentencing a neo-Nazi to read Austen won't end far-right extremism
Mariam Khan in the i
on sentencing Shakespeare
"Last week a former university student who downloaded almost 70,000 white supremacist documents", among them "a manual on how to make a bomb", was not sent to prison, wrote Mariam Khan, editor of It's Not About the Burqa: Muslim Women on Faith, Feminism, Sexuality and Race, in the i. The student was "told by the judge to read William Shakespeare, Jane Austen, Charles Dickens and other literary classics". "This sentence feels incredibly lenient", says Khan. "As an author and writer, I believe in the power of words but the fight against far-right extremism… doesn't start with classics written in a past society." In fact, "classical literature can glorify a society that wasn't fair", one with serious class, gender and racial divides. Instead, Khan would recommend books like Why I'm No Longer Talking to White People About Race by Reni Eddo-Lodge, The Good Immigrant by Nikesh Shukla and Empireland by Sathnam Sanghera to a far-right terrorist. Wouldn't they be a better place to start "than classics that preach an old world of prejudice, discrimination and racism"?
Subscribe to The Week
Escape your echo chamber. Get the facts behind the news, plus analysis from multiple perspectives.
SUBSCRIBE & SAVE
Sign up for The Week's Free Newsletters
From our morning news briefing to a weekly Good News Newsletter, get the best of The Week delivered directly to your inbox.
From our morning news briefing to a weekly Good News Newsletter, get the best of The Week delivered directly to your inbox.
2. We need a GP system for our impatient times
Clare Foges in The Times
on care chaos
"The battle between practices and patients is heating up," Clare Foges wrote in The Times. There are "exhausted, abused, Covid-worn and misunderstood" doctors, and there are patients who haven't seen a GP face-to-face "for more than 18 months". It's "understandable" that many are frustrated with the recent news that GPs are "being offered £100 an hour to give Zoom calls from home". "How many warning signs have been missed, examinations skipped, cancers spread because surgeries have insisted on stringent Covid no-contact rules, even when district nurses, dentists and Uncle Tom Cobley are meeting face-to-face?" Foges asked. Post-Covid, rather than "just propping it up", the government must aim for a primary care service that is "better, more comprehensive and more attuned to our impatient times".
3. Government coercion of experts is alarming
Freddie Sayers in The Telegraph
on trusting the right people
In trying to decide whether to give your children a new vaccine, would you favour "an independent committee of 16 clinicians and professors of medicine with a 60-year record, or the soon-to-be-ex education secretary Gavin Williamson", wrote Freddie Sayers, executive editor of online magazine UnHerd, in The Telegraph. "Okay, that's too easy," he went on. In a democracy, it's right that politicians make the final decisions. But the "brazen way" that political pressure has been applied to the experts who refused to recommend vaccinating healthy 12- to 15-year-olds "seems to cross a line". "Unlike a lockdown, which is clearly a broad societal decision, evaluating whether children should receive a new vaccine really does seem like it should be protected from the whims of politicians," said Sayers. "A dangerous new wisdom is forming, which views action as always better than inaction" – but sometimes, as the experts have suggested, the wisest thing "is to wait and see".
4. Don't be bitter – glitter: Every woman wants a best friend like Sarah Harding
Victoria Richards in The Independent
on a 'luscious life-lived-fabulously'
News of the Girls Aloud pop star Sarah Harding's death from breast cancer at the age of 39 "appears to have hit harder than many people expected it to", said Victoria Richards in The Independent. There might be "a simple reason for that", she added: "Sarah Harding embodied everything life – and pop – is supposed to be." Harding came across "as the type of girl who, if you were to bump into her at a party, would immediately give you a hug and tell you a devilishly dirty joke when nobody was listening", the kind of woman you'd be drawn to "like a magnet". Can anything be more fitting than the star's own tattoo, asked Richards: "Don't be bitter – glitter". Richards "may not have known Sarah Harding personally" but she has "known and loved women who remind me of her; women the exact same age as Sarah was when she died, impossibly young women whose lives have been ripped apart by health diagnoses they never saw coming". If there's one thing we can learn from Harding's "luscious life-lived-fabulously", it's "not to take a second of it for granted".
5. Tulip, Summit, Mound: can urban properties really be 'experiences'?
India Block in The Guardian
on privatised playgrounds
"What do a fake hill, a giant light-up ball, gondola rides 300 metres in the air, staircases to nowhere, a park perched over a river and a glass elevator stuck on the side of a skyscraper have in common?" India Block, assistant editor at the architecture and design magazine Dezeen, asked in The Guardian. "They are all part of the experience-ified modern city." London is one of many major cities that are "on a roll", commissioning "peculiar structures for the purpose of attracting consumers by providing a unique experience". It's a trend that's as much "a stylistic movement as an expression of financial pragmatism", said Block. If the main purpose of these "experience-led attractions", like the disastrous Marble Arch Mound, "is to make cash for their developers, it's unsurprising that they are actively making our cities worse", she added. "People don't want to live in a privatised playground: they want a city that actually inspires them, and which works."

Continue reading for free
We hope you're enjoying The Week's refreshingly open-minded journalism.
Subscribed to The Week? Register your account with the same email as your subscription.