'My friend Trump will be back in the White House'
Your digest of analysis from the British and international press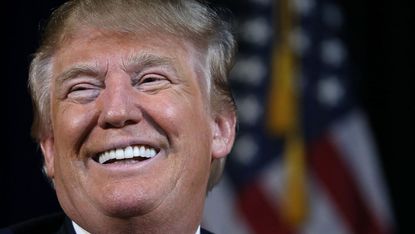 (Image credit: Getty Images)
Sign up to our 10 Things You Need to Know Today newsletter
A free daily digest of the biggest news stories of the day - and the best features from our website
Thank you for signing up to TheWeek. You will receive a verification email shortly.
There was a problem. Please refresh the page and try again.
1. Donald Trump now senses his opportunity to win back the White House
Nigel Farage in The Telegraph
On a fighter friend
"Whether you like him or loathe him", says Nigel Farage, one thing "is beyond doubt" about my pal Donald Trump. "He is a fighter who never gives up." Writing for The Telegraph from Florida, where he has interviewed the former president for GB News, Farage argues that no conservative in the Western world can win a majority without blue-collar support. Dismissing other potential Republican hopefuls for 2024, the former Brexit Party chief argues that none of them "can reach those voters living in the eight states that make up the Great Lakes region in the way that Trump can". And while Trump faces many challenges in the next three years, and "still has much work to do to secure white voters who lead comfortable lives in middle-class suburbs", Farage "genuinely believes that my friend will be back in the White House in January 2025".
Subscribe to The Week
Escape your echo chamber. Get the facts behind the news, plus analysis from multiple perspectives.
SUBSCRIBE & SAVE
Sign up for The Week's Free Newsletters
From our morning news briefing to a weekly Good News Newsletter, get the best of The Week delivered directly to your inbox.
From our morning news briefing to a weekly Good News Newsletter, get the best of The Week delivered directly to your inbox.
2. #MeToo changed Hollywood – but what about our schools, workplaces and homes?
Rosamund Cloke for The Guardian
On harassment closer to home
On the fourth anniversary of the #MeToo movement, London school pupil Rosamund Cloke wonders what impact the campaign has had on the world. While the movement has "certainly made a difference in Hollywood, leading to the arrest and conviction of powerful men such as Harvey Weinstein", she writes in The Guardian, "sexism and sexual harassment are not only found in Hollywood but also closer to home, in our schools, our workplaces and our everyday lives". Cloke "can attest from personal experience that sexual harassment in schools is scarily common, to the extent that it is considered ordinary classroom banter among boys". And "what is even more rife within the school environment is the presentation and exchange of nude images". Sexual harrassment "is still happening, the only difference is that now we're much more aware of it", she continues. But perhaps awareness is "the first step in eradicating the threat of sexual assault that many of us feel daily, and in slowly dismantling the dangerous culture created by decades of silence".
3. Michael Buerk says freedom of speech is 'seriously under threat' – he has lost himself in a moral maze
Sean O'Grady for The Independent
On an absent acerbic
"Lovely Michael Buerk" is in the news for saying that the BBC is too "woke" and that freedom of speech is "seriously under threat", writes Sean O'Grady, who argues in The Independent that the veteran broadcaster has made a rare misstep. "Once upon a time, it would have been unthinkable for a BBC show to question the monarchy, for example, or concede that homosexuality is 'normal'," says O'Grady. "It's good those taboos have gone, and now we have our own ones. That's what all societies do; they have their norms and bounds and their Overton windows, and that's quite normal." The real problem with the BBC Radio 4 show hosted by Buerk, The Moral Maze, is that "it's a bit woolly, and just another discussion programme, and the presenters aren't all that spikey and provocative", O'Grady continues. What is needed is the return of the controversial Dr David Starkey, who "was a wonderful panellist – the best – because he brought such an acerbic edge to the show, spicing up the usual amorphous philosophical soup with balls-out personal attacks".
4. To keep Iran from going nuclear — and prevent war — America must work with Israel
Michael Makovsky for the New York Post
On the balance of burden
Former Pentagon official Michael Makovsky worries that a "major Israel-Iran war" is on the cards. Writing for the New York Post, the CEO of the Jewish Institute for National Security of America reveals that defence officials from "our closest Middle Eastern ally, Israel, were the most pessimistic I can recall" because "they perceive America as checked out, adrift, pusillanimous, unfeared and desperate to avoid military confrontation and Iran as emboldened and nearing the nuclear-weapons threshold". Senior Israeli defence officials believe "that it will be Israel's burden alone" to prevent Tehran going nuclear, says Makovsky. He argues that Washington "should lighten that burden" through measures such as moving Israel "to the head of the line to receive KC-46 aerial refueling tankers" and accelerating "delivery of precision-guided missiles". Because ultimately, "Washington is fortunate it can turn to Israel" to "prevent a nuclear Iran, thereby advancing US interests as Jerusalem advances its own".
5. It's so much harder to be sincere than clever
James Marriott in The Times
On Swift's sincerity
Chart-topping singer-songwriter Taylor Swift's great talent, "one much rarer than mere cleverness", is for sincerity, writes James Marriott. "She is capable of meaning what she says. Very few people are." The Times columnist believes that "showing your heart is a great deal harder than it sounds" and that "most pop music (most of everything, in fact)" shows not "sincere personal feeling but a sickly soup of emotional clichés distilled from the cultural atmosphere". Sincerity, he contends, is "what we actually refer to when we talk about artistic talent". Yet "the really sincere are rarely quite in tune with their times and are therefore almost never cool". So Swift is not cool, says Marriott, but she reminds us of something important: that "a great deal of artistic originality is in feeling not in thinking".
Continue reading for free
We hope you're enjoying The Week's refreshingly open-minded journalism.
Subscribed to The Week? Register your account with the same email as your subscription.
Sign up to our 10 Things You Need to Know Today newsletter
A free daily digest of the biggest news stories of the day - and the best features from our website