'Moving CBBC online isn't modernisation – it's dangerous'
Your digest of analysis from the British and international press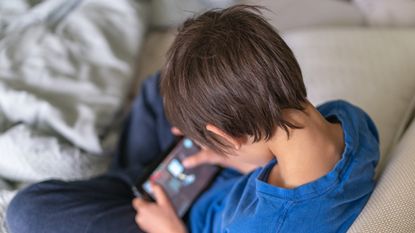 (Image credit: Fly View Productions)
1. Make CBBC magic and the kids will come
Sara Tor in The Times
on children's television
"We need to save CBBC," writes columnist Sara Tor in The Times. "In a drive to conserve funds, the channel is to be banished to the online-only world within the next three years," she continues. "As someone who had her eyes glued to it every afternoon between the ages of six and twelve, I tell you: it's a huge mistake." Adults are "continuously warning kids of the perils of the internet" and "bang on about the need for protections and restrictions". Yet "instead of trying to keep them away from the unsafe virtual world for as long as we can, we're moving CBBC onto the web and actively encouraging children to spend more time online", writes Tor. "That's not modernisation; that's dangerous."
Subscribe to The Week
Escape your echo chamber. Get the facts behind the news, plus analysis from multiple perspectives.
SUBSCRIBE & SAVE
Sign up for The Week's Free Newsletters
From our morning news briefing to a weekly Good News Newsletter, get the best of The Week delivered directly to your inbox.
From our morning news briefing to a weekly Good News Newsletter, get the best of The Week delivered directly to your inbox.
2. Tory MPs could soon come to regret deposing Boris Johnson
Tom Harris in The Telegraph
on Conservative regicide
In the Labour Party it is "virtually impossible" to remove the leader and even talk of doing so is "considered treachery", writes former Labour MP Tom Harris in The Telegraph. For Conservatives, however, "hard and fast rules on how to depose a leader are right there in black and white in the party rule book" and "conspiring to bring down a leader is an accepted and valid course of action". So the "omens for Boris Johnson are not great", says Harris. "Tory MPs are (entirely naturally) considering who would be best placed to maximise the Conservative vote at the next election and hence save their own parliamentary career." But "despite the frequency" with which Conservative MPs have "deposed their serving prime ministers", removing a PM is "a serious business and should only be attempted in the direst and darkest circumstances", Harris writes. After all, "we are only half way through the current parliament". Johnson may be polling at a deficit, but "there is time yet to sit back and judge whether Johnson is capable of turning that polling deficit around".
3. Superglue and self-extraction: Britain's desperate 'DIY dentistry' is a painful reality
Francisco Garcia in The Guardian
on a dental crisis
A growing number of patients in the UK have "found themselves locked out of affordable dental healthcare", writes Francisco Garcia in The Guardian, a situation exacerbated by "the onset of the pandemic". "During the first national lockdown, 25% of UK households resorted to some form of DIY dentistry (ranging from toothache remedies to full-scale extraction), while Boots reported spectacular sales for its at-home dental kits," said Garcia. And the situation has "shown few signs of improvement since". Recent "horror stories" include "the middle-aged woman who took superglue and metal files to her mouth after 12 months waiting for NHS treatment", or "the man in Suffolk who couldn't take the pain any more, before ripping two teeth out by hand". Like so many other issues in the UK, the severity of the dental crisis "depends on who you are, and where". But for the huge number of people who cannot afford private treatment, "the threat of DIY dentistry is a looming concern", and that "isn't hyperbole".
4. Why the rich world's fertility problem will force a rethink on immigration
Stephen Bush in the Financial Times
on managing populations
"The rich world can produce more of everything it needs with greater and greater ease: except people," writes Stephen Bush in the Financial Times. "For a population to remain stable, the average family needs to have 2.1 children: two to replace them, with the rather surreal sounding '0.1' on top to make up for the people who won't, for reasons of infertility, preference or bad luck, be able to have children themselves," Bush explains. "Overpopulation has its own problems, but we have a much better idea of how to bring birth rates down than to bring them back up again," he writes. "Greater reproductive rights, easy access to contraception and better education all mean women have fewer children: across the world, the fertility rate has fallen drastically." But "the fertility problem does have another solution available if wealthy states cannot (or, like the UK, will not) increase their own birth rate: they can attract people from other countries", he continues. But it will require a change "in how rich countries, used to making a great song and dance about how stringent their border-control regimes are, talk about and to prospective migrants".
5. Of course imperial measurements are silly – maybe that's the whole point
Marie Le Conte in The Independent
on Brexit dividends
"As a foreigner, there are aspects of your adopted country you will just never feel strongly about either way," writes French-born political journalist Marie Le Conte in The Independent. The royals are one, says Conte, and Boris Johnson's vow to bring back imperial measurements is another. "I doubt that kilos and grams will disappear from Brexit Britain forever, never to be seen again. I wish I could say it annoyed me but, honestly, I don't care," she writes. In short, "it all just seems a bit silly". And, she continues, "Johnson leaning on this patriotic silliness has more than a whiff of desperation to it, but that isn't exactly surprising either. We know the man; we know the situation he's in. If anything, it would be odder for him not to do something like this," she writes. "It should be frustrating but christ, there are only so many hours in the day."

Continue reading for free
We hope you're enjoying The Week's refreshingly open-minded journalism.
Subscribed to The Week? Register your account with the same email as your subscription.