Tensions flare within Labour party over anti-Semitism controversy
Leadership criticised by backbenchers in Commons debate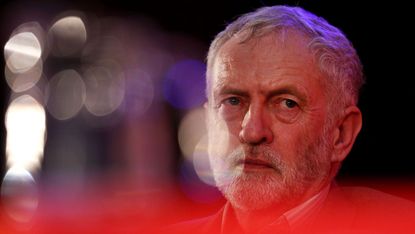 (Image credit: Getty images)
12 April
Jeremy Corbyn to promise free bus travel for under-25s
Jeremy Corbyn is to pledge free bus travel for under-25s in England if Labour is elected to power in the next election.
Subscribe to The Week
Escape your echo chamber. Get the facts behind the news, plus analysis from multiple perspectives.
SUBSCRIBE & SAVE
Sign up for The Week's Free Newsletters
From our morning news briefing to a weekly Good News Newsletter, get the best of The Week delivered directly to your inbox.
From our morning news briefing to a weekly Good News Newsletter, get the best of The Week delivered directly to your inbox.
Unveiling the policy during a visit to a sixth-form college in Derby today, Corbyn will say that young people "deserve a break" after nearly eight years of "Tory austerity".
"On average, children, young people and households with children each have less disposable income than working-age households without children," he will say, according to a copy of his speech seen by the London Evening Standard.
"Young people also tend to be in lower paid, more insecure work, and they spend a higher proportion of their income on travel. Giving them free bus travel will make a huge difference to their lives."
The free travel would only apply to bus routes controlled by local authorities, rather than those run by private companies, but would include services franchised out to private companies by councils, the BBC reports.
"Most local bus services were run by council-owned companies until the 1980s, when the market was opened up to private competition by the Conservative government," the broadcaster adds.
Fare rises above the rate of inflation, cuts to services in rural areas, and a drop in the number of passengers have prompted Labour to call for a return to publicly owned and operated services.
In response to Corbyn's announcement today, shadow transport secretary Andy McDonald is to say that these private companies should no longer be allowed to run services "for profit not people".
"We'll encourage local authorities to take back control of their buses so they can provide a better and more sustainable service to young and old alike, wherever they live," he will say.
The policy could only be implemented in England, owing to devolved control of transport in Scotland and Wales, but Labour says it has costed the proposal for the whole of the UK.
The estimated £1.4bn yearly cost of the scheme would be raised through car taxes, Sky News reports.
However, the Government has said that Labour's numbers do not add up, and that the true cost of subsidising bus fares for under-25s would be far higher.
Transport Minister Nusrat Ghani compared the proposal with hints made by senior party figures before the last election that Labour would write off student debt if elected. "They're bribing young people again with yet another empty promise," she said.
11 April
Israeli Labor Party cuts ties with Jeremy Corbyn as Nick Griffin declares support
The Israeli Labor Party has cut ties with its UK Labour counterparts over the ongoing anti-Semitism row - on the same day that former BNP leader Nick Griffin tweeted his support for Jeremy Corbyn.
In a letter to Corbyn, the leader of Israel's main opposition party, Avi Gabbay, hailed their organisations' "long history of friendship".
"And yet it is my responsibility to acknowledge the hostility you have shown the Jewish Community, and the anti-Semitic statements you have allowed as leader of the Labour Party in the UK," Gabbay wrote said.
Corbyn's party "has been embroiled in an ongoing row and protests from the Jewish community which flared up after the leader gave his backing to an anti-Semitic London mural, something he later retracted and apologised for", reports The Independent.
Gabbay said there would be a "temporary suspension of all formal relations" between the two parties for as long as "you fail to adequately address the anti-Semitism in the Labour Party".
The letter came as far-right former MEP Nick Griffin took to Twitter to air his support for Corbyn's non-interventionist stance over Syria.
"IF he sticks to his guns then for the first time in my life I will vote Labour," Griffin tweeted. "Right now NOTHING is more important than resisting the psychotic rush to WW3 of Boris and the neocons."
Although many "onlookers boggle at Griffin pledging this unlikely allegiance", says the New Statesman, it has long been "the policy of far-right politicians in the UK to urge the government to keep out of foreign wars".
However, there remains a divergence between Griffin and the Labour leader in their reasoning for supporting non-interventionism in Syria.
Ministers including Foreign Secretary Boris Johnson are calling for Britain to support the US in taking military action, amid claims that the regime of Bashar al-Assad used chemical weapons against its own citizens.
Griffin's non-interventionist stance "comes from apparent fears about terrorism and immigration spreading to the West (though it really just sounds like xenophobia)", says the news magazine.
"Whereas the Labour leader's dovish approach, however controversial within his own party, is based on the devastating effects he believes western intervention can have on the Middle East."
Corbyn did not comment on Griffin's tweet, but said that the Israeli Labor Party should have had the "courtesy" to have spoken to him before severing relations.
"I wish they would read Shami Chakrabarti's report [into anti-Semitism in Labour]," he said. "I wish that they would understand that we are utterly determined in every way to drive out anti-Semitism from our society and where it exists in any party to drive it out, including my own."
03 April
Corbyn under fire for Passover dinner with anti-Israel group
Jeremy Corbyn has been criticised for attending a Passover event with a fringe anti-Israel group amid his party's anti-Semitism row.
The Labour leader was a guest at a Seder dinner hosted by Jewdas, a radical left-wing Jewish group which in December called Israel "a steaming pile of sewage which needs to be properly disposed of", Reuters reports.
A spokesman said he attended the event, said to have taken place in his Islington North constituency, in a purely personal capacity.
He added that Corbyn had also contacted the mainstream Board of Deputies of British Jews and Jewish Leadership Council to request an urgent meeting to discuss tackling anti-Semitism in the Labour Party and in broader society.
However, writes The Jewish Chronicle's Stephen Pollard, Jewdas has publicly rejected the notion that Labour has an anti-Semitism problem and has "angrily attacked those who are concerned".
Stephen Bush of The New Statesman says it is little wonder if many British Jews "feel that Corbyn's decision to attend the Seder is a sign he doesn't take their complaints seriously".
Electing to spend a key Jewish holiday in his "comfort zone" with fringe far-left activists rather than a more representative Jewish group demonstrates that "Corbyn's relationship with majority Jewish opinion and its leaders is fractured beyond repair", he adds.
Corbyn's defenders argue that attempts to link him with anti-Semitism are wide of the mark.
In a blog for the Times of Israel, Joseph Finlay says the politician is "one of the leading anti-racists in parliament", signing "numerous" motions condemning anti-Semitism.
While the party as a whole undeniably has "a small minority of anti-Semites in its ranks", he continues, to identify Corbyn as a co-conspirator is "an absurdity, a distraction, and a massive error".

Continue reading for free
We hope you're enjoying The Week's refreshingly open-minded journalism.
Subscribed to The Week? Register your account with the same email as your subscription.