Tensions flare within Labour party over anti-Semitism controversy
Leadership criticised by backbenchers in Commons debate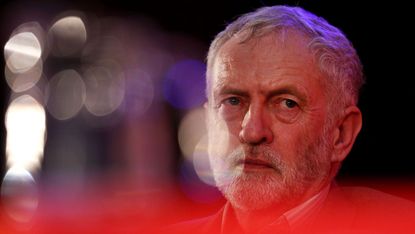 (Image credit: Getty images)
26 March
Jewish groups say Jeremy Corbyn is a 'figurehead for anti-Semitism'
Leading Jewish groups in the UK have intensified their attack on Labour leader Jeremy Corbyn, accusing him of being a figurehead for anti-Semitism
"The reality is there are no safe spaces online or in meetings for Jewish people within the Labour party," he said.
He added: "Rightly or wrongly, Jeremy Corbyn is now the figurehead for an anti-Semitic political culture based upon obsessive hatred of Israel, conspiracy theories and fake news, and that is doing great harm not just to the Labour party but to Britain in a wider sense."
His words come as Labour MPs are "recoiling in horror at the statement put out last night by the Board of Deputies of British Jews," says Politico's Jack Blanchard.
The group has called for a protest in Westminster before the meeting of the parliamentary Labour party to draw attention to what it calls "a constant drip-feed of anti-Semitism coming from Labour members".
"At best, this derives from the far left's obsessive hatred of Zionism, Zionists and Israel. At worst, it suggests a conspiratorial world view in which mainstream Jewish communities are believed to be a hostile entity, a class enemy," the statement says.
The latest accusations of anti-Semitism in the party come after Corbyn "expressed regret for apparently showing support for the creator of an anti-Semitic mural in the East End of London six years ago", says The Guardian.
After apologising for the mural incident on Friday, Corbyn went further over the weekend and accepted Labour has a wider problem.
"We recognise that anti-Semitism has occurred in pockets within the Labour Party … I am sincerely sorry for the pain which has been caused," the Labour leader said.
Corbyn's defenders have been "out in force on social media overnight, with the hashtag #PredictTheNextCorbynSmear trending in the UK," says The Times's Matt Chorley.
But Stephen Pollard, editor of The Jewish Chronicle, retorted using the hashtag: "OK, I'll have a go. It will be an accurate quote of something Corbyn has said."
Several Labour MPs were "tweeting their anger last night, and at least a couple – including Liz Kendall – are vowing to join the protest in solidarity with Jewish communities," says Blanchard.
"It all feels like something of a watershed moment in a row that has plagued Corbyn since his early days as Labour leader," he concludes.
Jeremy Corbyn faces backlash over Russia remarks
14 March
Jeremy Corbyn has come under fire from his own MPs for failing to directly blame Russia for the nerve agent attack on former Russian spy Sergei Skripal in Salisbury.
Responding to Theresa May's decision to expel 23 Russian diplomats from the UK, the Labour leader called for a "proportionate response based on clear evidence" and urged further dialogue with Moscow.
Corbyn told the Commons that the poisoning of ex-double agent Skripal and his daughter Yulia earlier this month was an "abominable" act that has "rightly been condemned" across the House.
But he did not directly blame the Kremlin for the poisoning, and questioned whether Russia could have "lost control" of the nerve agent used, rather than authorising the attack.
Corbyn's speech "was met with cries of 'shame' from Conservative MPs and clear frustration among his own backbenchers", The Independent reports.
In a not-so-subtle swipe at his leader, Labour MP Pat McFadden said it was important for the opposition to show "strength and resolve" when the country is under threat.
"There is a Labour tradition which understands that," McFadden said.
Former Labour minister Tony McNulty was more direct in his criticism, tweeting that Corbyn's statement was "utter waffle".
Asked why Corbyn refused to explicitly condemn the Kremlin, his spokesperson said it had not yet been proved beyond doubt that Russia was responsible for the attack, The Guardian reports.
"There is a history between weapons of mass destruction and intelligence which is problematic, to put it mildly," the spokesperson added.
Responding to the implied comparison with the Iraq conflict, the PM later said that it was "quite wrong and outrageous" to make such comments "in relation to this".
Others, however, came to Corbyn's defence. His former spokesperson, Matt Zarb-Cousin, said he was "not sure why it's controversial" for the Labour leader to insist that the UK follow international law.
12 March
Debbie Abrahams accuses Jeremy Corbyn's office of 'aggressive bullying'
A war of words has broken out at the top of the Labour Party after a shadow cabinet minister was asked to stand aside yesterday amid accusations of bullying.
The party said shadow work and pensions secretary Debbie Abrahams had stepped down while officials investigated an "employment issue", believed to be related to claims that she bullied staff members.
But the MP for Oldham East and Saddleworth, who strongly denies the claims, says she was removed from the post against her will, and has launched "an extraordinary attack" on Jeremy Corbyn's office, reports news website PoliticsHome.
Abrahams, who was promoted to the shadow cabinet after last year's general election, claims she has been the victim of "aggressive, intimidating and wholly unprofessional" treatment by "certain individuals in the leader's office" over the last ten months.
She added: "I have had no details about the complaint [against her], who it is from, the process or timescales. I have not agreed to stand aside. I will fight this spurious claim and do not rule out taking legal action."
Shadow defence secretary Nia Griffith said "both sides" of the dispute must be fully investigated by the party.
"I think until a proper investigation is held it would be very wrong to apportion blame on any side," Griffith told BBC Radio 4's Westminster Hour.
The row comes just days after allegations emerged that a number of MPs, including Speaker of the House John Bercow, bullied, harassed and intimidated Westminster staff.
Bercow is facing calls to stand down over claims that his former private secretary suffered post-traumatic stress disorder after working in his office for nine months, the Daily Mail reports.
Bercow has denied any wrongdoing, as have Labour's Paul Farrelly and Tory Mark Pritchard.
9 March
Jeremy Corbyn: Labour is 'government in waiting'
Jeremy Corbyn will insist Labour is on the brink of a major comeback in Scotland when he opens the Scottish Labour conference in Dundee later today.
In a keynote speech this afternoon, the Labour leader will promote the party as a "government in waiting" and highlight recent electoral gains made north of the border.
"This time last year there were more than a few people in the media who had written the Labour Party off. In Scotland, we were told that Labour was dying," Corbyn will tell delegates. "The truth is that we very much are alive and kicking."
He will add: "We are no longer just an opposition. We are a party preparing to go into government."
The three-day conference, Scottish Labour's first under the leadership of Richard Leonard, will feature policy debates on issues including tax, education and healthcare.
However, the meeting threatens to be overshadowed by a row over EU single market membership, after an attempt to force a vote on the matter was blocked by party bosses yesterday, STV reports.
Corbyn and Leonard, who both back a UK-EU customs union but not permanent membership of the single market, are coming under growing pressure from pro-Remain delegates, the Scottish broadcaster adds.
Andrew Kerr, BBC Scotland's political correspondent, said there was "fury amongst ordinary members" who want a say on the matter.
Scottish Labour insists it is not stifling debate, and that the motion on single market membership was out of date, as it had been submitted before Corbyn called for the UK to be in a customs union after Brexit.
The agreed motion takes into account "the fast-changing nature of the Brexit debate in Scotland and allows the party to unite behind a common goal – putting the interests of working people first", a spokesperson told the i newspaper.
8 March
Jeremy Corbyn 'was member of anti-Semitic Facebook group'
Jeremy Corbyn was a member of a private Facebook group at the centre of an investigation over claims it hosted anti-Semitic material, it has emerged.
In what The Daily Telegraph calls "one of the more disturbing posts", an image shows four politicians suckling from a pig with the words "Israel Lobby" branded on its side.
The group's security settings mean it cannot be found using standard Facebook search channels, and new members must be approved and added by insiders.
It is believed that Corbyn was added to the group when he was a backbench MP - and made a small number of posts - but left shortly after becoming Labour leader.
Yesterday a spokesperson for Corbyn said a probe into the group and its activities has been launched by Labour.
"Jeremy condemns anti-Semitism in all its forms in the strongest possible terms," the spokesperson told HuffPost.
"He does not want the support of anti-Semites, who have no place whatsoever in the Labour movement."
According to the Telegraph, a number of Corbyn's cabinet - including Chris Williamson MP and Clive Lewis MP - were also members of the group.
Both Williamson and Lewis told the newspaper they were "unaware of any anti-Semitic or racist content on the group and had now removed themselves from it".
Corbyn is also in the middle of a burgeoning row between the trade unions and grass-roots campaign group Momentum, after Christine Shawcroft, a Momentum-backed member of Labour's National Executive Committee (NEC), called for an end to the historic link between trade unions and the party.
The controversy shows that "the Labour left is not quite as invulnerable as everyone thought", says Sky News's Lewis Goodall.
"The Unite and Momentum alliance has proved a potent one. It has helped elect Jeremy Corbyn twice," Goodall notes.
"If they drift apart, or worse come to blows, it may lay the groundwork for someone from another wing of the party to make new alliances and seize control in future."
The Daily Mirror's Kevin Maguire told TotalPolitics that he believes the row may be a sign of things to come.
"The seismic disputes in the coming years for the heart and soul of Labour may prove to be not between a Jeremy Corbyn cult and its enemies, or wider Left versus Right clashes, but the collective industrial movement up against individual political activists."
28 February
Jeremy Corbyn leads call for statue of feminist Mary Wollstonecraft
Labour leader Jeremy Corbyn and his deputy Tom Watson have joined forces with a group of more than 40 other high-profile men calling for a statue to be erected of the "mother of feminism" Mary Wollstonecraft.
In the run-up to International Women's Day on Thursday, the group has signed an open letter urging members of the public to help them "break the 'bronze ceiling'" by joining the campaign to memorialise one of Britain's first feminists.
"Wollstonecraft was the first to call for gender equality, over 250 years ago, when she challenged the male philosophers and politicians of the time, including Burke and Rousseau," the letter says. "She called for women not 'to have power over men but over themselves'."
Signatories include Labour peer Andrew Adonis and Liberal Democrat leader Sir Vince Cable, actors Sam West and Jason Isaacs, and union leaders John Hannett and Tim Roache.
The men are following in the footsteps of more than 80 female politicians, academics and public figures who last year demanded a statue be erected of Wollstonecraft on Newington Green, in north London, near where she grew up.
Some campaigners have even argued that Wollstonecraft is a "better choice" of figurehead for the feminist movement than Millicent Fawcett, whose statue is to be unveiled in Parliament Square next month, The Guardian reports.
Wollstonecraft is best known for her 1792 book A Vindication of the Rights of Woman, in which she argues that men are not, as was commonly held at the time, naturally superior to women.
In January, Corbyn named Wollstonecraft as his political hero in an interview with the BBC's Daily Politics.
"She didn't set out to make herself famous or be a leader," he said.
"She stood for what she believed in, she said that girls were as good as boys, that women were as good as men and they should be supported and educated so that they can fulfil their full potential."
Last month, a dossier of 43 claims of harassment and abuse against women in the Labour Party was submitted to Corbyn's office, prompting calls for the party to reform the way it deals with claims of sexual misconduct.
28 February
Jeremy Corbyn handed dossier of Labour sexual harassment claims
A dossier featuring reports of 43 cases of harassment, abuse and sexual violence against women within the Labour Party has been submitted to Jeremy Corbyn's office by activists.
Female party members were invited to submit their experiences of sexual misconduct anonymously on the LabourToo website, set up by Labour activists.
The resulting dossier of claims, all submitted between mid-October and mid-December, has sparked calls for Corbyn to reform the way his party deals with claims of sexual misconduct, an issue that many believe has been "ignored for too long", says the New Statesman.
A spokesperson for the LabourToo programme said: "Sexual harassment, abuse and discrimination is not restricted to the corridors of Westminster, but is taking place at all levels within the Labour Party.
"We need a system that is not open to political bias or interference from the friends and allies of the usually more powerful men whose behaviour causes the problem in the first place."
News of the dossier comes as MPs prepare to debate proposals for a new complaints and grievance system for Parliament, the BBC reports.
The reforms were drafted by Leader of the Commons Andrea Leadsom in the wake of a "rash of complaints of inappropriate behaviour" last autumn, which "led to the resignations of two Conservative cabinet ministers and the suspension of a number of both Tory and Labour MPs", says the broadcaster.
As many as one in four MPs - and half of all women MPs - are "personally aware of sexual harassment or abuse happening in Parliament", according to a ComRes survey of more than 150 MPs for the Young Women's Trust.
21 February
Jeremy Corbyn rejects spy story with 'chilling' media threat
Jeremy Corbyn has dismissed "ridiculous smears" linking him to a communist Cold War spy by releasing a video warning media owners that "change is coming" - a message that has been criticised as a chilling attack on Britain's free press.
It is the Labour leader's first "substantive" response following days of headlines about alleged 1980s meetings with Jan Sarkocy, a Czechoslovakian diplomat who claims he "recruited" Corbyn as an intelligence asset during the Cold War, The Guardian reports.
In the video, Corbyn says some media proprietors - "billionaire tax exiles" - should worry, as Labour will "stand up to the powerful and corrupt". He names four of Britain's most widely read newspapers - The Sun, The Daily Telegraph, Daily Mail and Daily Express - and ends the video with a vow that "change is coming".
The Telegraph finds Corbyn's warning "rather creepy", and asks whether he intends to use force. "Such implicit compulsion is worthy of a leader in Moscow, not London," the newspaper adds.
The Sun says Corbyn is clearly spooked, having avoided media questions yesterday by slipping out of a meeting through an underground car park, while the Express agrees that Corbyn's "sinister" video shows he is "rattled".
The Daily Mail adds that by dodging questions, the Labour leader is feeding suspicions that he has something to hide.
Other newspapers are also less than impressed. While Corbyn may have a right to be angry about spy claims splashed across the front pages, says The Spectator, his response has been to undermine the press as a vital part of democracy - a tactic also used "from Russia to Venezuela to Donald Trump".
Party leader Corbyn walked out of the debate after around half an hour, although he later returned.

Continue reading for free
We hope you're enjoying The Week's refreshingly open-minded journalism.
Subscribed to The Week? Register your account with the same email as your subscription.