Was Dominic Raab really stitched up?
Exit of deputy prime minister triggers a wider debate about how the civil service is run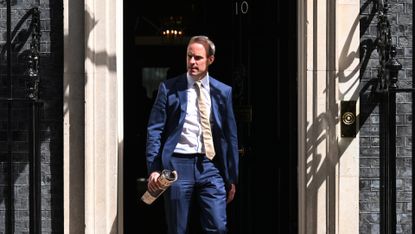 (Image credit: Leon Neal/Getty Images)
Dominic Raab resigned as deputy prime minister and justice secretary last week after an independent inquiry concluded that his treatment of civil servants had, in some cases, amounted to bullying.
Having heard from 60 witnesses, Adam Tolley KC upheld two of eight formal bullying complaints levelled against Raab. He concluded that in his previous role as foreign secretary, Raab had acted in "intimidating" fashion with "unreasonably and persistently aggressive conduct", and that this involved an "abuse or misuse of power". He also found that Raab's consistently "abrasive" behaviour in meetings at the Ministry of Justice had been experienced as bullying by some officials, although Raab hadn't intended to cause distress.
In a defiant resignation letter, Raab said that the bar for bullying had been set too low, and warned that Tolley's report would set a "dangerous precedent", and stop other ministers from driving through change. In subsequent interviews and in a Daily Telegraph article, Raab claimed that he was the victim of a "Kafkaesque saga" and had faced a coordinated attack by "activist" civil servants.
Subscribe to The Week
Escape your echo chamber. Get the facts behind the news, plus analysis from multiple perspectives.
SUBSCRIBE & SAVE
Sign up for The Week's Free Newsletters
From our morning news briefing to a weekly Good News Newsletter, get the best of The Week delivered directly to your inbox.
From our morning news briefing to a weekly Good News Newsletter, get the best of The Week delivered directly to your inbox.
The evidence
Raab's intemperate response to Tolley's report shows exactly why he had to go, said The Observer. There was no contrition, no apology, just angry accusations. He is the third senior minister to be forced out of Rishi Sunak's Cabinet – after Gavin Williamson and Nadhim Zahawi – and his departure is entirely justified. "Bullying should never be tolerated in the workplace." It reflects badly on Sunak's judgement that he reappointed Raab to his government roles, given the latter's reputation and ministerial record, said The Independent. "Even a cursory reading of the Tolley report shows a minister unfit for high office."
It shows no such thing, said The Sun. The report dismissed most of the claims, describing Raab as diligent, principled and highly intelligent. There's no evidence that Raab was "intentionally hurtful", agreed the Daily Mail. He didn't shout, swear or lose control – "unlike, say, Gordon Brown". Some of the allegations were four years old, and some of the complainants hadn't even met Raab. Even the upheld complaints – which involved the removal of a diplomat judged to be undermining Brexit negotiations, and Raab's impatient response to work he deemed inadequate – seem "understandable". Raab is the victim of a "stitch-up".
A problem with resilience?
None of us know for sure what went on between Raab and his staff, said Brendan O'Neill in The Spectator. Perhaps he did sometimes cross the line between "direct critical feedback" and something worse. But the things he was accused of – "hard staring"; expecting people to turn up to meetings "very, very quickly"; interrupting staff with a raised hand when he'd heard enough – are pretty tame. "There have always been ministers who are severe and demanding." What's changed is the apparent resilience of civil servants.
Priti Patel faced similar bullying claims when she was home secretary, said William Atkinson on Conservative Home. Is it just a coincidence that these allegations always seem to be made against "right-wing, Brexit-backing ministers pursuing policies with which their own civil servants reportedly disagree"?
There's no anti-Brexit plot here, said Andrew Grice in The Independent. Raab's fellow Leavers Michael Gove and Sunak have shown that it's entirely possible to maintain cordial, constructive relations with civil servants while pushing the Government's agenda. Raab brought this fall on himself, agreed Dan Hodges in The Mail on Sunday. If he hadn't rashly committed to resign if any bullying allegations were upheld, he might have survived Tolley's report. And if he had treated staff with a bit more respect – he was warned about his brusque manner on two occasions by permanent secretaries – this row wouldn't have blown up in the first place. "It is possible to remould the Whitehall Blob, but it requires guile, not belligerence."
Exit triggers a wider debate
While Raab's backers are wrong to suggest that Whitehall is deliberately obstructing the Tories, said Stephen Bush in the FT, his resignation has triggered a useful debate about how the civil service is run and whether this could be improved. Change is certainly needed, said Nick Timothy in The Daily Telegraph. There's too little accountability and specialist expertise in Whitehall. Some officials complain that 20% of them do 80% of the work. Career structures and pay levels need to be overhauled to help recruit and retain the best talent, and to create a more responsive, creative organisation. "If we want better government, we need a better state."
Raab made an angry exit, but he's not expected to cause trouble for the PM from the backbenches, says Tim Shipman in The Sunday Times. He declared at the weekend that he would "walk through fire" for Sunak. The warmth of No. 10 towards him, in turn, suggests Raab could feasibly return to government after the next election, or receive a peerage.
Oliver Dowden, a long-time ally of Sunak, has replaced Raab as Deputy PM. Another loyalist, the former barrister Alex Chalk, has taken on the role of Justice Secretary. Sunak has asked Dowden to look into what can be done to improve the Whitehall complaints process. No. 10 hinted that it might impose a time limit on complaints.

Continue reading for free
We hope you're enjoying The Week's refreshingly open-minded journalism.
Subscribed to The Week? Register your account with the same email as your subscription.