What are gender-critical beliefs?
Judge-led panel ruled that such views should be protected under the Equality Act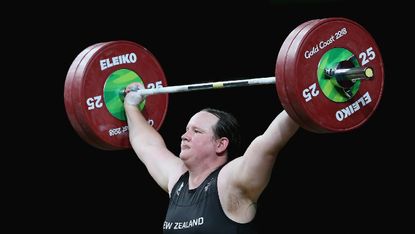 (Image credit: Alex Pantling/Getty Images)
The term "gender critical" has been at the centre of increasingly heated debates in recent months, as rows about trans and gender identity rage on.
Gender-critical beliefs refer to "the view that someone's sex - whether they are male or female - is biological and immutable" and "cannot be conflated" with their gender identity (whether they identify as a man or a woman), says The Observer.
A judge-led employment tribunal panel ruled in June that this view was a philosophical belief that should be protected under the Equality Act.
Subscribe to The Week
Escape your echo chamber. Get the facts behind the news, plus analysis from multiple perspectives.
SUBSCRIBE & SAVE
Sign up for The Week's Free Newsletters
From our morning news briefing to a weekly Good News Newsletter, get the best of The Week delivered directly to your inbox.
From our morning news briefing to a weekly Good News Newsletter, get the best of The Week delivered directly to your inbox.
People who hold gender-critical views may believe, for example, that women have the right to access "certain single-sex spaces and to organise on the basis of biological sex if they so wish", or that it is "legitimate to exclude those who have been through male puberty from competing in women's sport", the newspaper explains.
They may also take issue with trans-inclusive language, such as using the phrase "people who menstruate", or spelling women "womxn". And they may be against proposed reforms to laws on gender recognition to allow those who feel they are the opposite sex to change their birth certificate without surgery, hormones or a gender dysphoria diagnosis.
Some notable feminists hold gender-critical beliefs and have cited concerns about the concept of sex being a construct, rather than a material fact. "Female oppression is innately connected to our ability to reproduce," wrote The Guardian's Suzanne Moore earlier this year. In a controversial column calling for women-only spaces to be preserved, Moore argued that "women have made progress by talking about biology, menstruation, childbirth and menopause. We won't now have our bodies or voices written out of the script."
In response, trans activist Nim Ralph argued that such gender-critical views are fuelling a growing trend of "blaming trans people for women's oppression". Writing for gal-dem - a magazine that shares perspectives from people of colour of marginalised genders - Ralph said: "Throughout history, cis, white, middle-class women have utilised their racial and class privilege to become the self-appointed gatekeepers of the feminist movement.
"We can see sex-based rights feminists carrying this legacy alongside the rest of the radical feminist ideology into today's exclusion of trans folks from women's and feminist spaces."
Nancy Kelley, chief executive of LGBTQ+ charity Stonewall, faced a backlash after likening gender-critical beliefs to anti-Semitism. "With all beliefs including controversial beliefs, there is a right to express those beliefs publicly and where they're harmful or damaging - whether it's anti-Semitic beliefs, gender-critical beliefs, beliefs about disability - we have legal systems that are put in place for people who are harmed by that," she told the BBC in May.
People who express gender-critical beliefs have also been accused of holding transphobic views or being TERFs (trans-exclusionary radical feminists). Author J.K. Rowling has repeatedly face such criticisms from intersectional feminists and other critics after tweeting last year that "if sex isn't real, the lived reality of women globally is erased" and that "erasing the concept of sex removes the ability of many to meaningfully discuss their lives".
Amid widespread anger over her comments, Forbes' senior art contributor Dani Di Placido warned that the Harry Potter writer was "destroying her legacy, one tweet at a time", while Pride.com accused her of "doubling down" on transphobia.
Debate about gender-critical views has intensified recently after a tax expert called Maya Forstater won a landmark appeal against an employment tribunal ruling.
Two years ago, Forstater filed a lawsuit claiming that her employer, the Center for Global Development (CGD), had discriminated against her because of her beliefs that people cannot change their sex. The Washington D.C.-based think tank had not renewed Forstater's contract after she posted a series of tweets questioning UK government plans - which were later scrapped - to let people declare their own gender.
Forstater lost a preliminary hearing led by a London employment tribunal, with the judge ruling that her views did "not have the protected characteristic of philosophical belief" and were "not worthy of respect in a democratic society", as The Guardian reported at the time.
But after appealing to the employment appeal tribunal (EAT), a panel last month found that the initial tribunal had "erred in law" and that gender-critical views do not "seek to destroy the rights of trans persons".
The judge ruled that Forstater's gender-critical views fall under the protected characteristic of "religion or belief" in the Equality Act 2010. However, he also "emphasised that this does not mean that people with 'gender critical' views 'can misgender trans persons with impunity'", reports Pink News.
Another row exploded shortly after the Forstater ruling, when the Royal Academy pulled work by artist Jess de Wahls from its gift shop over a gender-critical blog post that she had written, before then rowing back on the decision. In a statement of apology to de Wahls, the academy said that cancelling the artist over her views had "betrayed our most important core value - the protection of free speech".
This issue is often at the core of discussion around gender-critical beliefs. The Forstater ruling and other recent events have reinforced the fact that gender-critical beliefs "are legitimate perspectives that do not permit people to harass or abuse others or engage in hate speech and cannot be silenced", says The Observer.
"It should not need stating that gender-critical feminists have the same free-speech rights as all other citizens."
On the other hand, argues Time magazine, "cancel culture is not applied equally - with damaging sentiments often being made about trans people, specifically, under the guise of debates over free speech".
And the escalation in debate about gender-critical beliefs and freedom of speech is "arriving at a time when trans people continue to fight for their basic rights".

Continue reading for free
We hope you're enjoying The Week's refreshingly open-minded journalism.
Subscribed to The Week? Register your account with the same email as your subscription.