What is cyberflashing?
New report recommends that harmful online behaviour be criminalised under Sexual Offences Act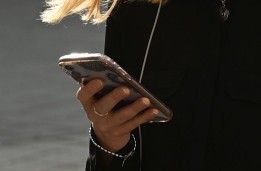 (Image credit: Oli Scarff/AFP/Getty Images)
The unsolicited sending of obscene images or video footage – known as cyberflashing – should be criminalised, according to the body responsible for reviewing legislation.
A newly published report by the Law Commission on the harms that arise from online abuse argues that the current laws "are not as working as well as they should" and are "ineffective at criminalising genuinely harmful behaviour".
The report authors recommend that cyberflashing should be added to the Sexual Offences Act 2003, which covers serious offences including rape, sexual activity with a child and exposure. Flashing, an offline version of cyberflashing, when a person exposes – or flashes – their genitals to another person with the intention of causing alarm or distress, is already criminalised under the Act.
Subscribe to The Week
Escape your echo chamber. Get the facts behind the news, plus analysis from multiple perspectives.
SUBSCRIBE & SAVE
Sign up for The Week's Free Newsletters
From our morning news briefing to a weekly Good News Newsletter, get the best of The Week delivered directly to your inbox.
From our morning news briefing to a weekly Good News Newsletter, get the best of The Week delivered directly to your inbox.
What exactly is cyberflashing?
The Law Commission's report defines cyberflashing as "the sending of images or video recordings of genitals, for example, 'dick pics' sent via AirDrop".
Victims of cyberflashing are not the subject of the picture or video footage, but they are the recipient. The explicit images or video footage would not have to be specifically of the sender's genitals for them to be found guilty of cyberflashing.
In most cases, victims of cyberflashing do not know the identity of the sender, although sometimes the harmful act can be carried out by someone known to them. Generally, the explicit images or videos will be sent via peer-to-peer (P2P) platforms like AirDrop rather than by email or the internet. This gives the recipient "the twofold threat of a sender who is not only anonymous but also proximate", states the report.
Cyberflashing is a particular problem on "certain dating apps", the report says, as well as social media. It is an "offence directed at a form of behaviour that, like exposure, causes real harm and is accompanied by a clearly wrongful purpose", the report adds.
"With technology infiltrating every aspect of our private lives, this unwelcome input from male strangers has become so normal that it is frequently ignored and brushed off and, in some cases, even laughed about," writes Sophia Ankel in The Guardian. "But sending unsolicited sexual images is not a joke. It is violating behaviour that cannot be tolerated and should never be normalised."
How common is it?
The police investigated the first reported incident of cyberflashing in 2015 when 34-year-old Lorraine Crighton-Smith had pictures of a stranger's penis sent to her phone by someone near her on a train. She said felt "violated" by the "very unpleasant" experience.
British Transport Police said that because Crighton-Smith had declined the images, there was no direct technological evidence for them to work from and they had therefore treated her report as intelligence.
Since then, there has been a spike in the number of reports, with cases "increasing year on year", reports Sophie Gallagher in The Independent. Early data suggests that "numbers have been boosted by the intrinsically digital nature of life in lockdown".
A University of Leicester report found that a third of women have been cyberflashed and a survey by the safer internet charity Glitch found that 17% of "women or non-binary people had been sent unsolicited pornography in June or July 2020".
"Data suggests that a fifth of women who have received unsolicited images would use the words 'distressing' or 'threatening' to describe it, with nearly 60% picking the word 'gross'", writes Gallagher, who has been campaigning to make cyberflashing an official crime since 2019.
What are the current laws?
The Scottish government added cyberflashing to its Sexual Offences Act more than a decade ago, in 2009, but England and Wales are yet to make it a criminal offence.
And in the US, "the FLASH act, Forbid Lewd Activity and Sexual Harassment, brings protection against cyber-perverts with fines of up to $1,000 (£780) depending upon whether it's a first offence or not", says Forbes.
In England, a cross-party group of British parliamentarians recommended that the government introduce a sexual abuse law to criminalise cyberflashing in late 2018, but this was rejected.
The Law Commission's latest report comes as the government considers criminalising public street harassment as part of its long-awaited strategy to tackle violence against women and girls (VAWG) for England and Wales.
What is the advice to cyberflashing victims?
There are "some simple steps" you can take to report your experience if you are the victim of cyberflashing, says Grazia magazine, which is campaigning to make the sending of unsolicited explicit images illegal in the UK.
First, "take a screenshot of the material with your device" as it is "key evidence that you can send to the police and then swiftly delete". You can then discreetly report the incident to British Transport Police by texting 61016. Or, in an emergency, you should contact 999.

Continue reading for free
We hope you're enjoying The Week's refreshingly open-minded journalism.
Subscribed to The Week? Register your account with the same email as your subscription.