'Metric martyr': the government's plan to revive imperial measurements
The return of pounds and ounces is part of a 'nostalgia war', says historian Mary Beard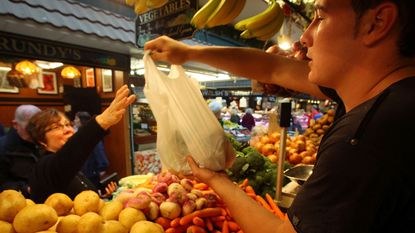 (Image credit: Christopher Furlong/Getty Images)
Boris Johnson plans to make a celebratory announcement this week that pounds and ounces will be returning to the UK, according to reports.
Grams, kilograms, millilitres and litres are "fast becoming a memory for younger Britons", said The Guardian, as government insiders have reportedly told The Mirror that there will be an announcement on "imperial measures" on Friday, to coincide with the Jubilee celebrations.
The change in measuring legislation was pledged by the prime minister during the 2019 general election, when he heralded "an era of generosity and tolerance towards traditional measurements".
Subscribe to The Week
Escape your echo chamber. Get the facts behind the news, plus analysis from multiple perspectives.
SUBSCRIBE & SAVE
Sign up for The Week's Free Newsletters
From our morning news briefing to a weekly Good News Newsletter, get the best of The Week delivered directly to your inbox.
From our morning news briefing to a weekly Good News Newsletter, get the best of The Week delivered directly to your inbox.
Long-term contention
Traders have been legally required to use metric measurements, such as grams, kilograms, millilitres and litres, when selling produce by weight since an EU directive came into effect in 2000. As a consequence, these regulations have "long been a flashpoint for anti-EU campaigners", said the i news site.
Pushback from the so-called "metric martyrs" reached a head in 2001, when a greengrocer from Sunderland was convicted for breaking EU rules banning the sale of fruit and vegetables in pounds and ounces. "He arguably did more than any politician to set Britain on the path towards Brexit", said The Times.
In Brexit opportunities, a policy paper released in September last year, the Cabinet Office said that it planned to "review the EU ban on markings and sales in imperial units and legislate in due course".
David Frost, the former minister of state at the Cabinet Office, said: "Overbearing regulations were often conceived and agreed in Brussels with little consideration of the UK national interest. We now have the opportunity to do things differently."
'Attempt to win over Brexit voters'
The timing of Johnson's plan to return to imperial measurements has led to accusations of "an apparent attempt to garner support among Brexit voters in battleground seats" that the Conservative Party fears it could lose in future elections, said The Guardian.
But even though the move "represents a victory for 'metric martyrs'", The Mirror noted that "it is a largely symbolic one" aiming to address "gripes about EU interference in traditional English life".
The newspaper added that "many adults under 40 will struggle with imperial measurements like a yard or an ounce".
The reaction
Technology minister Chris Philp was supportive of the move, telling Sky News that the plan would allow "a bit of our national culture and heritage back onto the shop shelf".
But Baroness Jenny Jones told ITV's Good Morning Britain that Johnson was taking the opportunity to "throw a dead cat on the table and make us talk about this very trivial issue instead of all the other stuff that's going on". She described the plans as a "ludicrous suggestion", given that shopkeepers will still be able to use metric measurements should they wish, as long as imperial units are also displayed.
And in an interview with the BBC's Today programme, historian Mary Beard described the imperial vs. metric debate as a "bit of a nostalgia war". She later tweeted: "I hope that everyone wanting the return to imperial weights and measures can multiply 1lb 12oz by 3!"
Imperial vs. metric
Most of the world uses the metric system – only the US, Myanmar and Liberia regularly use the imperial system.
Under the imperial system, used in the UK until metric measurements began to be introduced in 1965, length is measured in inches, feet and miles. One inch is the equivalent of 2.54 centimetres, one foot is 30.48 centimetres and a mile represents 1.609 kilometres.
Volume is measured in fluid ounces, pints and gallons. One fluid ounce is equal to 28.4 millilitres, a pint is 0.568 litres and a gallon is 4.546 litres.
Weight, like length, is still commonly measured in the UK using the imperial system. One ounce (1oz) is 28.349 grams, one pound (1lb) is 0.453 kilograms and one stone is 6.35 kilograms.

Continue reading for free
We hope you're enjoying The Week's refreshingly open-minded journalism.
Subscribed to The Week? Register your account with the same email as your subscription.