Generation porn
Online pornography is more prevalent than ever. What impact is it having on children's views of sex?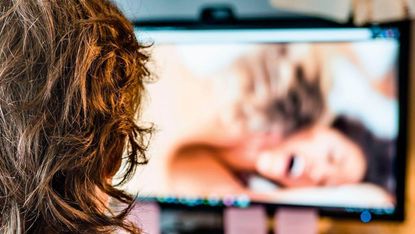 Sign up to our 10 Things You Need to Know Today newsletter
A free daily digest of the biggest news stories of the day - and the best features from our website
Thank you for signing up to TheWeek. You will receive a verification email shortly.
There was a problem. Please refresh the page and try again.
Why is this an issue now?
Since the website Everyone's Invited was set up by 22-year-old activist Soma Sara last year, thousands of people have published anonymous (and unverified) testimonies of the harrowing experiences suffered by pupils in British schools. Their accounts describe "jokes" about gang rape; young women being surrounded and groped by boys; psychological and physical pressure to perform sex acts; the widespread circulation of "nudes" which young people have been coerced into sharing. These revelations have prompted an outcry over the prevalence of a "rape culture" in many educational institutions. Many have also asked whether easy access to hardcore pornography is to blame for troubling attitudes towards sex among young people.
How ubiquitous is porn among young people?
Subscribe to The Week
Escape your echo chamber. Get the facts behind the news, plus analysis from multiple perspectives.
SUBSCRIBE & SAVE
Sign up for The Week's Free Newsletters
From our morning news briefing to a weekly Good News Newsletter, get the best of The Week delivered directly to your inbox.
From our morning news briefing to a weekly Good News Newsletter, get the best of The Week delivered directly to your inbox.
"If you think your 12-year-old hasn't seen pornography, I'd really question that," says Dr Fiona Vera-Gray, an assistant sociology professor at Durham University. While estimates – based on polls – vary, there's little doubt that young people are consuming it in their millions. The most recent authoritative British survey, of 1,142 parents and their children by the British Board of Film Classification (BBFC) in 2019, found that 51% of 11- to 13-year-olds reported having seen online porn at some point, rising to 66% of 14- to 15-year-olds. Some children reported seeing it when they were as young as seven or eight. Often, first exposure is unintentional: 62% of children aged 11-13 who'd seen it said this was the case. Parents' perceptions and reality did not tally: 75% of parents thought their child hadn't watched online porn, but 53% of their children reported that they had.
How often do children watch it?
Many of them are regular consumers of porn, according to the BBFC survey: 18% of children aged 11-13 said they'd seen it in the two weeks before the survey; rising to 32% of 14- to 15-year-olds and 41% of 16- to 17-year-olds. An NSPCC survey from 2016 found that, of the 476 children who answered a question on how often they are exposed to online porn, 4% reported seeing it every day; 34% at least once a week; 22% a few times a month; and 24% a few times a year. Porn is certainly ubiquitous among young adults. A BBC survey from 2019 found that 77% of men aged 18-25 had watched porn in the last month, and 47% of women; 55% of men said porn had been their main source of sex education.
What content might they see?
A vast and often disturbing range. The world's most popular porn sites are free and each offers millions of videos. A recent study for the British Journal of Criminology analysed 131,738 videos found on the three most used porn websites in the UK, and discovered that one in eight titles shown to first-time users on these supposedly "mainstream" sites featured acts that "constitute sexual violence": rape and other non-consensual acts, including where subjects are described as unconscious, drugged and very young, along with incest and "revenge porn" (published without the subject's consent). This is what is freely available on "normal" porn sites, not on some inaccessible corner of the "dark web". Acts such as choking, gagging and rough anal sex are very common.
How does this influence people?
This is a long-running debate with no clear-cut answers. There is certainly evidence that porn affects men's sexual attitudes. One 2010 "meta-study" of other academic studies found a "significant positive association between pornography use and attitudes supporting violence against women". The British Journal of Criminology study mentioned previously argues that ubiquitous violent porn performs a harmful "social function", normalising violent sexual behaviour. And a survey of 2,049 UK men aged 18-39 for the BBC last year found that 35% had choked their partner during consensual sex; 34% had gagged them; 24% had spat on them. More than half of those who had engaged in such acts said pornography had influenced their desire to do so. On the other hand, the official statistics for England and Wales suggest that sexual assaults have remained steady over the last 20 years (though they have become more likely to be reported). This is not what one would expect if there were a clear causative link between porn use and violence. One recent study showed no link at all between sexism and porn use.
Are young people particularly susceptible?
Again, it's hard to be sure with such a pervasive phenomenon. But detailed studies certainly give cause for concern. They show that young people are initially disturbed but become desensitised by pornography. The BBFC survey showed that some reported getting lost in "rabbit holes", where they saw increasingly graphic and disturbing content. Some felt porn had actually affected their behaviour during sex, particularly in the copying of "rough" or "forceful" sex. Some also felt that pornography had affected their or their partner's understanding of consent.
What can be done about it?
In the UK, "extreme" pornography, including depicting non-consensual sex, is already unlawful, but enforcement is clearly minimal. Plans to introduce an age verification system were abandoned by the Government in 2019. The system would have required all porn sites to ensure users were over 18 by checking their credit cards or a "porn pass" age verification document bought from a newsagent. The proposed scheme – which would have been the first of its kind in the world – was beset by technical problems, and privacy campaigners raised concerns that people's browsing habits could be exposed. The updated curriculum for England encourages schools to emphasise the negatives of porn. But in the final analysis, it is up to parents to police their children and navigate this thorny issue.
The staggering scale of the industry
The porn industry is big, big business. Pornhub, the UK's most popular site, attracts some 3.5 billion visits globally every month – more than Netflix, Amazon or Zoom – and is, by some estimates, the tenth most visited website in the world. In 2019, its total visits stood at 42 billion, with each visitor staying for an average of ten minutes 28 seconds; some 6.8 million new videos were posted on the site, amounting to a combined running time of 1.36 million hours (about 155 years). And Pornhub is not even the biggest porn site on the internet, which is Xvideos.
All the biggest sites are so-called tube sites, which – following the model of YouTube – are free to use, allow users to upload content, and are funded by advertising. Like much of digital commerce, the industry is an oligopoly, and is mostly run by two opaque private conglomerates – Canadian-owned MindGeek, and the Czech company WGCZ Holding – which also own many of the biggest porn production houses. A realistic estimate of porn industry revenues, according to Quartz in 2018, is about $15bn a year – more than Hollywood ($11.1bn). The New York Times reported last year that MindGeek only employs about 80 moderators to police its websites.
Continue reading for free
We hope you're enjoying The Week's refreshingly open-minded journalism.
Subscribed to The Week? Register your account with the same email as your subscription.
Sign up to our 10 Things You Need to Know Today newsletter
A free daily digest of the biggest news stories of the day - and the best features from our website