Paris vs. Berlin: a continent divided over energy
Macron's recent snubbing of Scholz is the latest episode of a deepening row between the EU's 'two economic powerhouses'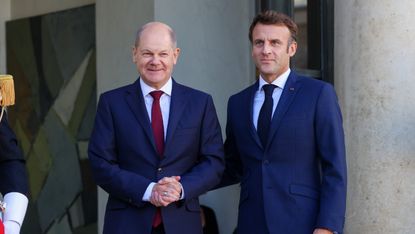 (Image credit: Pierre Suu/Getty Images)
Germany and France are the EU's "two economic powerhouses", said Hans von der Burchard and Clea Caulcutt on Politico (Brussels). Yet their respective leaders now have such an icy relationship, "they do not even dare be seen together in front of the press".
Last week, following a "tête-à-tête" in Paris, the French president and German chancellor were scheduled to take the usual round of questions from the media. But at the last minute, in a snub to Olaf Scholz, Emmanuel Macron backed out of making an appearance. No big deal, you might say. But this was just the latest episode of a deepening row between Paris and Berlin.
Ill-feeling has partly been generated by familiar points of contention: over EU defence policy, for example, and how to deal with China. But the biggest cause of animosity is undoubtedly the $200bn energy relief package that Germany unveiled a month ago.
Subscribe to The Week
Escape your echo chamber. Get the facts behind the news, plus analysis from multiple perspectives.
SUBSCRIBE & SAVE
Sign up for The Week's Free Newsletters
From our morning news briefing to a weekly Good News Newsletter, get the best of The Week delivered directly to your inbox.
From our morning news briefing to a weekly Good News Newsletter, get the best of The Week delivered directly to your inbox.
Germany isn't alone in trying to shield its people from the looming energy crunch, said Charlemagne in The Economist. Before Putin's invasion of Ukraine, the EU got around 40% of its gas imports from Russia; today that has plummeted to 7.5% and many EU states have unveiled measures to deal with the shortfall.
But while their efforts are constrained by tight budgets, Berlin's relief package shows that such limits don't apply to Germany. Having set a cap on the price companies and consumers must pay for gas, the German state will shoulder the bill for the gap between that cap and the actual price importers pay on the global market.
Macron enraged
This move has enraged Macron and other EU leaders: they say it exposes them to high energy prices which only Germany has the wherewithal to subsidise at an acceptable level, said Katrin Pribyl in Augsburger Allgemeine (Augsburg). And by aiding German companies in this way, they argue, Germany is also flouting EU rules on state aid. How can, say, a Spanish steelmaker now compete with a German rival whose energy bills have been so heavily reduced?
All this follows on from a summer in which Germany filled its vast gas storage facilities with liquefied natural gas (LNG), sending gas prices soaring and leaving its neighbours high and dry. This "Germany first" strategy is straight out of Donald Trump's playbook. "So much for the constantly vaunted European solidarity."
Most EU states still favour a coordinated price cap that might level the playing field and spread some of Germany's financial firepower to the rest of the bloc, said Hans-Jürgen Moritz in Focus (Berlin). But Germany, along with the Netherlands, is fearful that the kind of price cap Brussels is contemplating will prompt tankers laden with LNG to sail to Asia instead, where they can get a higher price.
Far from resolved
Under pressure, Scholz in recent weeks has ended his outright opposition, but the issue is far from resolved: EU leaders have only agreed to short-term price controls while a longer-term deal is thrashed out. Germany may even try to veto any new plan at the EU summit later this month, said Suzanne Lynch on Politico. It's "a classic EU outcome. Everyone gets a little, no one gets everything, more talking is inevitable."
The process feels interminable. The problem countries across Europe are all facing is essentially this, said Mathias Brodkorb in Cicero (Berlin). On the one hand, they need to keep gas prices "manageable" for businesses and consumers in order to prevent "social upheaval" and the collapse of energy-intensive businesses. On the other hand, they need to see a significant reduction in gas consumption in order to avoid acute shortages. And those two goals are "mutually exclusive": if you keep prices down, consumption inevitably goes up.
Indeed, this is just what has happened in France and Spain, which have both brought in their own caps on energy prices, albeit at a far less generous level than Germany's. Yet the good news for Europe is that things aren't as hopeless as they may seem, said Hans-Jürgen Moritz. The continent's gas storage facilities are now at 94.7% capacity, which has helped bring about a 40% fall in gas prices since August. Even as EU leaders bicker, market forces may be riding to the rescue.

Continue reading for free
We hope you're enjoying The Week's refreshingly open-minded journalism.
Subscribed to The Week? Register your account with the same email as your subscription.