Why world leaders are refusing to give Russia their DNA
Emmanuel Macron and Olaf Scholz ruled out using Kremlin PCR tests during recent visits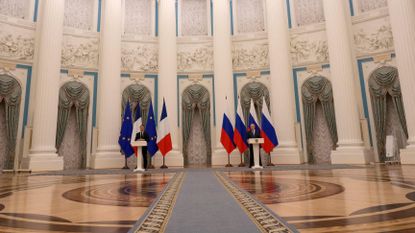 (Image credit: Thibault Camus/Pool/AFP via Getty Images)
Images of Vladimir Putin facing down Western leaders from the opposite end of a 20ft-long table have made front pages worldwide amid the diplomatic push to stem tensions over Ukraine.
But while many commentators speculated the the Russian president was giving his guests a frosty reception, the socially distanced set-up was actually the result of a separate tiff over Covid-19 safety measures.
Emmanuel Macron and Olaf Scholz both refused to take PCR tests on their arrival at the Kremlin, with a source in the French president's entourage telling Reuters that "we could not accept that they get their hands on the president's DNA".
Subscribe to The Week
Escape your echo chamber. Get the facts behind the news, plus analysis from multiple perspectives.
SUBSCRIBE & SAVE
Sign up for The Week's Free Newsletters
From our morning news briefing to a weekly Good News Newsletter, get the best of The Week delivered directly to your inbox.
From our morning news briefing to a weekly Good News Newsletter, get the best of The Week delivered directly to your inbox.
Thanks but no thanks
"If knowledge is power, knowing the intimate secrets of one's DNA could be a powerful weapon," said The Independent. And that may explain why Macron and Scholz both "seemed to balk at Russian-administered coronavirus tests".
Two sources who travelled to Moscow with Macron for the meeting last week told Sky News that the French president was offered the choice of taking a Russian PCR test or keeping his distance from Putin.
The insiders said that Macron opted for the second choice, instead taking a PCR test administered by his personal doctor in France prior to his departure and on his return. "We knew very well that meant no handshake and that long table," one of the sources said.
Putin's spokesperson confirmed to reporters that Macron turned down the offer of a Kremlin PCR test, but insisted: "There is no politics in this, it does not interfere with negotiations in any way."
Days later, Germany's Chancellor Scholz "became the second European leader in a week to refuse a Russian-administered coronavirus test on his visit to the Kremlin", The Moscow Times reported.
According to Munich-based newspaper Suddeutsche Zeitung, a German Embassy doctor in Moscow tested Scholz, with Russian authorities invited to observe the test.
Putin, who is said to have received the Russia-developed Sputnik V vaccine, has "adhered to strict health protocols since the start of the pandemic", The Moscow Times said.
But Macron and Scholz's concerns about PCR testing extend beyond health issues, according to insiders.
DNA concerns
Neither Macron or Scholz are "known for opposition to Covid-19 countermeasures", The Independent reported, "so speculation arose that they were trying to keep genetic material out of Russia's hands".
"In the high-stakes world of national security and international espionage, global powers are always looking for an edge," the paper continued. And some experts have suggested that "gene science may one day be a useful addition to the arsenal".
At the moment, "this may be a case where imagination is getting a bit ahead of what science is actually capable of". Neither of the two Western leaders directly accused the Kremlin of attempting to harvest their DNA, with Macron's office stating that the request "did not seem to us to be either acceptable or compatible with our diary constraints".
"The president has doctors who define with him the rules that are acceptable or not in terms of his own health protocol," Macron's team added.
A spokesperson for Scholz said that the chancellor had decided that "he wouldn't be available" for a Russian PCR test, but insisted: "I wouldn't interpret too much into that."
All the same, possessing world leaders' DNA could prove handy for foreign adversaries one day, according to Professor Denise Syndercombe Court, a leading authority on forensic genetics at King's College London. "I would have refused as well," she told The Telegraph.
Court said she would only do a Covid test "with an accredited organisation… because then you can be relatively assured they wouldn't do anything inappropriate with the material afterwards".
She explained that "if you've got a whole genome, then even if you didn't know [Macron's] name, you'd be able to find out who he was" and who his relatives were.
A genetic analysis might also reveal "potential weaknesses" in a rival leader's health, noted the paper, which pointed out that "sickle cell disease, for example, is the result of just one change in your genome".
Some experts have also voiced fears that DNA could be used by "rogue states or terrorists" to develop "a bioweapon engineered to harm or kill a specific person".
Although that notion may seem far fetched, "the French were clearly concerned enough about it to refuse a standard Covid test in the Kremlin – and Germany was keen to follow suit", said The Telegraph.
And that "may leave Boris Johnson with a difficult decision next time he visits Moscow".

Continue reading for free
We hope you're enjoying The Week's refreshingly open-minded journalism.
Subscribed to The Week? Register your account with the same email as your subscription.