Will Vladimir Putin face justice for Russian atrocities in Ukraine?
Western allies united in effort to document war crimes amid outrage over Bucha massacre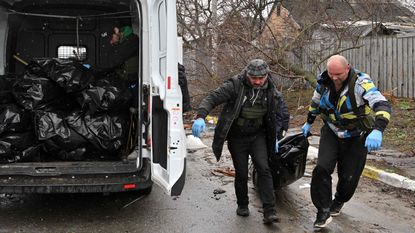 (Image credit: Sergei Supinsky/AFP via Getty Images)
Graphic evidence that retreating Russian troops tortured and butchered scores of Ukrainian civilians has led to calls for Vladimir Putin to face criminal charges over the invasion.
The UK and Kyiv's other Western allies yesterday "vowed not to rest" until the Russian president "is held accountable for war crimes, after the discovery of hundreds of dead civilians" in and around the recently liberated town of Bucha, to the northwest of the capital, The Telegraph reported.
As "images of the dead left on street corners or in front gardens" continue to emerge, the international community has been "shocked" into "new calls for those behind the atrocities to face justice", the paper said.
Subscribe to The Week
Escape your echo chamber. Get the facts behind the news, plus analysis from multiple perspectives.
SUBSCRIBE & SAVE
Sign up for The Week's Free Newsletters
From our morning news briefing to a weekly Good News Newsletter, get the best of The Week delivered directly to your inbox.
From our morning news briefing to a weekly Good News Newsletter, get the best of The Week delivered directly to your inbox.
Horrors of Bucha
As Russian forces withdraw from the Kyiv region to turn their firepower further to the south and east, Ukrainian troops have returned to discover "mass graves, torture and broken bodies of residents lying in the streets", said Sky News' security and defence editor Deborah Haynes.
When troops first re-entered Bucha, "their vehicles were forced to swerve to avoid civilian bodies", The Times' Catherine Philp reported from the town. "A catalogue of horror suggesting widespread war crimes is emerging, a grim predictor of what may yet be found in towns and cities under Russian control or siege," she wrote.
In Bucha, said The Telegraph, some local people, "including children, appeared to have had their arms bound and been executed. Others who appeared to have been fleeing were beheaded."
Following the discovery of the bodies of an estimated 410 civilians in formerly Russian-occupied territory around Kyiv, President Volodymyr Zelenskyy told CBS News that "this is genocide – the elimination of the whole nation and the people".
"We are the citizens of Ukraine and we don't want to be subdued to the policy of the Russian federation," the Ukrainian leader continued in a video link interview with the Face the Nation programme. "This is the reason we are being destroyed and exterminated."
Oleksiy Arestovych, a senior adviser to Zelenskyy, told the broadcaster that the scenes in Bucha resembled ​​a "scene from a horror movie". The president's office shared images in which at least one mass grave was visible.
Zelenskyy has also called for the images of the dead to be shared in the neighbouring nation. In a powerful address delivered in Russian, he said: "I want every mother of every Russian soldier to see the bodies of those who have been killed in Bucha, in Irpin, in Hostomel.
"What did they do? Why were they murdered? … Why were women strangled after their earrings were ripped out of their ears? How could women be raped and murdered in front of their children? Their bodies tortured even after their deaths?
"Hundreds of people were killed. Tortured, executed civilians. Corpses on the street. Even the bodies of the dead were mined. Concentrated evil has come to our land."
'No denial or disinformation'
Boris Johnson warned yesterday that "Russia's despicable attacks against innocent civilians" in Bucha and the nearby city of Irpin were "yet more evidence that Putin and his army are committing war crimes in Ukraine".
The prime minister is deploying specialist police and military investigators to aid the International Criminal Court's (ICC) war crimes investigation. "No denial or disinformation from the Kremlin can hide what we all know to be the truth – Putin is desperate, his invasion is failing and Ukraine's resolve has never been stronger," said a statement from Johnson.
Underlinking that message, Foreign Secretary Liz Truss said: "We will not allow Russia to cover up their involvement in these atrocities through cynical disinformation, and will ensure that the reality of Russia's actions are brought to light."
Other foreign leaders have also called for justice for the butchered Ukrainian people.
German Chancellor Olaf Scholz described the images emerging from Bucha as "terrible and horrifying". Christine Lambrecht, Germany's defence minister, said: "There has to be a response. Such crimes must not remain without a response."
Emmanuel Macron also insisted that "the Russian authorities will have to answer for these crimes". The images from Bucha were "unbearable", the French president said, adding: "My compassion for the victims, my solidarity with the Ukrainians."
Pledging to aid the documentation of war crimes, US Secretary of State Antony Blinken described the scenes in Bucha as "a punch to the gut".
"We can't become numb to this," Blinken told CNN's State of the Union show. "We can't normalise this. This is the reality of what's going on every single day as long as Russia's brutality against Ukraine continues."
Evading justice
Although the international community has pledged to bring those responsible to justice, war crimes are notoriously "hard to prosecute", said Axois, which predicted that Putin was unlikely to end up in front of The Hague.
Pointing to atrocities in other Ukrainian towns and cities, The Guardian's correspondent in Kyiv Daniel Boffey said: "Bucha is the latest, but Chernihiv, Mariupol and Kharkiv came before, enduring similar treatment."
First "came a communications blackout and the cutting off of the essentials of electricity, gas and water", before "the blanket bombing of civilian targets, alongside the false offer of humanitarian corridors", Boffey wrote.
Putin also pursued the same tactics in both the Second Chechen War and in support of Bashar al-Assad's government in Syria, without facing charges of war crimes.
And while Russia has been "accused of intentionally targeting civilians and health facilities, taking hostages and other international law violations" during the Ukraine invastion, said Axios, "investigating and prosecuting war crimes can take years".
Even if the International Criminal Court is able to present evidence that Putin or "high-level" Russian officials "directed or were aware of orders to target civilians or other actions that may constitute war crimes", the news site continued, "a trial cannot be conducted unless the official is in custody".
And it seems extremely unlikely that Putin would ever hand himself over to face justice.

Continue reading for free
We hope you're enjoying The Week's refreshingly open-minded journalism.
Subscribed to The Week? Register your account with the same email as your subscription.