Oil price posts two-year highs - but how long can it last?
Brent rose above $59 a barrel this week, its best third-quarter showing since 2004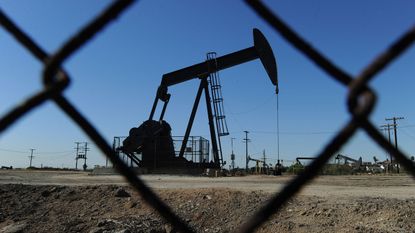 (Image credit: Mark Ralston/AFP/Getty Images)
Sign up to our 10 Things You Need to Know Today newsletter
A free daily digest of the biggest news stories of the day - and the best features from our website
Thank you for signing up to TheWeek. You will receive a verification email shortly.
There was a problem. Please refresh the page and try again.
Oil price holds steady as Saudi Arabia offers hope of support
1 September
After falling yesterday, oil steadied this morning after Saudi Arabia's hint that Opec may support prices.
Brent crude was unchanged at $46.89 a barrel at 9.25am in London today, while West Texas Intermediate (WTI) was up five cents at $44.75. Brent fell by $1.84 yesterday and WTI by $1.65.
Subscribe to The Week
Escape your echo chamber. Get the facts behind the news, plus analysis from multiple perspectives.
SUBSCRIBE & SAVE
Sign up for The Week's Free Newsletters
From our morning news briefing to a weekly Good News Newsletter, get the best of The Week delivered directly to your inbox.
From our morning news briefing to a weekly Good News Newsletter, get the best of The Week delivered directly to your inbox.
Reuters attributes the steady prices to the boost of confidence provided to investors by Saudi foreign minister Adel Al-Jubeir, who suggested that Opec nations and other big oil producers are beginning to find common aims.
"I think there is a move toward a common position, toward a common effort," he told an audience in Tokyo. "If you want to have an impact then all of us have to shoulder the responsibility and I believe over the past five or six months, I believe that there has been an increasing realisation that this is a collective effort."
Several analysts believe Opec will progress towards agreeing a cut in production when it meets informally later this month on the sidelines of the International Energy Forum (IEF) in Algeria.
Russia, which is not a member of Opec but is a major oil producer, will also be at the forum.
Contradictory news about Iran has caused oil to fluctuate in recent weeks. After the lifting of sanctions earlier this year, the country has stepped up production – and some expect it to carry on doing so, without regard to the global oversupply.
Put simply, there is too much oil for sale in the world – and this has driven the price down.
The value of oil has plummeted over the past two years, down from 2014 highs of $112 per barrel to less than $30 per barrel in February this year. But there has been a steady recovery over the past six months.
Oil price falls as dollar rises and stockpiles swell
31 August
Oil prices fell this morning amid fears there is still too much supply in the world market combined with the dampening effect of a strong US dollar.
Despite today's slump, prices have made their highest monthly gains since April, up around 20 per cent since the beginning of August, says Reuters.
The commodity has slumped drastically over the past two years because of a global oversupply, falling below $30 a barrel in February. A steady rally since then is sticking at the $50 mark. In June 2014, oil was at $112 per barrel.
Today's fall is driven by a strong US dollar, says Reuters. Oil is traded in dollars and is a more tempting offer for investors outside the US when the dollar is weaker and they can therefore get more for their money. As the dollar rises, oil usually falls.
According to MarketWatch, this morning's slump can also be attributed to fears the US Energy Information Administration will announce today that stockpiles of crude oil increased in the US last week.
The American Petroleum Institute said yesterday that crude stocks had risen by 942,000 barrels last week.
Oil price rises as storm looms in Gulf of Mexico
30 August
A storm is brewing in the Gulf of Mexico, forcing oil producers to suspend their activities and pushing the price of the commodity up this morning.
"Tropical Depression Nine", as the weather front is currently known, is threatening to turn into a full-blown tropical storm, prompting oil companies in the Gulf to shut their wells down in preparation.
Storm fears, along with other factors, have pushed the price of oil up. Brent crude was at $49.73 per barrel at 10.34am UK time, up 47 cents on its previous close, while West Texas Intermediate (WTI) in the US was up 45 cents at $47.43.
Speculation that an informal Opec meeting could take place on the sidelines of the International Energy Forum being held in Algeria next month has also helped boost prices. Investors are hoping that oil-producing nations will agree to limit production.
The price of oil has slumped dramatically over the past two years because of a global oversupply, so the prospect of production being limited by the storm or by an agreed reduction has encouraged investors, says Investing.com.
The commodity has now rallied to just below $50 a barrel since slumping to a ten-year low of less than $30 per barrel in February this year. In June 2014, however, oil was at $112 per barrel.
Earlier today, Bloomberg reported that new discoveries of oil are at a 70-year low, suggesting a shortfall to come. Drillers have "cut their exploration budgets to the bone" because prices are so low, says the news agency.
"Just" 2.7 million barrels were sourced from new discoveries of oil last year – the lowest number since 1947, according to the consultancy group Wood Mackenzie. And shale production has slumped since the price of oil fell.
At the same time, US government estimates suggest that the global demand for the commodity will grow from 94.8 million barrels a day to 105.3 million by 2026.
So will a shortfall mean higher prices? Potentially, says Bloomberg, but only "ten years down the line" once the effect of under-investment in exploration finally makes itself felt in the oil market.
Oil price falls as Saudi Arabia lowers expectations of output freeze
26 August
Oil prices fell today upon fears of the global oversupply continuing after Saudi Arabia pulled back from plans for a strong market intervention.
International benchmark Brent crude was down 21 cents at $49.46, while its US peer, West Texas Intermediate, fell 10 cents on its previous closing price this morning, reaching $47.23 per barrel at 8am UK time.
The slump came after Saudi Arabia's energy minister, Khalid Al-Falih, dampened hopes the oil-rich nation would intervene dramatically in the market by limiting production to ease the global oversupply.
Put simply, too much oil is being produced around the world – and supply has outstripped demand for more than two years while prices have plummeted. This year has seen a recovery, but the issue has not gone away.
Yesterday, Al-Falih told Reuters: "We don't believe any significant intervention in the market is necessary other than to allow the forces of supply and demand to do the work for us… [The] market is moving in the right direction [already]."
Also dampening hopes today was an announcement from Iran, not long back in the market after the lifting of international sanctions, that it expected other oil-producing nations to respect its "individual rights".
While this came after a pledge from Tehran to cooperate in reducing production, it was seen as code for the exact opposite: that the resurgent producer intends to keep stepping up output as it returns to pre-sanctions levels.
Prices had earlier risen when the country said it would attend a meeting of Opec on the sidelines of the International Energy Forum in Algeria late next month, says MarketWatch. Tehran snubbed the previous Opec meeting in April.
Oil price slump hands China a £2bn UK tax break
23 August
A Chinese company blocked from buying assets in the US will benefit from a UK tax break in excess of £2bn as a result of the oil price slump.
After its buyout of Canadian company Nexen in 2012, China National Offshore Oil Corporation (Cnooc) runs two of the North Sea's biggest oil fields and pumps around ten per cent of total output from the region, says The Times.
It was revealed last month that CGN is being charged with industrial espionage in the US accused of stealing nuclear secrets. Cnooc itself was blocked from buying a US oil company in 2006 over "national security concerns".
However, no such concerns appear to have been raised about it becoming the largest company operating in the North Sea and as a result, it is benefitting from a range of tax breaks designed to ease pressure on the industry in the face of the two-year oil price trough.
Last year, then chancellor George Osborne cut North Sea taxes on newer fields and the overall tax bill from 50 to 40 per cent, while earnings losses directly related to the oil price slump also generate income tax rebates.
Cnooc paid £2.5bn in tax in 2014, when the oil price peaked in the summer at $115 a barrel. After a fall to less than $50 a barrel last year, the company recorded an overall tax credit of £316m, an effective income tax rate of -18 per cent, it said.
While tax breaks in excess of £2bn will not be paid in a single year, says The Times, they reflect "the total value of the tax cuts to Cnooc now and in the future".
North Sea oil price benchmark Brent crude remains subdued despite recovering from a low of $27 a barrel in February to more than $50 a barrel last week. It dipped again to below $49 this morning as hopes for an output deal next month fade.
Reuters reports more bearish sentiment also follows the news that a ceasefire with militants in Nigeria and the return to pumping of an Iraqi pipeline will boost already high global supply.
Continue reading for free
We hope you're enjoying The Week's refreshingly open-minded journalism.
Subscribed to The Week? Register your account with the same email as your subscription.
Sign up to our 10 Things You Need to Know Today newsletter
A free daily digest of the biggest news stories of the day - and the best features from our website