The optimistic case for Democrats in 2022 and 2024
The party is right to be alarmed. But despair is premature.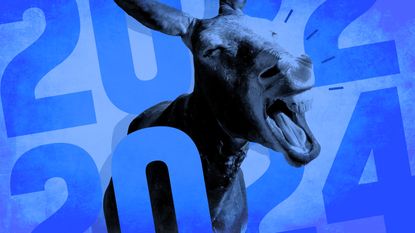 (Image credit: Illustrated | iStock)
These are dark days for American democracy. While it is a palpable relief for millions to know that Donald Trump is no longer president, the mass psychosis he unleashed on the Republican Party is getting worse. Republicans are pressing forward with draconian voting restrictions in states across the country, election truthers are running for governorships and secretary of state offices in tipping point states, and efforts to reinforce democracy's guardrails are stalled in the Senate thanks to a handful of delusional Democratic senators. The chances of Republicans successfully running Trump's 2020 post-election playbook in 2024 — Republican state legislatures appointing GOP electors no matter the outcome and/or Congress setting aside the results during the counting of the electoral votes — seem to be growing with each day.
That doesn't mean a constitutional crisis is inevitable, even if Sen. Joe Manchin (D-W.Va.) prevents Democrats from passing any voting rights legislation whatsoever. The best way to avoid such a cataclysm would be for Democrats to do better than expected in the 2022 midterms and then for President Biden to blow the doors off in 2024, making the outcome so clear that state and national GOP officials cannot plausibly try to set the results aside. And while I remain deeply concerned about the Republican Party's descent into madness and believe that the chances of a post-election putsch in 2024 are unacceptably high, there are some signs that Democrats might be in a decent position to do just that.
The first and most consequential is the ongoing demographic transformation of the electorate. Today, Republicans rely on three groups of people for their competitiveness in national elections: non-college educated white voters, evangelicals, and voters over 50. The trouble is that all three of these groups are shrinking while those that support Democrats are growing. We all know what eventually happens to the elderly. And the non-college educated white share of the voting public is projected to drop from 43% in 2020 to 32% in 2036, while church-goers are shrinking rapidly as a share of the population.
Subscribe to The Week
Escape your echo chamber. Get the facts behind the news, plus analysis from multiple perspectives.
SUBSCRIBE & SAVE
Sign up for The Week's Free Newsletters
From our morning news briefing to a weekly Good News Newsletter, get the best of The Week delivered directly to your inbox.
From our morning news briefing to a weekly Good News Newsletter, get the best of The Week delivered directly to your inbox.
Just before the 2020 election, the Center For American Progress produced a report looking at the likely composition of the electorate in future presidential elections. Importantly, and this may seem obvious, the share of the electorate comprised of heavily Republican-leaning Boomers (born between 1946 and 1964) and members of the so-called Silent Generation (born between 1928 and 1945) is continuing to shrink. In 2016, these two groups made up 43% of the Voting Eligible Population (VEP). In 2020 they were 37%, and in 2024 they will be 33%.
Meanwhile, Generation Z (born after 1996) and Millennials (born between 1981 and 1996) will go from 37% of the VEP to 44% in 2024, with all of that growth coming from Generation Z, which was by a considerable margin the most Democratic slice of the 2020 electorate. 18-24 year-olds went for Biden 65% to 31% for Trump according to exit polling. The only age groups Trump won were 50-64 and 65 and over.
Of course, if younger Americans get more conservative as they age, this isn't that much of a problem for the GOP. But there's almost no social science to suggest that substantial numbers of people change their party preferences as they age, and lots of data which demonstrate that today's elderly voters have been a fairly conservative bunch all along. If Republicans are waiting for today's young folks to discover their inner Tucker Carlson in the coming years, they are likely to be sorely disappointed.
The CAP report builds some uncertainty about generational voting into its model, and the really bad news for Republicans is that even under the most generous scenario for Republicans – the one where, for example, 45-64 year-old voters behave exactly as they did in 2016 even though by 2024 this group will include many more Democratic-leaning members of Generation X and hardly any Boomers – the GOP candidate is forecast to lose the popular vote by 4.7%, which would almost surely be more than enough to offset the Republican Party's structural advantage in the Electoral College.
When you assume that today's younger generations will retain their Democratic leanings into the future, that margin goes up to 9 points. This same scenario (what the authors call the "full generational effects" model) predicted a 5.7 point Democratic win in 2020, so even if it's off by the same 1.2-point margin in three years, the Democratic candidate would win by around 7.8 points in the national popular vote and an easy 350 to 188 margin in the Electoral College. Those numbers are just too stark to support allegations of election fraud, because they mean that Biden will win Wisconsin, Pennsylvania, and Michigan (among others) by margins that only the truly deranged could believe were produced by chicanery.
Reasons for optimism go beyond demography. There are already signs that the national political environment is still quite similar to the one that produced President Biden's victory in November. Given the increasing 'inelasticity' in the electorate – the willingness of people to move from one party to another between election cycles in response to events – it is also not a slam dunk that Republicans will recapture both branches of Congress next year, even if GOP-led states aggressively gerrymander the district lines for the House.
Start with presidential approval. By this point in 2009, Barack Obama's approval rating had already begun a clear decline, dropping about 5.6 points from a February 2009 high of 65.5% to just under 60%. Biden's, meanwhile, is down just 2 points from an average of 55.1% in March to 53.1% today. Perhaps most ominously for Republicans, Biden's approval numbers are exactly the same as the day he was inaugurated. And unlike Trump, Biden is unlikely to spend the next 18 months bumbling from one self-inflicted scandal to another while deliberately alienating everyone who didn't vote for him.
Democrats also continue to lead polls of the "generic ballot," which asks respondents whether they would vote for a Democrat or Republican for Congress, with an average lead of 7.1 points over the past three publicly released surveys. That is actually quite similar to the Democrats' lead on this measure at this point in 2009, and of course Democrats got trounced in the 2010 midterms. However, the average Democratic share was 41.6 on this date in 2009, whereas the average of the last three generic ballot polls puts the party's vote share at 48%, suggesting there are far fewer undecided voters this cycle and thus fewer ways for Republicans to stage a comeback.
In both 2009 and 2017, there were also clear signs that the national environment had soured for the new president's party. In 2009, Republicans Bob McDonnell and Chris Christie led almost every public poll of the bellwether Virginia and New Jersey governor races, states that Obama had won by 6 and 15 points, respectively. In 2017, Democrats had clear leads in both races by this point. While there has been no public polling of the Virginia general election this year, Democrat Phil Murphy looks like he will win going away in New Jersey, leading by an average of 19 points in the only two polls released so far, larger than Biden's 16-point margin in 2020. While these races in these deep blue states are mostly immaterial to the success or failure of the GOP's plot against democracy, big Democratic wins there will auger well for critical gubernatorial elections in the battlegrounds next year.
Finally, in 2017 Democrats were overperforming dramatically in special elections compared to the 2016 baseline. Today there is no clear, discernible pattern in these kinds of elections. Last week, for instance, Democrat Melanie Stansbury won the special election in New Mexico's 1st congressional district by almost 25 points in a district that now-Secretary of the Interior Deb Haaland won in November by 18. But in the May 1 top-two primary for the 6th district in Texas, Republican candidates collectively beat Democrats 62% to 37%, 14 points better than the Republican candidate performed in November. Together these puzzling outcomes suggest the voting public has not yet developed buyer's remorse in the way they did immediately after the election of the last two presidents. Perhaps the GOP's ongoing and embarrassing obeisance to former President Trump, and the significant chance he will run again in 2024, are canceling out the natural tendency of the president's supporters to fall into complacency.
None of this is to suggest that Democrats should kick back and relax, or that they are favored to buck history and triumph in the midterms. But the volunteers who will asked to do the difficult campaign work, and the voters the party must turn out, need some measure of hope in addition to the doom and gloom. Hope, as the saying goes, is not a strategy. But it's better than nothing.

Continue reading for free
We hope you're enjoying The Week's refreshingly open-minded journalism.
Subscribed to The Week? Register your account with the same email as your subscription.