The rural plague
Red America's infuriating vaccine refusal is making America's culture chasm even wider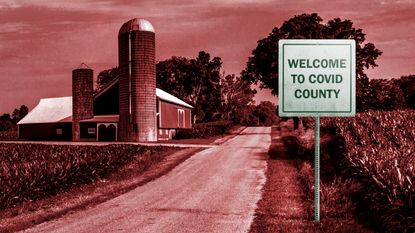 (Image credit: Illustrated | iStock)
Sign up to our 10 Things You Need to Know Today newsletter
A free daily digest of the biggest news stories of the day - and the best features from our website
Thank you for signing up to TheWeek. You will receive a verification email shortly.
There was a problem. Please refresh the page and try again.
COVID-19 in the United States is quickly becoming a rural plague, and the surge that is ripping through hundreds of small communities around the country is a sad and inevitable consequence of our national political predicament. While it's tempting to shrug off people condemning themselves to preventable deaths or long stints in the hospital, the self-destructive vaccine refusal of America's Trumpiest regions will eventually touch all of us, prolonging the pandemic and leading to suffering and tragedy even among the vaccinated.
That America's COVID crisis is once again on the rise is no longer in dispute. Nationally, the 7-day average of daily cases is up 140 percent over the past two weeks, with nearly 80,000 new cases reported on Friday alone. Over that same time period, hospitalizations and deaths have each increased by more than 30 percent.
Some of the blame for these increases must go to the Delta variant, first detected in India, which is an even more wildly transmissible version of an already wildly transmissible virus. The COVID-19 that triggered the pandemic in 2019 had an R0 (r-naught) of about 2.4, meaning each infected person would infect between 2 and 3 others, on average. With Delta that number might be as high as 8. For the sake of comparison, the dreaded Norovirus stomach bug, which marches through my family's households like a disciplined battalion of marauders every winter, has an R0 of just 2. As former Trump FDA commissioner Scott Gottlieb told viewers on Face the Nation on Sunday, the Delta variant is so contagious that pretty much everyone who is unvaccinated will get it sooner or later.
Subscribe to The Week
Escape your echo chamber. Get the facts behind the news, plus analysis from multiple perspectives.
SUBSCRIBE & SAVE
Sign up for The Week's Free Newsletters
From our morning news briefing to a weekly Good News Newsletter, get the best of The Week delivered directly to your inbox.
From our morning news briefing to a weekly Good News Newsletter, get the best of The Week delivered directly to your inbox.
Even if the U.S. were closing in on herd immunity, then, Delta would be a huge challenge. But we aren't, and one look at a county-level map of cases tells a deeply disturbing story about why. It's not just that states with high vaccination rates, like New Hampshire and Vermont, are seeing fewer cases than those with lower rates. It's that cases as a percentage of the population vary dramatically within almost every state. Yes, there are pockets of anti-vaccine sentiment everywhere, but COVID-19 is now primarily ravaging small town America, including places like Central Missouri's Osage County, where cases are up 940 percent over the past 14 days. Osage has four times as many cases per 100,000 residents as St. Louis, the state's largest city, and 20 times the number in Cook County, Illinois, which includes Chicago.
Just 28 percent of the population in Osage County is fully vaccinated. In fact, not a single one of the 48 counties in America averaging more than 50 daily cases per 100,000 people has more than 50 percent of its population fully vaccinated, and most are in the 20s and 30s. While there is surely an element of seasonality in the differences between states – in much of the country's northern half, people are spending lots of time outdoors, while it is peak 'trapped in the air-conditioning' season in the south and southwest – the urban-rural divide is everywhere. And that means come fall and winter, rural areas across blue America are going to get slammed too if vaccination rates don't come up, and fast.
What's really going on here? At a certain point the contentious discourse about public health strategies, including whether indoor mask mandates should be re-imposed, is a diversion from the unfortunate reality that the country's growing pandemic divide is less a failure of specific policies and more an outgrowth of the all-consuming culture war.
I saw this first hand recently when I traveled with my wife through the gorgeous Shenandoah Valley, in rural Virginia. We were struck not just by the dismaying prominence of Confederate symbolism throughout the region, but also by the ways that business owners seemed to lean into it, even if it potentially drives tourists away. One restaurant had multiple Yelp warnings, spaced years apart, about the Confederate flags on the wall.
My wife is non-white, and when we walked into a cute little café in Mt. Jackson, Virginia, it was empty, and the vibe from the leery-eyed proprietors was like if you accidentally stumbled onto a small group of people quietly trying to dispose of a dead body. After ordering sandwiches, my wife turned to me quickly and said she was going to wait in the car, pointing to a bucket of miniature confederate flags for sale. Nothing says "enjoy the food" like the everlasting symbol of chattel slavery's short-lived fascist empire.
It's not so much that people are voting against their best interests, as in the famous thesis of Thomas Frank's What's the Matter With Kansas? It's that increasingly they are acting in ways that almost seem designed to bring maximum harm to themselves and their communities. Once President Trump and the Fox News crowd grafted vaccines onto the culture war's partisan divide, it was almost inevitable that vaccination rates would plummet along with Biden's vote share at the county level.
This voluntary alienation becomes self-reinforcing. A never-ending parade of preventable hospitalizations may collapse health-care systems across America, as in this ominous Atlantic report from rural Missouri, where health-care workers are at their wit's end "putting themselves in harm's way for people who've chosen not to protect themselves," as one local hospital executive put it. Nearly everyone with COVID in these hospitals is unvaccinated, and you can only expect the workers to put up with it for so long. One April study found that nearly half of ICU nurses in the U.S. are thinking of quitting.
If the pandemic is now essentially a nuisance in major metro areas but a permanent and extremely dangerous feature of life in many rural communities, it will also drive the latter further into conditions of poverty and economic marginalization. What sensible person would relocate to remote work in a place where only a quarter of the population is vaccinated and people are so committed to hyper-partisanship that they refuse to believe what is happening to them even as they are being intubated? What company is going to want to move its operations to a place where the potential work force is, in effect, committing mass suicide?
It would be one thing if, after all efforts have been expended to reach them, the rest of the U.S. could essentially cordon off such places, but we can't. For one thing, it is now looking like it might be "mid-winter" before children under 12 will have access to vaccines, meaning that parents of younger kids, like me, will have to grit their way through at least another six months of worry. At least we have an end date – for the immunocompromised, the decisions of a belligerent American minority mean that their ordeal might never completely conclude. Older Americans might also be facing a kind of permanent threat, since the vast majority of deaths among the fully vaccinated are elderly. Fears of a fourth (fifth? it's hard to keep track) wave are starting to reverberate on Wall Street and will surely cut into the recovery for restaurants, bars, and other businesses, even in heavily vaccinated cities.
Full normalcy will remain, for the foreseeable future, frustratingly over the horizon unless someone or something can break through the fog of conspiracy thinking and denialism. Understanding that you have to keep trying is one thing, but the truth is that this process of carefully tiptoeing across Red America's grievance minefield is both exhausting and infuriating.
For all of this misery to come, then, we have our fellow citizens in what former Republican vice presidential candidate Sarah Palin called 'the Real America' to thank. You'll forgive me if my heart doesn't soar the next time I behold the majestic beauty of the countryside. I'm not sure I'll ever be able to forget what the people who live there have done to the rest of us.
Continue reading for free
We hope you're enjoying The Week's refreshingly open-minded journalism.
Subscribed to The Week? Register your account with the same email as your subscription.
Sign up to our 10 Things You Need to Know Today newsletter
A free daily digest of the biggest news stories of the day - and the best features from our website
David Faris is an associate professor of political science at Roosevelt University and the author of It's Time to Fight Dirty: How Democrats Can Build a Lasting Majority in American Politics. He is a frequent contributor to Informed Comment, and his work has appeared in the Chicago Sun-Times, The Christian Science Monitor, and Indy Week.