Queen Elizabeth II: stories from an extraordinary life
A selection of reflections, stories and anecdotes that shed light on aspects of the Queen's life and reign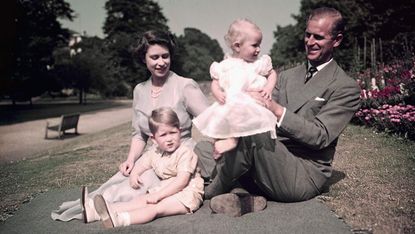 (Image credit: Bettmann / Contributor via Getty Images)
Sign up to our 10 Things You Need to Know Today newsletter
A free daily digest of the biggest news stories of the day - and the best features from our website
Thank you for signing up to TheWeek. You will receive a verification email shortly.
There was a problem. Please refresh the page and try again.
Since the passing of the Queen last Thursday, those that knew her and worked with her have revealed some reflections, stories and anecdotes that shed light on previously unknown aspects of her life and reign.
Doting grandparents
With her parents so often away, Elizabeth saw much of her grandparents, an arrangement that delighted them. During a three-month stay at Buckingham Palace, she would be brought down for tea every day with the king and queen. "Here comes the bambino!" the normally stiff Queen Mary would declare. At Sandringham, the king liked to have her sit next to him at breakfast and would take her round the Royal Stud to show her his favourite horses. It is more than likely that Elizabeth inherited her lifelong passion for horses from her grandfather, who gave the child her first pony, a shetland called Peggy, for her fourth birthday.
Subscribe to The Week
Escape your echo chamber. Get the facts behind the news, plus analysis from multiple perspectives.
SUBSCRIBE & SAVE
Sign up for The Week's Free Newsletters
From our morning news briefing to a weekly Good News Newsletter, get the best of The Week delivered directly to your inbox.
From our morning news briefing to a weekly Good News Newsletter, get the best of The Week delivered directly to your inbox.
The coronation
The day of the coronation was fantastic. The four of us maids of honour went to the abbey door to wait for her. We could hear this roar, and round the corner came a golden coach. We hadn't seen her in her dress before. The pages opened the door, and there she was... She looked wonderful, she had such beautiful skin and eyes, she was so pretty, with a wonderful figure, and this gorgeous dress all embroidered with the flowers of the Commonwealth and Great Britain.
We helped her out, she didn't say anything to us, she was very calm. The Duke of Norfolk had put a piece of cotton so she knew exactly where to stand on the carpet. We were behind her with her train rippling over our hands, and little satin handles to hold it up. She looked round and said, "Ready girls?" and off we went.
Lady Anne Glenconner, as told to The Guardian
A flash of royal temper
Beneath the surface, there could very occasionally lurk a fiery temper. In 1954, an Australian film crew sent to record the then newly crowned monarch looking at some koalas watched open-mouthed as the Duke of Edinburgh emerged swiftly from the royal lodgings, pursued by a salvo of threats, tennis shoes and sporting equipment launched by the Queen. The documentary-makers obligingly exposed the resulting footage and handed it to the young monarch's press secretary. The Queen, restored to her customary serenity, then emerged and told the crew: "I'm sorry for that little interlude, but as you know, it happens in every marriage. Now, what would you like me to do?"
Cahal Milmo in The i Paper
A knack for compartmentalising
"One gets crafty after a while and learns how to save oneself," she told Jackie Kennedy (below) during one of her visits to Buckingham Palace. Years later, one of the Queen's relatives asked her what she meant. "I have a knack," she said. "As soon as I stop working, I get into the car and I just switch off." That ability to compartmentalise developed at an early age when she would imagine herself as a pony or a horse. "When someone called her and she didn't answer right away," recalled her cousin Lady Mary Clayton, "she would then say, 'I couldn't answer you as a pony.'" During a state visit to Washington in 1991, Benedicte Valentiner, who oversaw the president's guest quarters, watched the Queen standing alone as she prepared for the day's engagements. "It was as if she were looking inward, getting set," Valentiner said. "This was how she wound up her batteries. There was no chitchat, but standing absolutely still and waiting, resting in herself."
Sally Bedell Smith in The Times
Her debt to Churchill
Once asked which prime minister she had most enjoyed meeting, she replied: "Winston, of course, because it was always such fun." Churchill's private secretary, Sir John Colville, thought that he was "madly in love" with the Queen. Originally half-an-hour, their audiences stretched out to 90 minutes. When Colville asked what they talked about, Churchill replied: "Oh, mostly racing." But clearly, they discussed more than horses. When he resigned, the Queen sent him a handwritten letter, telling him how much she'd valued his "wise guidance", and how much she'd miss his advice and encouragement. "It would be useless to pretend," she wrote, "that any successors will ever be able to hold the place of my first prime minister."
The "moving carpet" of corgis
The Queen's corgis – preceding her like a "moving carpet" wherever she was resident – were the other royal dynasty to inspire worldwide fascination. Royal staff, who were constantly tripping over the dogs, had to roam the palace and castles armed with blotting paper and a soda siphon to clear up those little accidents.
The Queen's former nursery nurse, later her dresser, Bobo MacDonald, once painted a vivid picture of the relationship between monarch and pets. If the Queen entered a room wearing a tiara, they would "lie mutely on the carpet in a mood of Celtic depression", but if she arrived wearing a headscarf, they started "jumping up and down" knowing that they were off for walkies.
Caroline Davies in The Guardian
Pleased, but not very pleased
She always wished to be encouraging, never to be ecstatic. One day, the Queen was presented with a draft speech for a great northern city. "I am very pleased to be in X," said the draft. She crossed out the word "very". She knew there are scores of other British cities, all her responsibility. She knew she must treat them all with the same restrained, lifelong courtesy.
Charles Moore in The Daily Telegraph
The Queen's sense of humour
The Queen maintained a steady demeanour in public, but in private, she was said to be very funny (and an excellent mimic). In his memoir, Sir Elton John confirmed that she could be "hilarious". During an event the musician attended, he saw the Queen ask her nephew, Viscount Linley, to go and check on his sister, Lady Sarah Armstrong. "When he repeatedly tried to fob her off, the Queen lightly slapped her nephew across the face, saying, 'Don't' – SLAP – 'argue' – SLAP – 'with' – SLAP – 'me' – SLAP – 'I' – SLAP – 'am' – SLAP – 'THE QUEEN!' As [Linley] left, she saw me staring at her, gave me a wink and walked off."
Emine Saner in The Guardian
Sometimes, though, the humour could be a touch cutting – if expressed sweetly. A privy council meeting was interrupted by Clare Short's mobile phone ringing. "Anyone important?" the Queen asked the Labour minister as she turned it off.
Patrick Kidd in The Times
Going incognito
Richard Griffin, a former royal protection officer, recalled an occasion when the Queen ran into two American tourists who were hiking on the 50,000-acre Balmoral estate. As was her practice, she stopped to say hello, but it became clear the tourists had not recognised her. After recounting what they had done on their holiday, they asked Her Majesty, "And where do you live?" She replied: "Well, I live in London, but I've got a holiday home just over the hills. I've been coming up here ever since I was a little girl, over 80 years." One of them then asked: "Well, if you've been coming up here for 80 years you must have met the Queen?" Without missing a beat, she replied: "Well, I haven't, but Dick here meets her regularly." When Griffin was asked, "What is she like?" he replied: "Well, she can be very cantankerous at times, but she's got a lovely sense of humour."
Summers at Balmoral
At Balmoral, Prince Philip would organise barbecues, at which members of the family and other guests were expected to help themselves, and the Queen mucked in. Margaret Thatcher, visiting Balmoral during her premiership, was shocked to see the Queen doing the washing up – and even more so, that she was doing it without gloves. Later, she bought a pair of Marigolds, and put them in the post.
Holidays at Balmoral – while never work-free – gave the Queen time to indulge in some of her personal pleasures. She loved TV quiz shows, particularly Countdown and Pointless, was partial to thrillers, including Line of Duty, and would watch MasterChef with Prince Philip when he was still alive, though racing would, of course, be her preference during the flat season.
Gordon Rayner in The Daily Telegraph
Bloody field sports
Her favourite activity during shooting parties was picking up the pheasants or grouse after they had been brought down. While at a shoot on a friend's estate, a wounded cock pheasant flew out of a hedge straight at her, flapping and clawing, and knocked her down. There was blood on her clothing from the bird and a detective standing nearby feared she had been shot. He threw himself on top of her and began giving her mouth-to-mouth resuscitation. "I consider we got to know each other rather well," she said, and hired the man for her protection force.
Sally Bedell Smith in The Times
A social democrat?
In the week that the Duke of York was due to marry Sarah Ferguson, The Sunday Times led with the explosive headline: "Queen dismayed by 'uncaring' Thatcher". The piece revealed huge tensions between No. 10 and the palace over Thatcher's refusal to back Commonwealth sanctions on apartheid South Africa, and a view that Thatcher was "uncaring, confrontational and socially divisive". Despite furious denials from the Palace, the primary source was Michael Shea, the Queen's press secretary. Thatcher was stung by the revelations and later complained to the TV interviewer Brian Walden: "The problem is the Queen is the kind of woman who could vote Social Democratic."
Tim Shipman in The Sunday Times
Royal small talk
Touring the Hebrides on her beloved Royal Yacht Britannia, the Queen – or so the story goes – once stopped at a coastal village, and was invited to tea with the oldest inhabitant. Sitting at the woman's table, she looked around the modest front room, in search of inspiration for small talk. In the corner, she spied some pretty china in a display case. "What a charming tea set," she remarked. "Aye," replied the inhabitant. "I keep it for best."
Her remarkable marriage
"They own each other," I was told by Gina Kennard, who knew them individually and as a couple for something like 75 years. "Nothing could come between them. What they have for one another is the greatest respect – which counts for so much – and deep love. Deep love that goes back a long, long way." But what about Philip's testiness, his grumbling and his grouches? The Queen's former private secretary, Lord Charteris, said to me: "Prince Philip is the only man in the world who treats the Queen simply as another human being. He's the only man who can. Strange as it may seem, I believe she values that."
Once, I travelled in the car behind theirs and watched the Queen and her husband chatting. For half an hour, I saw them telling each other stories, listening to each other, laughing repeatedly. These two were good companions: during the whole of their remarkable marriage – the longest-lasting of any sovereign and consort in history – the chattering never stopped.
Gyles Brandreth, from his book Philip: The Final Portrait
Continue reading for free
We hope you're enjoying The Week's refreshingly open-minded journalism.
Subscribed to The Week? Register your account with the same email as your subscription.
Sign up to our 10 Things You Need to Know Today newsletter
A free daily digest of the biggest news stories of the day - and the best features from our website