Second thoughts about DeSantis?
The Florida governor's opinions on funding for Ukraine are ruffling feathers within the Republican Party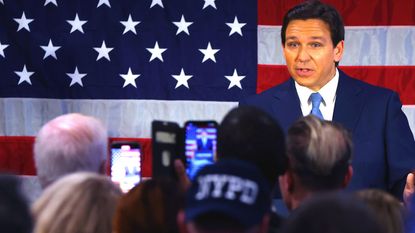 (Image credit: Spencer Platt/Getty Images)
Florida Gov. Ron DeSantis hasn't officially declared he is running for the 2024 Republican presidential nomination, but he sure is acting like it. In spite of having no immediate gubernatorial concern with Ukraine's effort to repel Russia's ongoing invasion, DeSantis weighed in on the international implications of America's continued financial support for the Ukrainian military, claiming it isn't in our "vital national interests" to become "further entangled in a territorial dispute between Ukraine and Russia."
That DeSantis was asked about the Russo-Ukrainian war in the first place is itself a sign of his prime position within the nascent GOP nominating field. His answer came in response to a questionnaire issued by Fox News host Tucker Carlson to multiple Republican candidates — both declared and assumed — including former President Donald Trump, Nikki Haley, and Mike Pence.
Despite the chorus of conservative voices who participated in Carlson's Q&A, it is DeSantis' answer that prompted the most backlash — not from the left, but from within the very Republican Party DeSantis himself is characterized as leading.
Subscribe to The Week
Escape your echo chamber. Get the facts behind the news, plus analysis from multiple perspectives.
SUBSCRIBE & SAVE
Sign up for The Week's Free Newsletters
From our morning news briefing to a weekly Good News Newsletter, get the best of The Week delivered directly to your inbox.
From our morning news briefing to a weekly Good News Newsletter, get the best of The Week delivered directly to your inbox.
The backlash
When asked about DeSantis' framing of the Ukraine war as a matter of mere territorial disagreement, Florida Republican Sen. Marco Rubio told conservative broadcaster Hugh Hewett that "just because someone claims something doesn't mean it belongs to them." Asked by Hewett whether DeSantis was simply trying to appease the neo-isolationist bloc of the GOP, Rubio took his criticism further, noting that "obviously he doesn't deal with foreign policy every day as governor, so I'm not sure ... I can't compare that to something else he did or has said over the last few years, because he doesn't deal with it every day."
Joining Rubio in his dismissal of DeSantis' inchoate sense of geopolitics was a host of other, high profile Republican figures, including Sen. Lindsey Graham (R-SC) who said he "could not disagree more" with the governor. Texas Sen. John Cornyn claimed to be "disturbed" by DeSantis' remarks. Former Wyoming Rep. Liz Cheney told The New York Times that "American officials who advocate this type of weakness are Putin's greatest weapon."
DeSantis' answer received some unexpectedly harsh pushback from former UN ambassador and one-time red state governor herself, Nikki Haley. She attacked DeSantis not only for seemingly appeasing Russia, but for being — in a non-too-subtle reference to far right activist Phyllis Schaffly — "an echo" of former President Trump.
"President Trump is right when he says Governor DeSantis is copying him — first in his style, then on entitlement reform, and now on Ukraine," Haley wrote. "I have a different style than President Trump, and while I agree with him on most policies, I do not on those." She added: "Republicans deserve a choice, not an echo."
Indeed, Trump has long pushed for the United States to downgrade its support for Ukraine. In response to Carlson's questionaire, Trump asserted that opposing Russian hostility isn't in America's national interest, "but it is for Europe," adding that European nations "should be paying far more than we are, or equal."
Republican voters as a whole see Russia's war against Ukraine as a "critical threat to U.S. vital interests," according to Gallup polling.
Reading between the lines
Given DeSantis' position as the Republican seen as most likely to overtake Trump in the GOP primary, his rival candidates Trump and Haley are using his stance on Ukraine to diminish his standing in the hopes of making his loss their gain. But even his ostensible allies are lobbing criticisms his way, hoping to prompt a course correction.
DeSantis knows that defeating Putin, "or even just crippling his war machine, is defending America," writes the New York Post's editorial board. Surely he's just hedging, the board says, "rather than risk losing voters who don't get it." He needs to fix the mistake, because "he won't win the GOP nomination by dodging the tough questions."
Given the degree to which Murdoch empire's has gone out of its way to unsubtly frame DeSantis in a positive light, it's easy to see the Post's essay as a not-too-veiled attempt to help an ally-cum-political investment.
For now, DeSantis remains solidly — but not insurmoutnably — behind Trump in the GOP primary polls, even before officially tossing his hat in the nomination ring. That is unlikely to change so long as he keeps following "what somebody has convinced him is a sound strategy," David Frum says at The Atlantic. "It looks like this: 1) Woo the Fox audience and win the Republican nomination. 2) ?? 3) Become president."
"Written out like that," Frum said, "you can see the missing piece."

Continue reading for free
We hope you're enjoying The Week's refreshingly open-minded journalism.
Subscribed to The Week? Register your account with the same email as your subscription.