London 2012 'corrupted on unprecedented scale' by doping
Second part of McLaren report provides 'incontrovertible' proof of Russia's state-sponsored conspiracy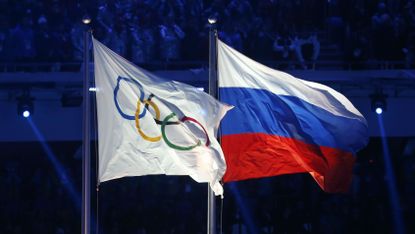 More than 1,000 Russian athletes. including Olympic medalists, have benefited from state-sponsored doping, according to the second part of a report by the World Anti-Doping Agency.
Its author, Canadian law professor Richard McLaren, said the London 2012 Olympics had been "corrupted on an unprecedented scale" and that the Kremlin cover-up had "evolved from uncontrolled chaos to an institutionalised and disciplined medal-winning conspiracy".
The second part of the report is even more explosive than the first, which was published in July and resulted in Russia's track and field team being banned from the Rio Olympics, and an outright ban for the Russian Paralympic team.
Subscribe to The Week
Escape your echo chamber. Get the facts behind the news, plus analysis from multiple perspectives.
SUBSCRIBE & SAVE
Sign up for The Week's Free Newsletters
From our morning news briefing to a weekly Good News Newsletter, get the best of The Week delivered directly to your inbox.
From our morning news briefing to a weekly Good News Newsletter, get the best of The Week delivered directly to your inbox.
"McLaren's first report, published last July, detailed how major events in Russia – including the 2013 World Athletics Championships in Moscow and the Sochi Winter Olympics a year later – had been corrupted by the Russian government, the ministry of sport and the FSB – the state security service and the successor to the KGB – who ensured those athletes who were taking banned substances did not test positive in tests," says The Guardian.
"But on Friday McLaren's second report... added further meat to those bones."
According to the latest findings Russia's doping programme "was refined over the course of the London 2012 Olympics, 2013 Worlds and the Winter Olympics where a now 'fail safe' system was in place to protect likely Russian medal winners," says the BBC.
The case against Russia now appears overwhelming, says The Times.
"McLaren's team have published 1,166 pieces of evidence, including emails, spreadsheets and documents that implicate numerous officials including Russia's former deputy sports minister Yuri Nagornykh, who was sacked after McLaren's first report was published in July.
"This database of evidence, also including forensic reports and laboratory analysis, provides irrefutable confirmation of the key findings of his explosive interim report which was published three weeks before the start of the Rio Olympics."
Among the report's findings is "incontrovertible confirmation" that urine samples were tampered with during the 2014 Winter Olympics in Sochi. It's thought that samples were smuggled out of testing laboratories by secret service agents disguised as sewage workers.
"Confirmation Russia operated an audacious sample-swapping programme using methods that would not be out of place in a spy novel is expected to lead to renewed calls for the country to face the harshest possible sanctions," says the Daily Telegraph.
The IOC says that McLaren's findings will be taken up by two further commissions, which will recommend what steps to take.
Asked if he believed Russian athletes could be trusted in the future, McLaren said: "I think the answer to that is yes but they need to reform themselves."
Team Sky defends Bradley Wiggins' use of banned steroids
27 September
Team Sky have broken their silence over the use of banned steroids by Sir Bradley Wiggins and come to the defence of the former Tour de France winner. The revelations that Wiggins took triamcinolone, a powerful anti-inflammatory drug for allergies and respiratory problems, during his time riding for Team Sky has surprised many within the sport.
But Team Sky boss Sir Dave Brailsford has told BBC Sport that neither the team nor Wiggins did anything wrong.
In an interview on Sunday's Andrew Marr show, the five time Olympic champion explained that he used therapeutic use exemptions (TUEs) to "put himself back on a level playing field". However, the fact he used them so close to the 2012 Tour de France and the 2012 and 2013 Giro d'Italia have raised eyebrows among former rivals and team doctors.
But Brailsford insisted the TUEs - which are sanctioned within sport - were not "used to enhance performance". He continued: "I have known Bradley a long time and he is an asthma sufferer and he has struggled with allergies for as long as I have known him. I know that at the time there was a recommendation to see a specialist, he went to see a specialist and was then given permission by the authorities. I trust and believe in the integrity of that process."
One question that has puzzled many since the Fancy Bears hackers accessed medical data from from the World Anti-Doping Agency (Wada) is why Wiggins appeared to use the banned steroid only between 2011 and 2013.
Brailsford explained: "Lots of TUEs in sport, in general, are for asthma sufferers, pollen and allergic reactions - and the whole nature of that is you don't wait until you are really suffering from asthma. In this case, I think it is a similar situation.
"If someone has a medical need - and this isn't to enhance performances - a medical need which is recognised by a specialist, recognised by the doping authorities who grant the permission to use that for that particular need then I think there is integrity in that process and trust in that process."
However, BBC Sport points out that in his 2012 autobiography, My Time, Wiggins make no mention of either asthma or allergies, and states that in 2012 he was "only ill once or twice with minor colds" and "barely lost a day's training from it".
Brailsford acknowledged that the revelations may harm the image of a sport still struggling to repair its reputation after the Lance Armstrong scandal. Pleading with the public to have "100 per cent trust" in Team Sky, he added: "I can guarantee no-one in this team has or will be put under pressure to do anything outside of the rules... we run a tight ship."
Bradley Wiggins insists he had 'no unfair advantage' from banned steroid
26 September
Sir Bradley Wiggins has dismissed suggestions he was trying to seek an "unfair advantage" by using a banned steroid before major races. In 2012 Wiggins became the first Briton to win the Tour de France, the same year he also won gold in the Time Trial at the London Olympics, but some of the gloss appears to been taken off those achievements by the revelations leaked by the Fancy Bears cyber criminals.
Earlier in the month Russian hackers accessed medical data from some of the world's top athletes from the World Anti-Doping Agency (Wada). Wiggins was one of those whose details were leaked, disclosing that he had successfully sought therapeutic use exemptions (TUEs). These permit the use of banned substances if athletes have genuine medical need, which in Wiggins' case was the authorisation to use triamcinolone, a powerful anti-inflammatory drug for allergies and respiratory problems.
When he appeared on the BBC's Andrew Marr Show on Sunday, Wiggins was asked why he had used TUEs, which is not an uncommon practice among the world's leading athletes. The 36-year-old Briton explained that he was "a life-long sufferer of asthma". He continued: "I went to my team doctor at the time and we went, in turn, to a specialist to see if there's anything else we could do to cure these problems... this was to cure a medical condition. This wasn't about trying to find a way to gain an unfair advantage. This was about putting myself back on a level playing field in order to compete at the highest level."
As the BBC Sport website stated Wiggins's use of triamcinolone was approved by British authorities and cycling's world governing body, the UCI, "and there is no suggestion" he has violated anti-doping rules. Nonetheless the news that Wiggins injected triamcinolone shortly before the 2011 and 2012 editions of the Tour de France, as well as the 2013 Giro d'Italia, is likely to raise more uncomfortable questions for the cyclist, who won his fifth Olympic gold at last month's Rio Games, and then retired from the sport
Prentice Steffen, one of Wiggins' former team doctors, told BBC's Newsnight that he was concerned by the revelations. "I was surprised to see there were TUEs documented for intramuscular triamcinolone just before three major events - two Tours de France and one Tour d'Italia," said Steffen. "You do have to think it is kind of coincidental that a big dose of intramuscular long-acting corticosteroids would be needed at that… exact time before the most important race of the season. I would say certainly now in retrospect it doesn't look good, it doesn't look right from a health or sporting perspective." In the same report, Newsnight interviewed convicted doper Michael Rasmussen, who declared that the pattern of Wiggins's use of triamcinolone before three major races struck him as "suspicious".
The first of Wiggins' former rivals to break ranks and comment on the revelations is Olympic silver medallist Tom Dumoulin. He said the asthma excuse "stinks", adding: "It's not something they do with normal asthmatics, let alone athletes who only have exercise-induced asthma. Apparently Wiggins' injection worked for weeks - so in my opinion you should be out of competition for weeks."
A spokesman for the UCI said: "The management of Therapeutic Use Exemptions in cycling is robust and fully safeguarded", but as the Daily Telegraph notes the silence from Team Sky "has been deafening". That was the team Wiggins rode for between 2010 and 2015 and they have so far failed to respond to the damaging innuendo. As the Telegraph says Team Sky's principal Dave Brailsford - knighted for his services to cycling - may have kept his counsel to let Wiggins explain the circumstances behind his TUEs. Now that he had, states the Telegraph, it is high time he and Team Sky "explained their decision to use this particular drug when they did".
Mo Farah latest athlete to be named in medical data hack
20 September
The latest individual medical files of 26 Olympians have been released by the Fancy Bears hackers but there's little in the way of scandal. A total of 26 athletes have had their files leaked on line by the Russian hackers, among them eight Britons including Olympic gold medallists Mo Farah, Helen Glover and Justin Rose.
As BBC Sport reports the records "mostly detail therapeutic use exemptions (TUEs), which allow banned substances to be taken for athletes' verified medical needs", and there is no suggestion that any of the athletes "are involved in wrongdoing"
Indeed, as far as four-time Olympic champion Farah is concerned the files simply reveal what the world learned last year, that he needed a TUE when the 33-year-old was put on a drip after collapsing in Utah in 2014. Farah disclosed his TUE history after his coach, Alberto Salazar, was accused of manipulating the system involving medical exemptions by a British newspaper.
A spokesperson for Farah said the athlete had "nothing to hide", adding: "He doesn't have a problem with this information being released - as evidenced by the fact that he voluntarily shared his blood data with the Sunday Times last year. Mo's medical care is overseen at all times by British Athletics and over the course of his long career he has only ever had two TUEs."
The other files, all stolen from a World Anti-Doping Agency (Wada) database and leaked online, are similarly unsensational. Helen Glover, for example, who won gold in the coxless pair in 2012 and 2016, was allowed to use salbutamol to treat her asthma from 9 November 2009 to 30 November 2013, while golfer Rose - who won gold in Rio - was permitted daily doses of the anti-inflammatory drug prednisolone for a persistent back injury
The other British Olympians whose records were leaked include track cyclist Callum Skinner, hockey players Alex Danson, Crista Cullen and Samantha Quek and rower Peter Reed.
Also leaked in this latest batch of names was Spanish tennis player Rafael Nadal, a 14-time tennis grand slam winner who with Marc Lopez won Olympic men's doubles gold in Rio. He was authorised in 2009 and 2012 to use betamethasone - a steroid medication used in the treatment of a variety of conditions, and in which in the Spaniard's case was for tendinitis in his knees.
Nadal responded to the leak in the same way as Farah, claiming the revelations were banal. "It's not news," he told the Spanish media. "When you ask permission to take something for therapeutic reasons and they give it to you, you're not taking anything prohibited."
Nadal also said he thought it would be a good idea if athletes' medical records were routinely published to prevent any future innuendo. "It would be much more beneficial for sportsmen and women, spectators and media that every time a drug test is taken the news is made public and two weeks later there are the results," he said. "This would end the problem. Sport has to take a step forward and be totally transparent. I have been saying this for years."
Mo Farah drug testing record could be revealed by hackers
19 September
The British Olympic Association is braced for the release of more medical records of athletes, including four-time Olympic gold medal winner Mo Farah, after the UK Anti-Doping Agency admitted that hackers had gained access to the private medical records of 53 athletes.
The Russian hackers, known as the Fancy Bears, have been publishing the drugs records of Olympians after gaining access to medical files.
The cyber attack is believed to be in retaliation to the World Anti-Doping Agency's reports into systematic doping by the Russian state. So far details of therapeutic use exemptions, which allow competitors to take banned substances for genuine medical problems, have been released for athletes who include Bradley Wiggins and Chris Froome
Farah, "the man whose double gold at the Rio Games made him the country's most successful ever track-and-field athlete is among the 53 Team GB stars suspected of having confidential files broken into by cyber-criminals", reports the Daily Telegraph.
Last year Farah revealed that he needed a TUE when he was put on a drip after collapsing in Utah in 2014.
"Farah revealed his TUE history after his coach, Alberto Salazar, was accused of drugs offences, including manipulating the system involving medical exemptions," adds the paper.
A spokesman for Farah said: "Mo does not have a current or ongoing TUE but, like everyone in Team GB, he was notified about the potential release of private medical data. While he believes this sort of information shouldn't be published without an individual's permission, he isn't concerned about anything they [the hackers] might release about him."

Continue reading for free
We hope you're enjoying The Week's refreshingly open-minded journalism.
Subscribed to The Week? Register your account with the same email as your subscription.