10 things you need to know today: November 21, 2021
Biden says he's running again, this year's COVID death toll tops 2020's, and more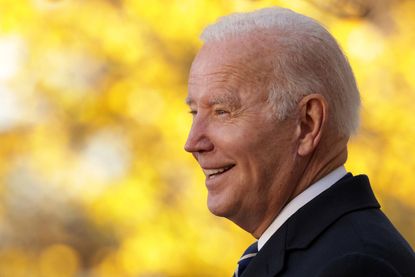 (Image credit: Alex Wong/Getty Images)
1. Biden says he's running again
President Biden has assured key donors and allies that he plans to run for a second presidential term in 2024. If elected, he would be 82 years old on Inauguration Day, shattering the record currently held by Ronald Reagan, who was 73. This announcement comes amid concerns over Vice-President Kamala Harris's low approval ratings. Some party insiders have expressed concerns about the president's health, while others suggest that his statements about running again are an insincere but necessary strategy to avoid turning himself into a "lame duck." The Democratic National Committee has made no preparations for a contested 2024 primary.
2. This year's COVID death toll tops 2020's
The number of U.S. COVID 19 deaths in 2021 has surpassed the 2020 death toll, according to data provided by the federal government and Johns Hopkins University. 385,343 Americans were reported to have died of COVID in 2020. About 59 percent of the country's population has been vaccinated, but one epidemiologist has cautioned that the vaccine is "not a panacea." Still, public health authorities are urging unvaccinated Americans to take the vaccine and encouraging those who have been vaccinated to get booster shots.
Subscribe to The Week
Escape your echo chamber. Get the facts behind the news, plus analysis from multiple perspectives.
SUBSCRIBE & SAVE
Sign up for The Week's Free Newsletters
From our morning news briefing to a weekly Good News Newsletter, get the best of The Week delivered directly to your inbox.
From our morning news briefing to a weekly Good News Newsletter, get the best of The Week delivered directly to your inbox.
3. Lockdown protests erupt in Netherlands, Austria
Dutch police arrested more than 30 people Saturday night as anti-lockdown demonstrations continued into their second night. These riots were not as violent as those that rocked Rotterdam Friday night, in which 51 people were arrested and three shot by police, but they were more widespread. Saturday also saw massive protests in Austria against a new lockdown that takes effect Monday. Over 40,000 people turned out in Vienna to express their outrage, but authorities made very few arrests. The Netherlands' vaccination rate is among the highest in Europe while Austria's is one of the lowest. Croatia and Italy also saw protests against new COVID restrictions.
4. Chileans vote in polarizing presidential election
Chilean voters head to the polls today to vote for Chile's next president. Seven candidates are seeking the nation's highest office, but most of the attention is on the two front-runners. Gabriel Boric, a 35-year-old former student activist and leader of a leftist coalition that includes Chile's Communist Party, is running on a platform that seeks to tackle income inequality and climate change. José Antonio Kast, a devout Catholic and staunch social conservative, emphasizes the need for law and order, increased immigration controls, and lower corporate taxes. Neither candidate is projected to win more than 50 percent of the vote, meaning the two will likely face each other in a runoff election next month.
5. Sudan reinstates ousted prime minister
Sudanese military and civilian leaders have reached an agreement to reinstate Abdalla Hamdok, who was deposed in a military coup last month, as the country's prime minister. The agreement also includes the release of all political detainees. In 2019, a popular uprising forced long-reigning Islamist autocrat Omar al-Bashir from power and marked the start of Sudan's transition to democracy. The military coup that unseated Hamdok derailed that transition, sparking widespread protests, but this new agreement, brokered with the help of the U.S. and United Nations, appears to be a sign that it is back on track.
6. Peng Shuai reappears in Beijing
Chinese tennis star Peng Shuai, who was not seen or heard from publicly for several weeks following her allegation of sexual misconduct against a high-ranking Chinese Communist Party official, attended a Beijing tennis tournament Sunday. On Nov. 2, Peng posted on Chinese social media that she had been coerced into sex by former Vice-Premier Zhang Gaoli. Chinese censors quickly deleted her account and banned all online discussion of the accusation. Despite the public release of photos and videos of Peng, a spokesperson for the Women's Tennis Association told Reuters that this evidence was "insufficient" to ameliorate the WTA's concerns for Peng's wellbeing.
7. Biden marks transgender day of remembrance
President Biden released a statement acknowledging Saturday as Transgender Day of Remembrance. According to the Human Rights Campaign, 2021 is the deadliest year on record for transgender and non-binary people, with at least 45 killed so far. Biden lamented "those we lost in the deadliest year on record for transgender Americans" as well as "the countless other transgender people — disproportionately Black and brown transgender women and girls — who face brutal violence, discrimination, and harassment."
8. Hamas-linked gunman kills 1, wounds 4 near Jerusalem Temple Mount
A Palestinian gunman opened fire near an entrance to Jerusalem's Temple Mount Sunday, killing one Israeli and wounding four others. The shooter, identified as Hamas member Fadi Abu Shkhaidem, was shot dead at the scene by Israeli security forces. Hamas released a statement calling the attack "heroic" but did not claim responsibility. A similar attack, in which a 16-year-old Palestinian stabbed two Israeli security officers before being shot and killed, was carried out in Jerusalem's Old City Wednesday.
Voice of America The Associated Press
9. Suspect sought after accidental discharge at Georgia airport
A man accidentally discharged a firearm at Hartsfield-Jackson Atlanta International Airport Saturday afternoon, fled the scene, and is being sought by police. Law enforcement has identified the shooter as Kenny Wells and issued a warrant for his arrest. Wells is a convicted felon. The gun went off when Wells reached inside his bag during a security check. Transportation Security Administration agents had already detected the firearm via X-ray and were about to confiscate it. No one was struck by the shot, but panic ensued as bystanders, fearful of an "active shooter" situation, ran for cover. One person suffered minor injuries from a fall and two others reported shortness of breath.
10. SNL cold open tackles Rittenhouse verdict
The Kyle Rittenhouse verdict took center stage in last night's Saturday Night Live cold open. Cecily Strong played Fox News host Judge Jeanine Pirro and began by describing Rittenhouse as a "lovable scamp." Mikey Day then joined the show as Judge Bruce Schroeder to mock the judge's supposed bias toward the defendant. The next panelists were a pair of progressive legal analysts played by Chloe Fineman and Chris Redd. Fineman, who is white, called the verdict "a call to finally change the system," while Redd, who is Black, predicted that the "call" would "go right to voicemail." James Austin Johnson rounded out the open with an appearance as former President Donald Trump.
CNN Business Saturday Night Live

Continue reading for free
We hope you're enjoying The Week's refreshingly open-minded journalism.
Subscribed to The Week? Register your account with the same email as your subscription.